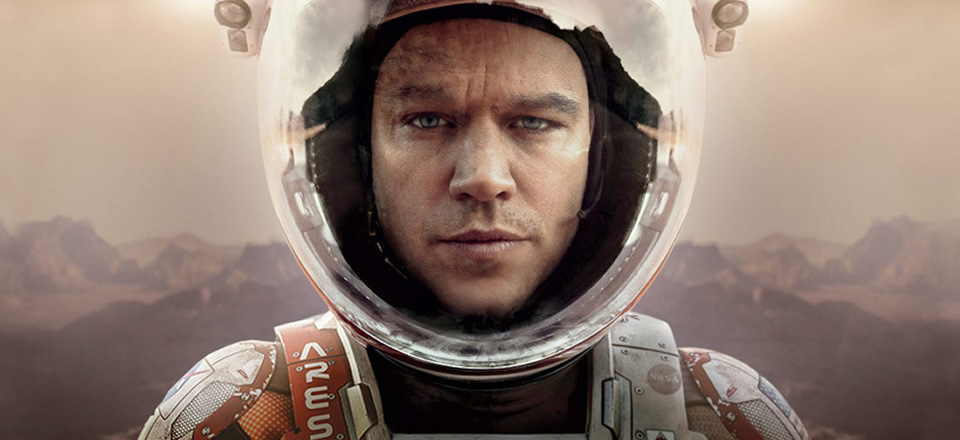 Ridley Scott Takes Matt Damon To Mars
Life on Mars takes on a whole new meaning in the latest cinematic epic from triumphant director Ridley Scott, the man behind such bonafide science-fiction classics as Blade Runner (1982) and Alien (1979). While lesser known fantasy adventure Legend (1985) is now considered one of the genre greats after initially a box office flop upon release.
Other than the recent Prometheus, an Alien prequel attempt with mixed reactions from both series fans and critics alike, Scott continued making two decades of more grounded globally lauded films Thelma and Louise, Black Rain and multiple Oscar winner Gladiator. While more personal projects such as 1492, or A Good Year, not so much. The taste for an event film returned last year with Exodus Gods and Kings, a big bold effects driven biblical story which visually was spectacular, dramatically it mostly sunk to the bottom of the black sea.
Thankfully this new out of this world cliffhanger is a step back into his filmmaking brilliance. The Martian is mind-blowing entertainment with immaculate special effects, a tight productive script full of powerful characterisations and an abundance of unexpected comedy amongst the thrills. Oscar winning star Matt Damon is often very good, but is in rare individual form here.
One of his most established roles in recent times, unless you include his cool conniving sexual plaything for Liberace in Behind the Candelabra, Damon stars as Astronaut Mark Watney, part of a research operation manned mission to Mars. Based on a book by Andy Weir, his story was denied by publicists repeatedly so he decided to start posting chapter by chapter on a website. That was 2011, people really took to it, the rest is history. Weir is now a best-selling author.
The baron red planet has a swirling unpredictable hostile climate – a constant danger to the crew and when one particular storm front hits them hard, the higher in command have to make a quick decision whether to leave a team member behind thought dead or risk all their lives by staying to find his missing body. After this huge call, the remaining crew set a course back to Earth which takes a couple of years but Watney back on Mars emerges from a mound of orange dirt, injured but alive.
Stumbling his way back bleeding from an abdominal gash to the abandoned base where he worked, ate and relaxed with his crew, this will be his new home until help arrives…or if it does. Minimal supplies including power and water are thought out by Watney scientifically to survive, being a botanist is also of assistance when attempting to grow food on a planet with zero life. To give any more away would be irresponsible as it is a melodramatic optimistic space opera that will have audiences on the edge of their cinema seat.
Damon may anticipate dread more frequently, he is similar to Tom Hanks in Castaway, dealing with isolation with considerable setbacks. The Martian covers three angles to proceedings: the outlook from Earth as NASA authorities hustling out media friendly communications amongst the behind the scenes panic, then the crew who left their colleague behind and feel guilty, also Watney himself in his efforts to live literally looking up in hope.
The journey beyond the stars in The Martian is visually lavish, just like 'Interstellar' which incidentally also featured Matt Damon (in a cameo) and Gravity where Sandra Bullock was floating aimlessly above the atmosphere. Various scenes into the solar system may remind movie buffs of the sacred 2001 A Space Odyssey.
Comedy aspects delivered is more a nervous energy or music related, just another part of what makes this remarkable movie superior and why the less you know, the better. A big screen must-see.
SIDE BAR MARS MOVIES:
Red Planet (2000): Made at Fox Studios Australia, things go haywire for Val Kilmer, his crew and a robotic dog when they turn on each other in the middle of an important mission.
Total Recall (1990): One of the greats with Arnie thinking he is going on a virtual holiday to Mars only to actually travel to the planet and fight for his life of misconception and lies.
Invaders from Mars (1953 / 1986): Both original classic and retro remake are worthy. A young boy tries to stop the takeover of his town by visiting aliens although no one believes him.
Ghosts of Mars (2001): Misfit police unit sent to pick up a criminal from a remote outland only to arrive and find its destruction from an unknown force.  A John Carpenter film.
Capricorn One (1977): Conspiracy theorists rejoice, NASA pull resources away from a planned mars mission and decide to fake it instead not telling the crew until lift off. A classic.
Mars Attacks (1996): Cult sci-fi homage from Tim Burton based on a series of trading cards which brings bobble headed aliens to Earth, not in peace. A large game amusing cast.
Mission to Mars (2000): Sapped of energy from the outset, miscast boring galaxy soap opera with few highlights and a finale which will dumbfound anyone still awake. Fine effects.
Martian Child (2007): Socially abandoned seven year old claims to be a descendent from Mars.
Robinson Crusoe on Mars (1964): An explorer and his monkey on Mars, not a desert island.
Shane A. Bassett
Sydney Unleashed is one of Australia's premier entertainment publications exploring the latest in lifestyle trends. From Sydney's finest restaurants, cafes and bars to the hottest in gadgets, products, and home entertainment, Sydney Unleashed is your one-stop lifestyle platform.