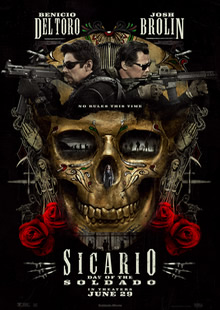 Starring: Benicio DeToro, Josh Brolin, Isabela Moner, Catherine Keener, Matthew Modine, Elija Rodriguez (Rated MA – 122 min).
In 2015, solid thriller Sicario came to the instant attention of quality movie fans all over the world blowing away box office expectations, while gaining terrific reviews all round. Covering all aspects of the drug law enforcement, this follow-up story rather than sequel is just as hardcore although the focus is again on illegal cartels, the primary focus is people trafficking.
As the drug war heats up across the Mexican border, the cartel collective have escalated into delivering illegal immigrants into the US with some of them terrorists intent on disruption. Josh Brolin returns as the croc-wearing casual federal agent Matt Graver dealing with tight situations getting results usually answering directly to advisers of the President.
When further terrorist acts kill innocent bystanders, Graver engages with elite hitman, a sicario of the highest level, Alejandro (Benicio Del Toro) to join him on an under the radar mission to take out cartels in a way that will start a war between the high calibre criminal element. Amazing in the first instalment, Emily Blunt sadly unavailable to return due to filming new Mary Poppins.
After the fake kidnapping of the daughter of a cartel kingpin goes awry, the US team have to survive with corrupt Mexican authorities on their tail forcing Graver and Alejandro to separate to keep the girl alive rather than being taken by mercenaries for profit.
Violent action sequences, intense moments keep you on edge, not for the squeamish. Soon to be Dora the Explorer and possibly best remembered to date in Transformers: The Last Night (2017), young Isabela Moner is above average around screen luminaries such as Del Toro and everywhere at the moment, Brolin, again brilliant. Former '80s heartthrob Matthew Modine shows up as defense secretary while always reliable Catherine Keener (Get Out, Being John Malkovich) is gritty also in authority mode.
Not quite up to the impact of the original, doesn't miss by much, still a must-see. However be warned, confronting terrorist acts are quite realistic and may upset people as children are involved.
Shane A. Bassett
Sydney Unleashed is one of Australia's premier entertainment publications exploring the latest in lifestyle trends. From Sydney's finest restaurants, cafes and bars to the hottest in gadgets, products, and home entertainment, Sydney Unleashed is your one-stop lifestyle platform.