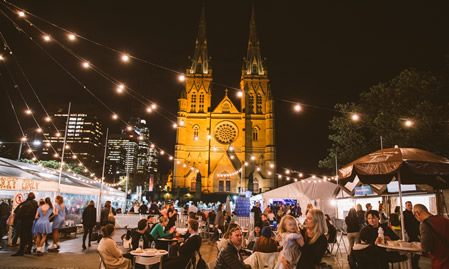 Skating At Cathedral Square
Cathedral Square in Sydney's CBD will see the best wintery fun for three weeks over June and July.
Located in front of St Mary's Cathedral, the event includes open air ice-skating with falling snow as well as a super fun real ice slide. Set against the backdrop of the Cathedral and with the rink festooned with twinkling lights, SKATING AT CATHEDRAL SQUARE will provide residents and visitors to Sydney with the perfect winter fun experience.
From June 23 to July 16, SKATING AT CATHEDRAL SQUARE located in St Mary's Road will be the place to be for wintery fun for families, couples, friends and colleagues. Skating At is owned by entrepreneurs Rod Stoller and Jonathan Sherren. Rod has an impressive history in event management and logistics and is also a director of Ice Rinks Australia while Jonathon's JBS Hospitality is renowned for its impressive range of venues and events. "We're very excited to be bringing the SKATING AT concept to Cathedral Square. For many people this will be their first experience of ice and snow" claims Rod Stoller. "For others it will be a chance for them to re-­live some of the fun snow and ski experiences they've had on holidays without the added pressure of international travel and the huge expenses associated with this."
"There is something completely magical about ice skating whilst in the open air with falling snow dusting your hair – blink and you'll feel like you're at the Rockefeller Center in New York or Hyde Park in London ," Rod said. SKATING AT provides this winter's most unique event appealing to people of all ages – couples, groups of friends, families and children alike. Even businesses are getting in on the action with many booking mid-­year social club events. According to Rod almost anyone can have a go at ice skating: "With our warm climate in Australia ice skating, particularly in the open air, is not something that most people do all the time, but it's awesome to try new things and is loads of fun, even if you're a bit wobbly at first. It's not that difficult really and we have staff on hand to assist novice skaters, plus of course it's fun to watch others. This year we are launching 'Kanga' a push along aid to help anyone get their balance especially if this is their first try at ice-­skating. The rinks are accessible to wheelchairs and it's a great activity for anyone aged from 3 to 93 to do."
Being in the CBD, access is easy via public transport and for those working or living near by they can just pop in during their lunch break or after work for a bit of very fun excercise. During school holidays kids can get a bit of cabin fever and adults can tend to be a bit sedentary – open air ice skating is an awesome way to have a bit of exercise, burn off some energy and have fun at the same time. The picturesque location will provide many an instagram moment; you can kick back with a warm mulled wine or a hot chocolate and watch the spectacle and also tuck in to some delicious offerings from food vendors on site.
Tickets are available at the gate but online ticket prices are the most affordable and assure you of your preferred date and time with prices from $18 for an adult; $12 for a child aged 8-­13 years and $6 for a child aged 3‐7. Family passes are also available providing extra discount as well as packages including hot chocolate or gluhwein. Group discounts for parties and clubs are available on request for groups of over 10. This year there will be SKATING AT events right throughout Australia in Brisbane, Sydney, Melbourne, Adelaide, Canberra and Perth. SKATING AT ‐ fun, wholesome, healthy and affordable activities perfect for a cold winters day, or a warm winters night.
Cathedral Square: St Mary's Rd, Sydney
June 23 to July 16, 2017
Sydney Unleashed is one of Australia's premier entertainment publications exploring the latest in lifestyle trends. From Sydney's finest restaurants, cafes and bars to the hottest in gadgets, products, and home entertainment, Sydney Unleashed is your one-stop lifestyle platform.