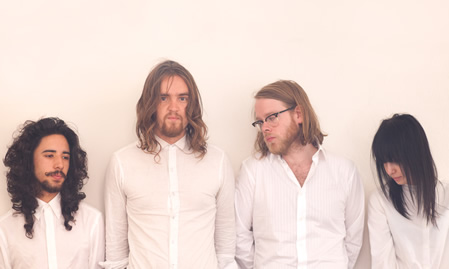 Q&A with Dan Myles.
How did you get your start in the music industry?
I didn't realise we were part of the industry! I guess pure luck and a lot of blind devotion. To be honest though, it feels like things are just now starting to get moving. We've had a lot of amazing support since playing at ATP in February so we must be getting something right.
Best part of what you do?
I'm sure almost anyone who plays in bands would say performing, particularly when everything goes right. I'd like to say otherwise but that's it really, nothing beats it.
And the worst part?
Dragging equipment around, picking it up from venues, dropping it off, packing the car, lifting amps, that's the only part that really sucks. Everything else can be stressful or hard work but is in some way part of the joy.
Any interesting experiences you can share?
We have just finished recording our next EP with Lindsay Gravina at Birdland studios. His fingerprints are on a number of our favourite Australian albums and it's been an incredible opportunity working with someone with such a wealth of experience. The EP should be out early next year.
Favourite album of all time and why?
In Rainbows maybe … or Get Color by Health … or the Drones' Wait Long by the River and the Bodies of Your Enemies Will Float by. I don't know really, but they seem to be albums I have listened to more than enough times to completely destroy yet I keep coming back to them and finding new details or moments that I absolutely love.
Best live performance that you've ever seen?
Every Drones show I've ever been to, Portishead were mind blowing when they came down, so perfectly realised. Einstürzende Neubauten completely took my breath away at All Tomorrow's Parties earlier this year. In each case I've felt myself fall in love with live music all over again.
Favourite bars/clubs/pubs to hang out in?
We are pretty new to Sydney so haven't seen too much of the city. Last time I was up there I checked out the Newtown Social Club. We all love the sister bar here in Melbourne (Northcote Social Club). As I understand it, there's been a need for smaller venues in Sydney so it's cool to see new places opening up.
Take us through a typical day in the life of Strangers From Now On.
We rehearse at Bakehouse studios in Melbourne, it's owned by the couple who masterminded SLAM. Bakehouse has this beautiful community of local bands who all come through there and it makes for the perfect place to rehearse. Otherwise we will do a good portion of our song writing in bedrooms, particularly whilst in the early stages of putting ideas together. Otherwise it's gigs, going out together, that sort of thing, nothing out of the ordinary really.
Any news or final comments?
MGM have just re released our first EP, you can find it on iTunes or here. We're also playing at the Factory Theatre December 6th (2013).
Sydney Unleashed is one of Australia's premier entertainment publications exploring the latest in lifestyle trends. From Sydney's finest restaurants, cafes and bars to the hottest in gadgets, products, and home entertainment, Sydney Unleashed is your one-stop lifestyle platform.