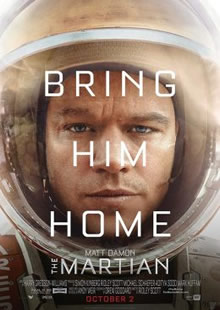 Starring: Matt Damon, Jessica Chastain, Jeff Daniels, Kristen Wiig, Kate Mara, Mackenzie Davis (Rated M – 141 min).
Life on Mars takes on a whole new meaning in the latest cinematic epic from triumphant director Ridley Scott – the man behind bona-fide science-fiction classics such as Blade Runner and Alien. Matt Damon stars as Astronaut Mark Watney, part of a research operation-manned mission to the red planet.
Constantly swirling, an unpredictable hostile climate remains dangerous to the crew and when one particular storm-front hits them hard, Commander Lewis (Jessica Chastain) makes a quick decision whether to leave the team member behind, thought dead, or risk all their lives by staying. Hesitant, the remaining crew set a course back to Earth which takes a couple of years leaving a media frenzy for an NASA to deal with.
Presumed deceased, Watney back on Mars emerges from a mound of orange dirt, injured but alive. Stumbling, gasping for air through a leaking helmet, bleeding from an abdominal gash, he gets to the abandoned base where he and the crew resided. This will be his new home until help arrives, if it does. Minimal supplies including power and water are thought out scientifically to survive. Being a botanist is also of assistance when attempting to grow food on a planet with zero water.
Damon is great at acting alone, think Tom Hanks as the isolated survivor in Castaway except instead of a tropical island, it's desert planet in the outer galaxy.  When managing to eventually signal earth of his existence, a daring rescue mission is set upon. The excitement builds for his ultimate survival, while a fun, ongoing music related joke about discotheque songs keeps things unexpectedly light.
Gravity and Interstellar were fantastic recent, more humane, journeys into the cosmos. The Martian continues this impressive, risk-taking trend. Although seemingly mis-matched, an ensemble cast actually keep things realistic full of high quality drama while incredible special effects are a glorious sight on the big screen.
Shane A. Bassett
/p>
Sydney Unleashed is one of Australia's premier entertainment publications exploring the latest in lifestyle trends. From Sydney's finest restaurants, cafes and bars to the hottest in gadgets, products, and home entertainment, Sydney Unleashed is your one-stop lifestyle platform.