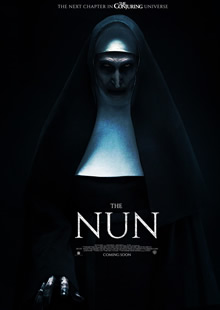 Starring: Taissa Farmiga, Bonnie Aarons, Ingrid Bisu, Demian Bicher, Charlotte Hope (Rated MA – 96 min).
Continuing on with the seemingly everlasting branches of The Conjuring universe, this slow moving (albeit intensively photographed) horror extends the brief appearance of The Nun spirit that came alive in The Conjuring 2.
An origin story of sorts, it follows Sister Irene (the lovely Taissa Farmiga who conquered this genre previously in American Horror Story: Coven) summoned by the almighty Vatican to investigate a missing persons case alongside veteran priest Father Burke (Demian Bicher – The Hateful Eight).
The journey takes the pair into eerie Eastern European castles and gardens where not much is what it first appears to be. The opening stanza sets a high standard of jump scares, however sadly throughout, there is simply not enough Nun. Amazingly towering elongated Bonnie Aarons is perfect for the part but other than a few optical illusions in shadows and fog, audiences are denied creepy Nun antics until the finale.
Demon Valek is a nasty piece of paranormal activity able to promote shrieks just from a visual. Looking for clues has Father Burke literally underground at one point during a scene sure to disturb claustrophobics. While green Irene lurks to be a difference to the fellow habit wearing community that may or not be part of the secretive past clues slowly unveiling.
Based around the 2013 original diaries of real life ghostbusters Ed and Lorraine. Incidentally Lorraine, played by Vera Farmiga (real life mum of Taissa), she is good, low-key but believable. I also love Charlotte Hope (so good in Allied), she is another Game of Thrones, crossover into movie success story.
Levels of frightening images and pounding score elevates the atmosphere of The Nun, but even as a moderate exorcist type suspense, it is incomparable to the great 70s classic. But looking at it as a solid mystery yarn not rushing into clues, it works. Fellow Conjuring alumni evil dolly, Annabelle does not appear unfortunately but there is a sweet cameo during end credits. Mildly memorable supernatural fright night, although well worth it for unique Aarons.
Shane A. Bassett 
Sydney Unleashed is one of Australia's premier entertainment publications exploring the latest in lifestyle trends. From Sydney's finest restaurants, cafes and bars to the hottest in gadgets, products, and home entertainment, Sydney Unleashed is your one-stop lifestyle platform.