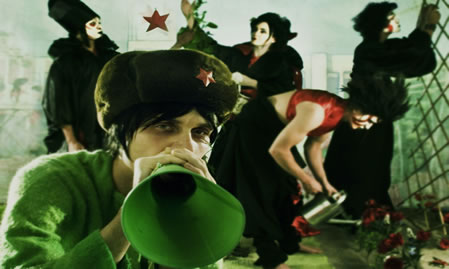 The Red Paintings Profile
Trash McSweeney (vocals/guitar) from The Red Paintings chats with Sydney Unleashed.
How did you get your start in the music industry?
I looked at a Brett Whitely painting. Created music to the shades of colour and awkward brush strokes. Created a band based on the idea of combining art and music as one. Found a violin player instead of a rock star lead guitarist and then started playing shows. Before we knew it, The Red Paintings' career had begun!
Best part of what you do?
Watching people around the world who we have never met, or may never meet again, painting live on stage during our shows, creating a fragment of time that fits the moment.
And the worst part?
Money and the lack of it. Sh*t hotels, service station food, no sound checks, sound engineers that treat us like everything is a chore. Like everything in life I guess, it has its ups and downs. But you learn to roll with the punches – even if it means sometimes to shut your mouth and do what you're told.
Any interesting experiences you can share?
Where do I start? There are so many. Hmm. One night a guy dropped his pants and crapped on the canvas while we were playing, claiming that was his art piece for the night. The band was highly unimpressed, but I was happy to see that we could be a part of helping an individual feel so free that he could let go in such a way with no holding back. All about letting go of the fear.
Favourite album of all time and why?
Anything by the French band 'Air'. Why? Well, they just know when not to play a sound. It's those that know when to be silent that are the magical composers in my heart.
Best live performance that you've ever seen?
Smashing Pumpkins, Hordern Pavilion, on the Mellon Collie tour. They were like no other and my ears were very young.
Favourite bars/clubs/pubs to hang out in?
Art galleries for me, not pubs. I thrive on little side alley art galleries and seeing local art pieces no one may ever find. It's a treasure.
Take us through a typical day in the life of Trash McSweeney.
No breakfast. Too much web time. Tour van. Film clip ideas. New stage show ideas. Work on string compositions. Feed the chickens. Sound check. Dress in green. Then paint.
What are your plans for the rest of the year?
Our album comes out and we tour the world. Pretty simple really!
Any news or final comments?
The revolution is never coming.
The Red Paintings tour Australia in June (2013).
© Danny Canak
Sydney Unleashed is one of Australia's premier entertainment publications exploring the latest in lifestyle trends. From Sydney's finest restaurants, cafes and bars to the hottest in gadgets, products, and home entertainment, Sydney Unleashed is your one-stop lifestyle platform.