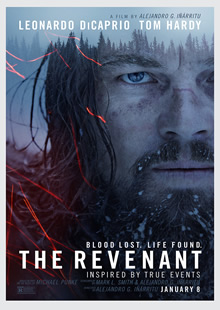 Starring: Leonardo DiCaprio, Tom Hardy, Lukas Haas, Domhnall Gleeson, Will Poulter, Grace Dove Rated (MA 156 min).
Pop the champagne corks! My absolute favourite time of year, Awards Season, is about to commence. The hot tip is Leonardo DiCaprio may finally win the critical best actor Academy Award that has to date eluded him.
Inspired by true events set during the early period of the 1800s, this harsh epic adventure tale of survival harks back to the Wild West and all of its atrocities. A hunting party of mountain men leave one of their own lifeless after an attack by a bear when in fact against all odds, he survives not only the mauling, but a journey across uncharted snow covered wilderness to gain redemption of a lost family and revenge towards his so called allies.
One of the detractors is played by magnificent Tom Hardy fresh from his Mad Max annihilation. Think of it as a confederate castaway premise, reminiscent to Last of the Mohicans with a dose of Dances with Wolves and a slice of Braveheart. This does not hold back the underlying violence. A western but not as you know it – an endurance test with cinematic rewards.
From an early age, Leo was at ease transforming himself into high end roles of distinction. You need only see What's Eating Gilbert Grape as a template to his distinguished career. As the abandoned Hugh Glass, he grunts, moans, foams at the mouth, drags himself through rugged terrain in freezing temperatures trying to start fires with flint, all while battling starvation and at one point being washed down rapids into a waterfall.
This is all 'after' a grizzly attack in which the beast bites, rolls and prepares the floundering body for its incoming cubs. The audience may flinch or leave, a few actually did walk out during a screening I attended. Navigating a real winter falling, using natural light over an eighty day schedule, the filmmakers have made an exceptional unrelenting film that will get under your skin.

Shane A. Bassett
Sydney Unleashed is one of Australia's premier entertainment publications exploring the latest in lifestyle trends. From Sydney's finest restaurants, cafes and bars to the hottest in gadgets, products, and home entertainment, Sydney Unleashed is your one-stop lifestyle platform.