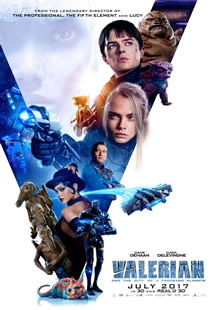 Valerian and the City of a Thousand Planets
Starring: Cara Delevingne, Dane DeHaan, Rihanna, Ethan Hawke, Clive Owen, Sasha Luss, Rutger Hauer (Rated M – 137 min).
This science-fiction adventure epic is as cutting edge as it is old-school. From diverse French auteur Luc Besson whom two decades ago made the equally alternative, now cult favourite space romp, The Fifth Element.
From the opening montage to the vibe of Space Oddity by the late great David Bowie to the finale battle beyond the stars, there was certainly a smile on my face throughout. Valerian is entertaining fun with a wacky sense of being but remember we are dealing with a story based on a comic book that involves some of the most obscure creatures ever devised.
Major Valerian (Dane DeHaan) and Sergeant Laureline (Cara Delevingne) are partners sent on a variety of military missions while bickering amongst themselves which is really just a form of developing passion, maybe.
Called to arms by the defence minister to protect their commander (Clive Owen), it becomes apparent to the laid back duo that a smokescreen on truth behind a mysterious dying planet is forming and double crosses emerge. Add intergalactic robberies and chase scenes on foot and elevated, sometimes both, it's full marks for imagination.
Runway model Delevingne made an instant acting splash in momentous teen romance Paper Towns (2015) while now basically rises to another level as lead here oozing charm, athletic ability, important comic timing and most important, screen aura. She even sings a tune on the soundtrack. Her banter works a treat with usually serious DeHaan last seen in the underrated thriller, Cure for Wellness.
Earning the moniker of modern Princess of Pop directly from her majesty Madonna, the appearance of Rihanna as a shapeshifting pole dancer, real name Bubble, is unforgettable – reminiscent of a deep space Liza Minnelli. Listen in for the unmistakable sultry voice of Australian Elizabeth Debicki and the gruff tones of John Goodman.
Sure the story is all over the place, however I feel this is subtle romance amongst a glorious oblique palette that anyone familiar with the work of Luc Besson (Lucy, Subway) will appreciate, such as I did.
Shane A. Bassett
Sydney Unleashed is one of Australia's premier entertainment publications exploring the latest in lifestyle trends. From Sydney's finest restaurants, cafes and bars to the hottest in gadgets, products, and home entertainment, Sydney Unleashed is your one-stop lifestyle platform.