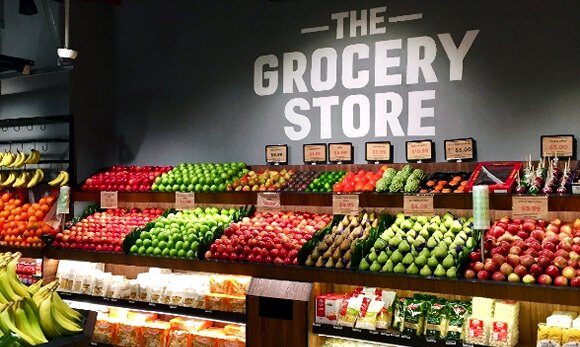 Why Shop at a Grocery Store When You Can Go To "The" Grocery Store
After working as a grocer for over 35 years, Charlie Evripidou knows a thing or two about what to stock on a supermarket shelf.
That's why he has joined forces with his sons Nicolas and Alex on his latest project, relaunching The Grocery Store at Miranda in Sydney.
Designed to provide a one-stop shopping experience in Sydney's Shire district, The Grocery Store is packed with the freshest, most seasonal fruit and vegetables – sourced directly from growers and delivered in-store within 24 hours.
It also operates alongside its own food kiosk – where shoppers can settle in for a juice, coffee or a bite off their all-day lunch menu. And it's not your standard food court fare here … everything is wholesome, homemade and will have you convinced that grandma's hiding in the kitchen!
Packed with a huge range of unique, high-quality grocery products, the shelves at The Grocery Store also help bring every foodie's ultimate fantasy to life. Among the offerings are: a variety of European style deli items (everything from prosciutto to cheese to specialty Sicilians crackers) perfect for grazing platters; hard-to-source international ingredients – including Middle Eastern nuts and oils, Asian frozen foods, ancient South American grains and spices and European sweets and slices; and a spread of natural and organic products designed to appeal to the health-conscious consumer.
Nestled beside corporate grocery giants, The Grocery Store never compromises on its commitment to support local farmers and the community.
"We're not just selling groceries," says Alex Evripidou. "We believe that small boutique retailers, such as The Grocery Store are key pieces to community and economic development," he adds. "We unite people, support our staff and always ensure that we deliver on both quality and cost, to create a real sense of community."
The Grocery Store is located at: Shop 2078, 600 Kingsway Westfield Miranda 2228. For more information, visit: https://thegrocerystoresydney.com.au/
Sydney Unleashed is one of Australia's premier entertainment publications exploring the latest in lifestyle trends. From Sydney's finest restaurants, cafes and bars to the hottest in gadgets, products, and home entertainment, Sydney Unleashed is your one-stop lifestyle platform.