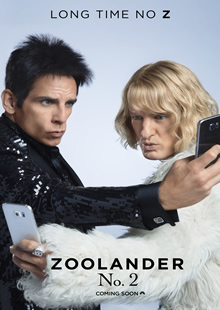 Starring: Ben Stiller, Penelope Cruz, Owen Wilson, Will Ferrell, Kristen Wiig, Benedict Cumberbatch, Billy Zane (Rated M – 92 min).
Back when the ridiculously good looking male model Derek Zoolander first graced the screen in 2001, no one was ready for his empty headed madness, including audiences. It was certainly not the instant box office hit as one may suspect. The fashion world was exposed and everyone involved remarked how accurate it portrayed them. Zoolander took hold over time when released on DVD and the rest is history.
However, another pair of iconic favourites, Anchorman & Dumb and Dumber were given sequels after persistence from fans only to ultimately disappoint prompting a recall back to the originals. The long awaited Zoolander second installment is again clever frenetic hilarity with an array of A-List cameos. In self imposed exile, Derek (Ben Stiller) is brought back together (by an amusing Billy Zane delivering the mail) with his once arch nemesis then good friend Hansel (Owen Wilson) to hit the runway for a new designer who ultimately only wants to exploit their dated retro appeal.
In the meantime, celebrities around the world are being assassinated but not before being captured in a final selfie emulating one of Zoolander's signature looks, Blue Steel. Absolutely gorgeous Italian interpol agent Valentina (Penelope Cruz) brings the duo into headquarters hoping for assistance with the mysterious crimes. However the well dressed empty headed models remain clueless on proceedings – they end up in Rome.
With eye popping production design, including a couple of large scale stunt scenes, it moves at a rapid pace simultaneously with one gag after another. No need to concentrate on plot, it's all about sustaining entertainment. It works, the laughs keep coming thanks to dedication to the character by director/writer/star Stiller.
Fans of the original are going to be in heaven with all the energy and satiric ideas ramped up here, a flashback montage will get audiences up to date on what has happened in the middling fifteen years. Decorum should be left at the door, nothing is sacred such is the plight of his estranged son as part of an ongoing weight joke and the return of Mugatu (Will Ferrell) insulting everyone in sight. Most of the cameos work: Kiefer Sutherland, Willie Nelson, Justin Bieber and Sting – hilarious.
Shane A. Bassett
Sydney Unleashed is one of Australia's premier entertainment publications exploring the latest in lifestyle trends. From Sydney's finest restaurants, cafes and bars to the hottest in gadgets, products, and home entertainment, Sydney Unleashed is your one-stop lifestyle platform.