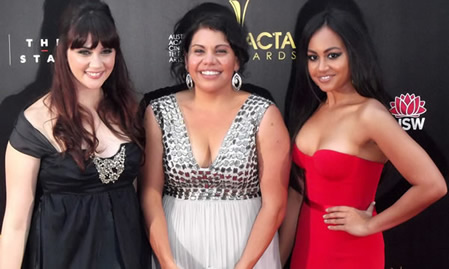 The Sapphires has been crowned as the big winner at the 2013 Australian Academy of Cinema and Television Arts (AACTA) Awards which was held at The Star Event Centre in Sydney on 30th January. Since premiering in Cannes in May 2012, the toe-tapping musical drama about four Aboriginal girls who formed a singing group in the 1960s has garnered audience awards all over the world and box office triumph at home. The Sapphires took home six AACTA Awards – Best Film, Best Director (Wayne Blair), Best Lead Actress (Deborah Mailman), Best Lead Actor (Chris O'Dowd), Best Supporting Actress (Jessica Mauboy) and Best Adapted Screenplay (Keith Thompson, Tony Briggs) – bringing the film's tally to a total of 11 AACTA Awards, including those previously announced at the 2nd AACTA Awards Luncheon.
Hosted by Russell Crowe, who was joined on stage by internationally acclaimed Australian actors including Cate Blanchett and Nicole Kidman and AACTA President Geoffrey Rush, the night honoured the year's best achievements in Australian film and television. The dramatic thriller Wish You Were Here, shot and set partly in Cambodia, won the AACTA Award for Best Original Screenplay for husband and wife creative team writer/director Kieran Darcy-Smith and writer/actress Felicity Price. Antony Starr also won Best Supporting Actor for his enigmatic performance in Wish You Were Here.
The luminous young German actress, Saskia Rosendahl, received the AACTA Award for Best Young Actor for her lead performance in the stunning German language film Lore, directed by Cate Shortland. Just 17 years old at the time of filming, this was Rosendahl's first feature film role. A special highlight of tonight's AACTA Awards Ceremony was the presentation of the Byron Kennedy Award to the late filmmaker, animator and artist Sarah Watt (1958 – 2011), accepted on her behalf by her son, Clem McInnes. A moving video tribute reminded audiences of the consummate skill, elegance and humour Watt brought to the screen in works like Look Both Ways, Small Treasures and My Year Without Sex. Presented by Matt Day, Watt was chosen as this year's Byron Kennedy Award recipient "for her brave, innovative filmmaking'' and because "without pretension, her work broke all the rules, yet her singular view connected to a wide audience by its profound emotional honesty."
Marking another brilliant year for Australian television, the 2nd AACTA Awards Ceremony celebrated seven television programs across four networks. John Edwards and Southern Star Productions confirmed their reputation for top-notch drama, with Channel Ten's Puberty Blues winning Best Television Drama Series and Channel Nine's Howzat! Kerry Packer's War winning Best Telefeature or Mini Series. Mandy McElhinney, loved by millions as 'Rhonda' in an Australian Bali-based advertising campaign, also won Best Guest or Supporting Actress in a Television Drama for her endearing performance as Kerry Packer's longsuffering secretary, Rose Mitchell.
The ABC was a big winner at tonight's AACTA Awards, with the groundbreaking Indigenous drama Redfern Now winning Best Screenplay in Television (Steven McGregor for Episode 6) and Leah Purcell winning Best Lead Actress in a Television Drama for her performance in Episode 1. Also at the ABC, Rake co-creator and star, Richard Roxburgh took home the AACTA Award for Best Lead Actor for his performance as the lovable rogue, Cleaver Greene. Jeffrey Walker won Best Direction in Television for Jack Irish: Bad Debts, also for the ABC.
Aaron Jeffery won the AACTA award for Best Guest or Supporting Actor in a Television Drama for his performance as bikie-turned-police-informant Frank O'Rourke in the Nine Network's Underbelly Badness. In 2012 the Australian Academy of Cinema and Television Arts introduced the new AACTA Award for Best Reality Television Series, and the first recipient of this award was announced tonight, with the exciting adventure-based contest of The Amazing Race Australia (Channel Seven) taking home the golden statuette. The news.com.au Audience Choice Award for Most Memorable Screen Moment was also announced on the night, with a win by The Sapphires confirming the public's love of the film, along with the industry's.
In addition to Award presentations by some of Australia's most successful performers and practitioners, the 2nd AACTA Awards Ceremony featured some of the most popular names in Australian entertainment, including show-stopping performances by Jessica Mauboy and the cast of The Sapphires, accompanied by original members of the Indigenous girl group, and Dragon, who performed the theme song from Puberty Blues, "Are You Old Enough?".
Quote of the night backstage went to Howzat! star Abe Forsythe who told us what he really thought of Richard Roxburgh's upset win in the Best Lead Actor category over Howzat! co-star Lachy Hulme. "F..k Richard Roxburgh." Enough said!
Congratulations to all of the winners!
© Images: Danny Canak
Sydney Unleashed is one of Australia's premier entertainment publications exploring the latest in lifestyle trends. From Sydney's finest restaurants, cafes and bars to the hottest in gadgets, products, and home entertainment, Sydney Unleashed is your one-stop lifestyle platform.