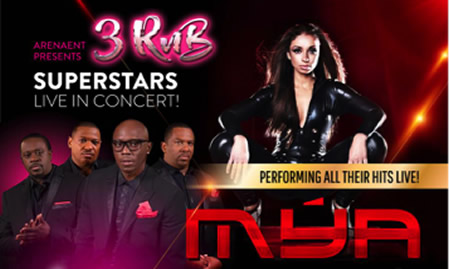 3 RNB Superstars Live In Concert
Get ready for three of the hottest acts from the 1990s/2000s, up close and personal, LIVE on stage in Sydney (two shows) and Melbourne.
The stars behind some of the biggest hits you grew up with and love, collectively have millions of record sales, Grammy awards and nominations and are set to hit Australia this November! Tracks including: 'Case of the Ex,' 'No Diggity' & 'Only You' get ready for Mýa, Blackstreet & 112 (One Twelve).
MYA
In 2016, Grammy Award Winning Artist Mýa, celebrates 18 years in the entertainment industry as an internationally known, respected singer, songwriter, producer, dancer/choreographer, designer, actress, activist and philanthropist.  Mýa featured on the massively successful singles 'It's All About Me,' 'Movin On' and 'My First Night With You,' 'Ghetto Superstar' & 'Take Me There.' In 2000, Mýa released her second double platinum album, Fear of Flying, featuring the hits 'Case of the Ex,' 'Free' and 'Best of Me.' In May 2001, Mýa collaborated with Christina Aguilera, Lil' Kim, P!nk and Missy Elliot on a remake of LaBelle's 'Lady Marmalade' selling over 5.5 million copies, it became the most successful airplay-only single in history and won the Grammy Award for 'Best Pop Collaboration' and went on to collect numerous awards.
BLACKSTREET
Blackstreet is an American R&B and soul group formed in New York, USA.  The group came to be in 1991 and currently consists of Chauncey Hannibal, Levi Little, Mark Middleton and Eric Williams.  The group was born when founding members Chauncey Hannibal and Teddy Riley – who is no longer a member of the group – started making music together in New York. The pair brought on additional band members and quickly started attracting attention with their fresh and compelling sound.
In 1993 the group released their debut album, 'Blackstreet.' The eponymous album was a huge hit and eventually went on to be certified platinum.  One single from this debut album, 'Before I Let You Go,' was a top 10 hit on the US Billboard Chart and won the group scores of fans across the US.  Blackstreet followed up this impressive initial success with their second album, 'Another Level.' The album outdid the success of its predecessor and peaked at number three on the US Billboard chart, largely due to the massive hit single, 'No Diggity' which featured rap vocals by Dr. Dre.  The track, which is now considered to be a rap classic and even won its own Grammy Award, was a breakout hit for the band and saw them become heavyweights within the American R&B world.
112
Equally rooted in gospel, soul and hip-hop, 112 was the first and most successful urban vocal group to emerge from Sean 'Puffy' Combs' Bad Boy Records roster.  Not only was the group's eponymous 1996 debut popular, but the group could be heard on records by Bad Boy artists such as Puff Daddy.  Unlike most artists on Bad Boy, 112's image was clean, pure and wholesome, which helped the group cross over to a more mainstream audience.
The four members of 112 – Marvin, Daron, Q and Mike – met each other while attending high school in Atlanta, Georgia.  Combs signed on as the executive producer of 112's eponymous debut album, which featured songs the group co-wrote with such professional songwriters as: Stevie J, Wayna Morris of Boyz II Men, and Combs himself. 'Only You,' the group's debut single, was released in the summer of 1996 and climbed to number three on the R&B charts, peaking at number 13 on the pop charts.  112 was released in late 1996 and it steadily worked its way to gold status as the group's second single, 'Come Seem Me,' reached number 15 on the R&B charts.  Room 112 followed in 1998 and Part III was issued three years later.
RNB LIVE TOUR DATES (2016):
Wed 16th Nov – Trak Lounge Bar, Melbourne.
Wed 23th Nov – Enmore Theatre, Sydney.
Thurs 24th Nov – Panthers, Sydney.
Sydney Unleashed is one of Australia's premier entertainment publications exploring the latest in lifestyle trends. From Sydney's finest restaurants, cafes and bars to the hottest in gadgets, products, and home entertainment, Sydney Unleashed is your one-stop lifestyle platform.