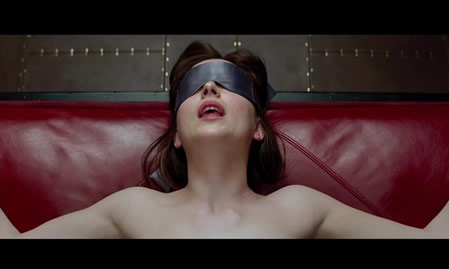 50 Shades vs Nine 1/2 Weeks
In an unprecedented move I have never seen before, cinemas have decided, in conjunction with a film studio, to begin selling tickets to a movie three months in advance and without completing post-production.
Such is the anticipation and awareness of Fifty Shades of Grey that with a release date of February 12th 2015 in Australia (US are not releasing it until Friday the 13th), you can now purchase tickets to opening day or weekend sessions. It's not a concert or musical stage show when acts or live theatre demands advance sales, it's a movie! It's certainly not unusual for big blockbuster tent-pole films, especially the likes of a marvel superhero film or the next Lord of the Rings, Star Wars, Harry Potter and recently Hunger Games. They all had advance tickets available within a month out from release, not three!
It began life as a style of fan fiction written by British female author E.L James who used the love story of teenage supernatural romance Twilight as a basis only to set in a contemporary setting. At first it was a super lengthy epic, now broken down into three books and only published by a very small Australian press in print made the title hard to find a place in bookstores. But in a stroke of luck during a time when larger book stores such as the American operated Borders began closing doors mainly due to online sales of novels rocketing, Fifty Shades took off digitally, downloaded from across the world once the notorious nature of the subject matter spread.
The affair and intrepid adventures behind closed doors of secretive businessman Christian Grey and virgin Anastasia Steele gained instant cult status. The phrase Mommy Porn was born, the book made headline news bulletins due to the sexual content and gained a reputation before many had even read it. Females were the main advocators of recommendations, it was a surreal fantasy that husbands or boyfriends often didn't even know about. Digital downloads were safe for the book to be read in public, passers by can't read the words and there was no book jacket to give it away. The book was popular among all ages, it was not given a rating so teenagers who cried at the likes of the G rated Twilight, were devouring the three Grey titles.
As with any best-selling novel, the movie rights are often sought after immediately. A bidding war was ongoing for the rights to turn this basically written, bondage influenced but accessible erotica novel trilogy into celluloid. Focus Features, an affiliate of Universal Pictures won out and again this made headlines. Not since the continuing Star Wars saga have I seen a movie be reported on in mainstream media.
It didn't stop there, a director and most importantly to the now billions of fans, the right cast had to be selected. The who's who of young Hollywood and few middle-aged actors were put up for contention, many officially sought after others through fans on ever growing social media.  Australian Luke Bracey, last seen in Best of Me, was seriously considered until Charlie Hunnam got the part only to pull out (pardon the pun) citing a clash with his popular television show schedule, Sons of Anarchy. Personally I think he froze up with how much reaction the movie was getting and spotlight on the risk involved. Even though all this was happening almost two years before release, the movie was on everyone's radar.
In steps unknown to many, Jamie Dornan (Jamie who?), I remember him from Marie Antoinette but this cool, swift, good-looking dude was a surprise to many to be Christian Grey. The casting process of Anastasia Steele went through many of Hollywood's most beautiful and talented before producers decided on Dakota Johnson. Daughter to Miami Vice retro heart-throb Don Johnson and the once controversial Melanie Griffith, I actually earmarked Dakota early on in my reviews of 21 Jump Street and Need for Speed, as a standout in small roles.
The first trailer, ironically known as a teaser, was released earlier this year to huge discussion, then last week the first full length trailer went viral sparking both positive and negative comments. I'll reserve judgement until I see the film but I quite liked the style and glimpses we see so far. I predict the subject will actually be watered down to get a lower film rating which then translates less age restrictions to higher ticket sales. Jamie Dornan widely advocated a stipulation that he will not conduct full frontal nude scenes, so unless there is a body or stunt double, tweaks to the novel will have to be adjusted, ahem…
In 1986 I attempted to get into a cinema showing a new Mickey Rourke film, a love story is all I knew of it directed by the guy who did Flashdance. Refusal at the box office for being way underage only delayed my viewing of Nine 1/2 Weeks until hitting VHS home video. To this day, it's one of my favourite films and very similar in aspects to Fifty Shades. Also based on a book by a female author, it's the story of a man and a woman, opposites professionally and sexually, the courtship, love affair then demise has all the same ingredients to Fifty Shades.
A sexual charge by being in charge was the common theme, from stripteases to Joe Cocker's 'You Can Leave Your Hat On', food and ice used to enhance senses to the purchase of pleasurable whips, this movie became a global hit, but believe it or not was banned in Queensland for some time. It even spawned two lesser known sequels, Mickey returned in 1998 for the inferior Another Nine 1/2 weeks then a year later, Australia's own Paul Mercurio headlined the even more inferior The First Nine 1/2 Weeks.
Other exploitive but at the same time irresistible adult love stories followed with that erotic taboo as the theme, Two Moon Junction, Red Shoe Diaries and Secretary, a film I highly advise seeing. James Spader as the boss who has secretary Maggie Gyllenhaal as his all office assistant is breathtaking and again caused controversy upon release in 1992, but became a hit.
Conducting my own survey with females I know, the individuals who had not read the book, yes there are a few around, said they will see the movie, add to that the fans of the book, then the curious who may have forgotten about it until next year when I know, you won't be able to go anywhere without seeing or hearing it advertised. Receiving the kind of advertising that movie studios generally pay millions for, that little book who nobody wanted to publish is set to become one of the biggest blockbusters of 2015. For the record, yes I have my ticket for opening day and have read two of the three books for 'research'. I want the finale to remain a surprise so in the meantime, will watch Nine 1/2 Weeks on loop.
Shane A. Bassett
Sydney Unleashed is one of Australia's premier entertainment publications exploring the latest in lifestyle trends. From Sydney's finest restaurants, cafes and bars to the hottest in gadgets, products, and home entertainment, Sydney Unleashed is your one-stop lifestyle platform.