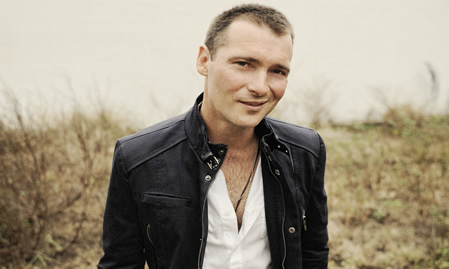 For more than fifteen years, Adam Brand has been one of the country's best-loved and most successful recording artists. On August 8th, he will release his 10th studio album, the soulful 'My Side Of The Street'. The guitar-heavy, soaring rock-tinged lead single 'What Your Love Looks Like' captures Brand in his element, as he sings "I want to close my eyes, and see what your love looks like", drawing listeners in as a love-fuelled narrative unfolds. In preparation for the release, Adam Brand took some time out to chat with Sydney Unleashed.
How did you get your start in the music industry? I went to Tamworth busking in 1997. The week after I made my way to Sydney and handed out copies of my demo cassette. Yep, it was a cassette.
Best part of what you do? Meeting new people and singing to them.
And the worst part? Living away most of the time.
Any interesting experiences you can share? These happen almost every night! Once I was talking to this guy on stage and while he was talking, a tooth from his falsies fell out on to the floor. He didn't notice and just kept on chatting.
Favourite album of all time and why? Fleetwood Mac – Rumours. It just never gets old.
Best live performance that you've ever seen? The Boss..Springsteen in Sydney.
Favourite bars/clubs/pubs to hang out in? I don't drink so it's not something I do a lot of.
Take us through a typical day in the life of Adam Brand. If I'm on the road, it's totally different to when I'm at home. We get up in the morning and usually drive 3-4 hours to the next gig, check-in to hotel and then go and set up. Dinner, shower, show then sleep. It's kinda like groundhog day! Haha the part of the day that's always different though is the performance. that's the part I love coz you meet new people and you never know what's going to happen. The fact I get to sing each night for my living is still something I need to pinch myself about from time to time.
What advice would you give to someone looking at getting involved in the music industry? To do it for the right reasons. If you think it's all glamour, money and free stuff, then you're in for a shock. If you love living in a world of music and you are prepared to work hard, then go for it!
Any news or final comments? People call me a country singer and I get prejudged because of that title. First of all, I'm proud to be a country singer but you might be surprised if you actually come and check out a show. It's not what you expect.
Danny Canak
Sydney Unleashed is one of Australia's premier entertainment publications exploring the latest in lifestyle trends. From Sydney's finest restaurants, cafes and bars to the hottest in gadgets, products, and home entertainment, Sydney Unleashed is your one-stop lifestyle platform.