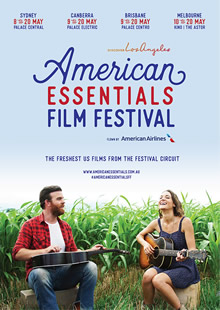 American Essentials Film Festival
The third American Essentials Film Festival will screen in Sydney, Melbourne, Brisbane and Canberra from 8 May exclusively at Palace Cinemas. Presenting twenty-two of the best contemporary American independent films and a strong retrospective program to honour the spirit of L.A., the Festival is presented by Discover Los Angeles and American Airlines.
Opening nationally with Sophie Brooks's directorial debut THE BOY DOWNSTAIRS featuring Girls star Zosia Mamet as Diana, an ambitious, aspiring writer who finds the perfect Brooklyn apartment only to discover that her new downstairs neighbour is her ex-boyfriend. Join us at the opening night for a New York style bite and live music.
The strong program features hard hitting dramas including: 55 STEPS – based on the true story of the friendship between lawyer Colette Hughes (Hilary Swank) and psychiatric patient Eleanor Riese (Helena Bonham Carter) and their 1987 San Francisco case for patients' rights; Lynn Shelton's new drama OUTSIDE IN which sees an ex-con (Jay Duplass) struggling to readjust to life in his small town (also co-starring Eddie Falco); in MY DAYS OF MERCY Ellen Page and Kate Mara star as lovers against the backdrop of a death penalty case, whose burgeoning relationship is tested by their opposing political views; THE YELLOW BIRDS is based on the acclaimed novel by American poet and veteran Kevin Powers, and follows two young soldiers who face the terrors of the Iraq War; an ailing photographer (Ed Harris), his nurse (Elizabeth Olsen) and his estranged son (Jason Sudeikis) embark on a road-trip across America in KODACHROME; from the producers of Harry Potter, I KILL GIANTS sees a defiant teenage girl escape her family and school life into a fantasy world where she fights evil giants; and in THE BALLAD OF LEFTY BROWN Bill Pullman is Lefty Brown in this classic bounty huntin', revenge dealin' old school Western adventure where a busted-out loser meets a quick shooting gang on the open range.
Crime dramas and thrillers are well represented with: NEVER HERE a haunting Lynchian thriller, starring Mireille Enos (The Killing) and the late Sam Shepard in his last screen appearance; black comedy MOM AND DAD in which Nicolas Cage and Selma Blair star as a suburban couple who are caught in a bizarre phenomenon that fills parents with a murderous rage; and direct from Cannes comes biopic GOTTI. Exuding charisma, John Travolta transforms into the late John Gotti, aka "Teflon Don," for this chronicle of the mafia kingpin's rise to power over three decades.
On the lighter side is the heartfelt comedy HUMOR ME staring Jemaine Clement as a struggling playwright who moves into his wisecracking father's (Elliott Gould) New Jersey retirement community; and PET NAMES in which a former couple find themselves in close quarters in a Wisconsin-set feature directed by Carol Brandt.
Get your music fix with AMERICAN FOLK, about two musicians (played by Joe Purdy and Amber Rubarth) stranded in California, who take a road trip to New York in the days after 9/11. A story about the kindness of strangers and the power of music and based on the award-winning Off-Broadway musical, STUCK follows a group of strangers who are stranded on a New York subway train together, starring Ashanti and Giancarlo Esposito; and documentary HOW THEY GOT OVER featuring rare interviews with the genre's pioneers, traces the origins of African-American gospel quartets in the 1930s and 40s creating a sound that foreshadowed rock 'n' roll.
Another documentary offering, RBG is a triumphant look at the life and career of Supreme Court Justice Ruth Bader Ginsburg revealing the woman behind the robe and the experiences that continue to shape her legacy. In a special retrospective program that honours the life, loves and dark side of LA comes WATTSTAX. More than a concert film, WATTSTAX captures a heady moment in mid-1970s African-American culture, just seven years after the Watts riots and features performances by musical greats like the Staple Singers. Screening as part of a special double feature with KILLER OF SHEEP, the lyrical and starkly neorealist, portrait of a struggling African-American family in L.A.'s Watts neighbourhood influenced generations of filmmakers and is widely regarded as an American masterpiece.
In splendid newly restored 4k, you can re-live the crime saga of HEAT, which sees Al Pacino and Robert De Niro on opposite sides of the law, featuring one of cinema's greatest showdowns. Plus see CHINATOWN on the big screen again. In one of his most iconic roles, Jack Nicholson stars as Jake Gittes, a dogged private investigator in '30s Los Angeles; co-starring Faye Dunaway. And set on the eve of Nixon's 1968 election win SHAMPOO sees a pleasure-seeking Beverly Hills hairdresser (Warren Beatty) dreaming of opening his own salon in Hal Ashby's screwball classic. 
THE AMERICAN ESSENTIALS FILM FESTIVAL 
Sydney: May 8 – 20, Palace Central
Canberra: May 9 – 20, Palace Electric
Brisbane: May 9 – 20, Palace Centro
Melbourne: May 10 – 20, The Astor Theatre & Kino Cinemas
Sydney Unleashed is one of Australia's premier entertainment publications exploring the latest in lifestyle trends. From Sydney's finest restaurants, cafes and bars to the hottest in gadgets, products, and home entertainment, Sydney Unleashed is your one-stop lifestyle platform.