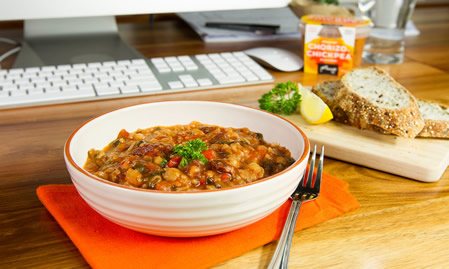 Most Annoying Workplace Eating Habits
On average Aussie office workers will spend around 10.5 years in the office over their lifetime and consume around 2,700 meals at their desk, so is it surprising that the most common office related complaint is our co-workers' bad eating habits?
A recent survey conducted by real food company, Pitango, discovered that 35% of those surveyed said smelly food tops the list of most annoying habits, closely followed by mess left behind (32%) or loud eating and slurping (34%).
"We weren't too surprised by these findings", comments Pitango Marketing Manager Sharon Addington. "Our Meal Pots for One range was created with these common complaints in mind. We wanted to make an easy to prepare, easy to eat meal for the office".
Pitango Meal Pots for One are available in a ready-to-heat, ready to eat container that means no mess, no fuss, and they smell as good as they taste!
The Pitango survey, answered by over 200 office workers across Australia, also revealed that more than half (56%) will spend between $10.00 and $20.00 on lunch each day with the majority of those (69%) spending their lunch money on an unhealthy fast food option.
"There really is no need to spend that much each day for work lunch", continues Sharon. "Pitango Meal Pots for One not only provide a perfect sized meal but are also very cost effective. They really are the perfect office lunch solution. We have three amazing options currently available in the range that are all inspired by flavours from around the globe. And all this ready to eat in 3 minutes!"
Pitango's Meal Pots for One are created in the Pitango Kitchen using simple, home-style cooking techniques and the freshest of ingredients from local growers and are packed with only the good stuff: Protein, free range meats, fresh vegetables, and delicious herbs and spices.
With an impressive 91% confirming that their workplace provides kitchen and cooking facilities, there is really no reason to choose unhealthy fast-food options.
"Take away food can mostly be an unhealthy and expensive option", says Sharon. "It either doesn't fill you up as much or makes you feel bloated, and usually is lacking that 'home cooked' taste".
Pitango Meal Pots for One contain natural ingredients that you would find in your own kitchen at home. They are portion-controlled, contain less than 300 calories, have a minimum of 11g protein and a nice and simple ingredient list. They are also ready in just three minutes. A perfect meal for the 44% of respondents that take 30 mins or less for their lunch each day.
"The Pitango Meal Pots for One are the perfect example of an easy lunch option that will make your work colleagues run over to your desk!" says Sharon Addington. "It just smells so delicious, as if your grandma had cooked it at home and prepared you a little lunch bag!"
90% of interviewed people also noted that although storing their food in the office fridge, their lunch has not been stolen before. We're sure your Pitango Meal Pots for One will start to go MIA though!
Pitango Meal Pots for One are available in the refrigerated section at Coles, nationally. RRP $5.00.
Sydney Unleashed is one of Australia's premier entertainment publications exploring the latest in lifestyle trends. From Sydney's finest restaurants, cafes and bars to the hottest in gadgets, products, and home entertainment, Sydney Unleashed is your one-stop lifestyle platform.