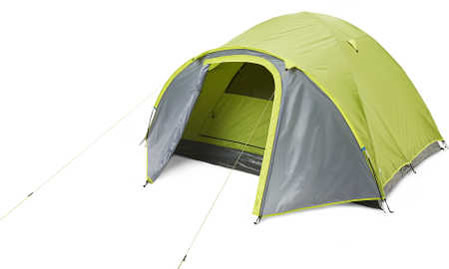 A Camping Trip For Less from BIG W
Rally the kids, grab your friends and head out under the stars this Easter long weekend. Getting back to nature and telling stories by the campfire and sleeping in tents is a wonderful way of disconnecting us from technology and spending quality time with one another.
And the wonderful thing about camping is that it need not cost you a fortune…even with a few creature comforts thrown in.
We've done the maths, and at BIG W – home of some of the biggest brands in camping – we discovered $300 can stretch a pretty long way, getting you all the basics for a family trip:
1x 4-person Hinterland dome tent: $59
1x Double air mattress: $17
2x Single air mattresses: $8 each
1x Hinterland double sleeping bag: $49
2x Single sleeping bags: $12 each
1x OzTrail foldable table: $39
4x Oztrail Basic Camp Chair chairs: $5 each
No matter whether you camp or glamp, it is essential that you have all the right supplies before you head out of town. A few additional tips and considerations:
Tent: When looking for a new tent, think about the number of people who'll be using the tent to determine the perfect size for your family. Another thing to look for is whether the tent will be easy to use. What's the set up like? Ensuring the tent is the right size and fit for your camping and climate conditions will play a big role when deciding which tent to buy. Of course, price is another important factor. Take a look at BIG W's instant tents which are super easy to use and very affordable! You can get tents starting from $14 to $149, and they're all waterproof – important if the weather turns.
Accessories: If you are getting started, you can get all of your family camping basics at BIG W including air mattresses, sleeping bags, tables, chairs and eating utensils including knives, forks, spoons and plates.
Extra touches: If you are looking to spruce up your site with extra comforts, a gazebo is a fantastic idea to house a camp kitchen, multipurpose cookers which you'll need for cooking for a group, and quick inflation air mattresses. Lighting can make or break a camping trip, so it's wise to invest in lanterns and torches (a few fairy lights won't go astray for ambience and will be guaranteed to create some campsite envy)!
Now all you need to do is choose where to immerse yourself in fun outdoor activities such as hiking, fishing and melting marshmallows over an open fire. Mount Wilson, Hawkesbury River and Bowral are top spots for families that want to trial camping and don't want to be too far from Sydney. So what are you waiting for? Had to your local BIG W store or jump online and get yourself equipped for the long weekend.
Sydney Unleashed is one of Australia's premier entertainment publications exploring the latest in lifestyle trends. From Sydney's finest restaurants, cafes and bars to the hottest in gadgets, products, and home entertainment, Sydney Unleashed is your one-stop lifestyle platform.