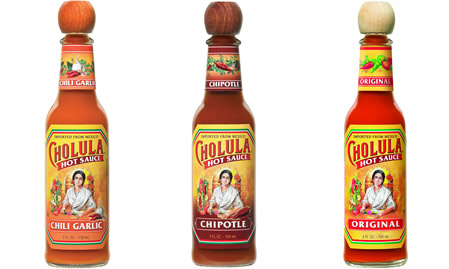 A hot sauce created for taste rather than heat, it's no wonder that Cholula Hot Sauce is the number one gourmet hot sauce in America and one of the top three hot sauces in the world.
With its iconic wooden cap and distinctive yellow label, this classic Mexican sauce is recognised by millions around the world. The custom built bottle and handcrafted stopper was designed to represent the care and quality of traditional Mexican artisanship.
Cholula's unique and zesty flavour finds its roots from a secret family recipe that's over 100 years old. Cholula's delicious blend of Piquin peppers and Chili Arbol are ground into a delicate pepper paste and combined with signature seasonings and natural ingredients. This fusion results in the perfect balance between heat and flavour.
Cholula Hot Sauce is all about Flavour, Fire and Fun!
Cholula Hot Sauce enhances the flavour of almost any food without overwhelming the palate. Some of Cholula's many uses are with rice, eggs, omelettes, dips, meats, soups, pizza, seafood, salads, popcorn and even Bloody Marys!
"The heat of hot sauces can often mask the flavour of foods. Cholula Hot Sauce brings out the taste. For those who enjoy hot sauces but are sensitive to heat, Cholula is the perfect way to add a bit of spice to meals without overwhelming your tastebuds. We are proud to distribute a hot sauce which caters for people of all ages to enjoy," says Naldo Pacchini, Director of Australian distributor, Pacchini & Sons.
Not only does Cholula Hot Sauce taste great, but it is believed that chilli peppers have many health benefits, particularly for people with pulmonary and respiratory problems.
Hot peppers are great for asthmatics as they are rich in Vitamin A and Vitamin C and the capsaicin found in hot peppers helps lungs function more effectively. It also controls sinus and nasal problems and reduces the intensity of headaches.
The capsaicin found in Cholula Hot Sauce increases metabolic rates, making it easier to burn calories.
The heat of the hot sauce is based on the Scoville Scale, which is used to measure the heat contained in peppers. Pure Capsaicin ranks at approximately 15,000,000, whilst Piquin and Arbol ranges between 40,000 to 60,000 Scoville units. With the addition of exotic spices and other ingredients.
Cholula Hot Sauce delivers a palatable 1,000 Scoville units, creating a sensational flavour for your tastebuds to enjoy.

With the growing popularity of hot sauces in Australia, Cholula Hot Sauce is sure to become a regular addition to many shoppers' baskets.
Cholula Hot Sauce is distributed through Pacchini & Sons and is available nationally in Coles, Woolworths and selected IGA's. RRP range from $4.80 to $5.30 per 150 mL bottle.
Sydney Unleashed is one of Australia's premier entertainment publications exploring the latest in lifestyle trends. From Sydney's finest restaurants, cafes and bars to the hottest in gadgets, products, and home entertainment, Sydney Unleashed is your one-stop lifestyle platform.