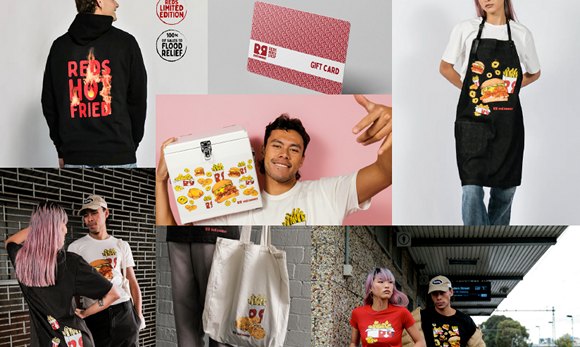 If you're looking for the perfect Christmas present, you've come to the right place. Our gift guide is packed full of gift ideas that are bound to impress your loved ones this year.
Red Rooster Merch
Looking for the perfect quirky gift solution leading up to Christmas? Why not give your friends and family a Reds Merch Shop Gift Card for the holidays and let them choose just how they want to rep the rooster in style! Available in three different denominations of $25, $50 and $100, each physical gift card comes in a cool Reds branded sleeve. You can pick up some great gear from their newly launched Reds Street Food range which includes versatile tote bags, awesome unisex adult and kids tees and fun crew socks – all featuring bespoke Reds Illustrations. Standout products include the retro cooler in a new and updated design and colour, an ultra-comfy onesie for both adults and kids, an emotional support water bottle and a summer-ready one piece swimsuit. Designed with comfort, quality and a distinct cool factor in mind, stock up on some great fun gear and help spread some Christmas cheer at the same time with all profits from the Reds Shop going to charity. Each Reds Merch Shop Gift Card is valid for three years from date of issue and can be used multiple times until the full card amount is spent. Note these gift cards are for use at the Reds Merch Shop only and not for use at Red Rooster restaurants. It's the ideal gift for all the special people in your life whether that's kids, adults, colleagues or clients. You name it, they'll love it!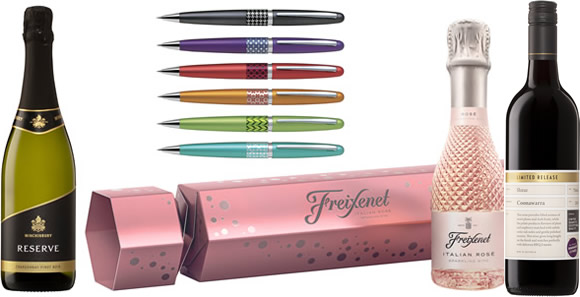 Christmas Gifts Under $50
For a super affordable option this Christmas, pick up some Freixenet Limited Edition Bon Bons. Beautifully wrapped in a Christmas Cracker designed gift box, each Freixenet Christmas Bon Bon includes a 200ml Piccolo sized bottle of Freixenet Italian Sparkling Rosé and a 200ml Piccolo bottle of Freixenet Prosecco. Freixenet Bon Bons are available in Dan Murphy's and BWS (RRP: $13.00 each) while stocks lasts. The new Minchinbury Reserve is another great wallet-friendly choice. The Minchinbury Reserve Chardonnay Pinot Noir is a delectable drop that sparkles with crisp apple and stone fruit flavours, creating a perfect match for your next celebration. While the new Minchinbury Reserve Chardonnay Pinot Rosé is a delicate floral rose sparkling that bursts with fresh citrus and cherries to create a clean, crisp accompaniment to your next celebration. Pick them up for $11.99 each from Dan Murphy's or $9.00 for Dan's members, while stocks last. New Winemakers Limited Release 922 Coonawarra Shiraz is yet another deliciously affordable option featuring a blend of vintage parcels of Coonawarra Shiraz from premium vineyards across the region. This wine scored 93/100 points by Dan Murphy's Wine Panel and makes the perfect Xmas gift or delicious addition to any festive occasion. Available exclusively through Dan Murphy's. RRP: $12.99 and $9.00 for Dan's members, while stocks last. Also available for under $50 this year is the Pilot MR3 Mechanical Pencil – a great gift for anyone who enjoys using a mechanical pencil for work or play.  It comes in a choice of six eye-popping colours, each with a funky barrel design and has a built-in eraser under the cap for a streamlined look. This smart pencil is easy to refill and is retractable to protect the lead. It comes in a premium gift box and is engravable to make the perfect personalised gift. Team up with an MR3 Fountain Pen (RRP: $49.50); or Ballpoint (RRP: $40.70) for a co-ordinated set. While stocks last.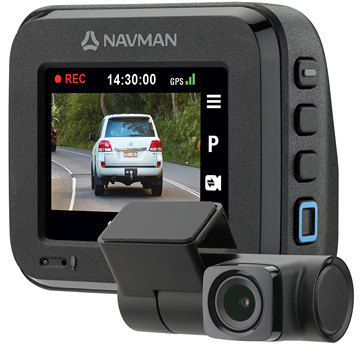 Dash Cam Gift
When you buy a loved one a dash cam, it won't make them prettier or more handsome, they won't smell or dress better, but they will be safer on the roads, and they may think of you every time they get in the car and hear the ping of a speed camera alert, and the money you've saved them in fines! And if they are in an accident they will avoid being bullied by the other party on the side of the road and instead, simply hand the footage over to your insurer. Get the best quality from Navman, leading designer and manufacturer of dash cams – our favourites –Mivue™ 150 SAFETY (RRP $169), MiVUE™900 DC (RRP $299) or get a dash cam + GPS combo, the Micam GPS for $299 but visit www.navman.com.au for the full range.
For the book lover
Lonely Planet have some amazing book options to explore this year. Discover over 100 amazing places that are off the beaten track with 'Offbeat'. Explore a secret mountainous kingdom in Africa, an underwater museum in Australia, a medieval fairytale town in Europe – and learn how your visit can benefit local communities when you go beyond classic bucket list places with this inspiring travel guide. Or explore 150 of the world's most enchanting islands in 'The Islands Book' – an inspirational coffee table book that features beautiful photography, illustrations and maps. Island hop across cosmopolitan archipelagos and secret tropical paradises, discover fascinating stories about each destination, meet locals, encounter wildlife and find amazing island experiences. For the foodie, you can put some new flavour on the menu with Lonely Planet's Eat France, Eat Malaysia & Singapore, Eat Italy, Eat Japan or Eat Vietnam. They introduce the key specialities of each region, covering their history and significance to the local people. Learn about the dishes that you will find on regional menus, how to order and eat them, and other essential words and phrases for navigating the food scene. The extensive section on etiquette covers all the dos and don'ts of local customs so you need never feel awkward or uncertain. From how to sit opposite your hosts (tip: don't cross your legs), to when and how to eat with your hands. All books are available now and will make the perfect gift this year.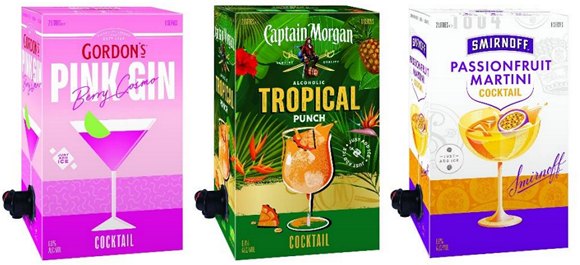 Christmas Drinks
Summer entertainment just got a whole lot easier with the latest creations from Captain Morgan, Gordon's and Smirnoff. Their new premixed cocktail casks have everything you need for a much-loved summer cocktail – without the fuss. Designed to be enjoyed outside, taken to a picnic, the beach or even your backyard – just add ice and a drop of sunshine. First on the list is The Captain Morgan Tropical Punch – deliciously sippable and unbelievably convenient. With flavours of juicy pineapple blended with orange, lemon, lime and a touch of raspberry for a delicious taste of the tropics. The best part is that Captain Morgan has already mixed this one for you, so rally up the crew! Rip open the tap, grab a glass – and splash the ice. Next up is Gordon's Pink Berry Cosmo. Dive into a Berry Cosmo without all the effort. Just open the tap, grab a glass, and add some ice. A deliciously pink twist on a classic, Gordon's Pink Berry Cosmo, boxed. Juicy flavours of raspberry, tangy redcurrant and cranberry, with signature Gordon's gin juniper and a bit of lime zest. Roll out the red carpet (or the picnic blanket) for the final drink – the Smirnoff Passionfruit Martini. Combining Smirnoff vodka and the smooth taste of vanilla with juicy passionfruit and zesty lime flavours, expertly mixed and ready to share with friends. Timeless, delicious and effortless, just like you. Captain Morgan Tropical Punch, Gordon's Pink Berry Cosmo, Smirnoff Passionfruit Martini 2L casks are available on shelves across Australia in BWS, Dan Murphy's and Independent retailers (RRP $38.00).
Hey Tiger Chocolate
Hey Tiger has just released their newest Christmas collection – Ho Ho Let's Go. The new Christmas Collection includes three breathtakingly scrumptious new festive flavours that are ready to pop under the tree. The bundle contains fan favourite Oh Crumbs (Caramel & Gingerbread White Chocolate) and two new flavours: Legendary Aunt Linda (Spekulaas Cookie and Cherry Milk Chocolate) and Squirreled Away (Waffle and Hazelnut Milk Chocolate). This festive season, two per cent of each Hey Tiger Christmas collection sold will be donated to The Hunger Project and will go towards women's empowerment and entrepreneurship and social development programs. This means every block is helping to create a more equitable and ethical cocoa industry this Christmas. Hey Tiger's Ho Ho Let's Go Christmas Collection retails for $60.00 and can be purchased from heytiger.com.au and Milligram stores nationwide.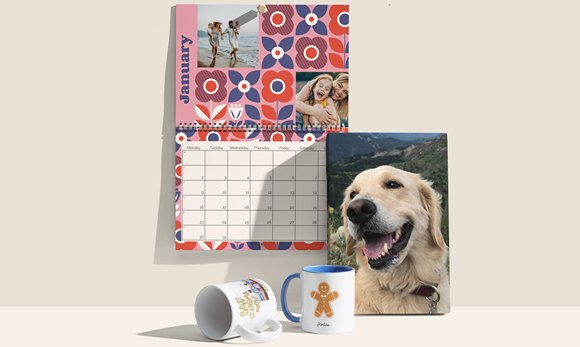 The Personalized Gift
Web-to-print pioneers, Vistaprint, offer some great personalized gift options allowing you to turn your insta-worthy photos into present-worthy heartfelt gifts. You can reduce the festive season stress by creating a personalized gift right in the palm of your hands. Vista have compiled a list of the 30 ways you can use those 3,000+ images on your phone this festive season: Wireless charging pad, T-shirt, Personalised mugs, Cushions, Apron, Coasters, Blankets, Christmas cards, Desk calendar, Wall calendar, Canvas prints, Notebooks, Pens, Magnets, Caps, Mouse pad, Stubby holder, Foam prints, Christmas ornaments, Christmas stockings, Santa sacks, Custom envelopes, Photo book, Tote bags, Stickers, Framed prints, Wrapping paper, Placemats, Gift tags and Glass photo blocks. Tablescaping is another unique gift you can give this year. Alyce Tran, co-founder of In the Roundhouse and go-to tablescape expert, has teamed up with Vista to offer some top tips ahead of the festive season. Top tips include laying the foundations first (start with a tablecloth or statement place mats in which you can build on); be daring with complementary colours (mix textures and patterns); florals or greenery (greenery and florals add depth and dimension to your table scape); add in layers of tableware to make your tablescape sing; have a centrepiece (have a focal point on the table, keep it low as to not limit eye contact such as fruit or candles); and elevate your tablescape with personalised touches such as bespoke menus or place cards. Vista offers graphic design and printing services which are super quick and easy to use and the end result is always *chef's kiss*. For more info, visit https://www.vistaprint.com.au.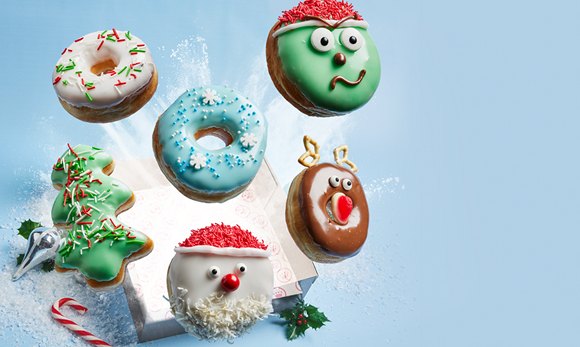 Donut King Christmas Donuts
Donut King's donuts have just been made even more delicious with a sprinkle of Christmas magic. Donut King has turned into a Christmas wonderland and are spreading cheer until December 26 with their limited edition Christmas collection. There are six mouth-watering flavours to choose from – their Reindeer donut with pretzel ears and an Arnott's Strawberry and Cream nose is our pick of the pack. The iced festive treats are the perfect thing to bring along to your next Christmas party, BBQ or morning tea – no prep required, and who can say no to an iconic Donut King donut? Available in Donut King's Christmas Collection is: 9 mini Christmas donut gift pack ($22), 6 Christmas donut gift pack ($22), 4 Christmas donut gift pack ($16), Single Christmas donut ($4.20) and Single mini Christmas Jam Ball donut ($3). Pick them up for Christmas now, available nationwide.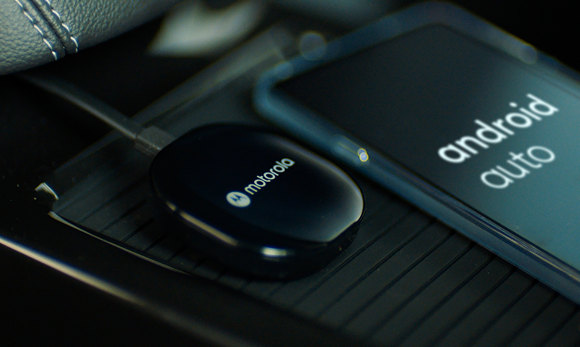 Motorola MA1
The much lauded Motorola MA1 wireless car adapter for Android Auto™ is now available in Australia and makes the perfect Christmas Gift for the tech head. Once you've plugged this nifty little device into your car's USB port, your phone will automatically connect with your car screen. No app to download or settings to change. The days of plugging-and-unplugging your phone USB cable every journey will be gone for good! Android Auto is supported by more than 500 car models in Australia – many of which require connecting a mobile device to the vehicle infotainment system using a USB cable. The Motorola MA1 is an ideal solution for drivers who want to experience a seamless wireless connection but do not have the factory-supplied technology that allows them to do so. Afterall, we change our phones much more frequently than we change our cars! This simple plug-and-play adapter provides a seamless connection to existing Android Auto-capable infotainment systems, making it easier than ever to safely access maps, media and messaging apps while on-the-go. The Motorola MA1 leverages technology from Google that makes it simple for users to connect and get things done via voice activation. A quick "Hey Google" enables users to easily send messages, get directions, control media and more. With its lightweight, sleek design the Motorola MA1 wireless car adapter for Android Auto™ delivers fast media transmission and quick, automatic connection using Wi-Fi. With no wires and no fuss, the device is easy to set up and use, simply plug, pair and play. Whether taking advantage of working from anywhere, setting off on a holiday adventure, or ferrying a busy family around, the Motorola MA1 wireless adapter for Android Auto™ connects seamlessly, enabling drivers focus on the road ahead. To wirelessly use Android Auto on the car display, the vehicle must be compatible with Android Auto, and paired with an Android smartphone running Android 11 or higher, with an active data plan. Available now ($159.00) via Amazon and Telstra.
The BODYSCIENCE® Gift
Perfect for the foodie who is always on the go, or for the fitness fanatic in your life, the new Low Carb Mousse Protein Dessert by BODYSCIENCE® is a total stocking-stuffer. BODYSCIENCE® Low Carb Mousse Protein Dessert is a devilishly healthy win for those who love to balance their fitness and indulgence and comes in a variety of flavours including Caramel Hokey Pokey, Cookie Butter, White Chocolate Hokey Pokey, Cookies & Cream and Chocoholic. It only takes water, a quick whisk and voila – instant pudding-like mousse! Also available from BODYSCIENCE® are four seriously delicious high protein, low carb, low sugar bars for those that love their sweet treats. Flavours include Caramel Hokey Pokey, Cookies & Cream, Chocoholic and Strawberries & Cream. BODYSCIENCE® are an Australian family-owned business who have been dominating the fitness industry for 20+ years now so don't be surprised if you find yourself eating these macro-friendly sweet treats for breakfast, snack time and dessert. It really is that good. Available now at Woolworths and Chemist Warehouse.
PROPPR
If your loved one has constipation issues, PROPPR have the answer with their elegant piece of bathroom furniture. The PROPPR is an Australian designed and owned bathroom footstool, designed to replicate the 'proppr' squat position on a pedestal toilet. It can help address most digestion issues or simply help you be kind to your colon – it removes the kink that is created when we sit at 90 degrees on our 'thrones'. It's made to last (if you are kind to your PROPPR it can look after you for a lifetime), is supported and managed by a nutritionist who specialises in gut-health and is designed for the average Australian toilet height to ensure that the knees are positioned above the hips when seated. It even won a Good Design Award in 2019 and comes in two different product lines to suit all bathrooms and décor. There's the PROPPR Timber ($195.00) or you can opt for the top seller – the PROPPR ACER ($130.00) which comes in clear, white or black. Features 100% waterproof anti-microbial acrylic, is easy to clean and hygienic, and will be a definite crowd favourite for all the health and wellness gurus in our lives.
Gingle Bells Gin
The holiday season is a magical time of year filled with festive gatherings, sparkling decorations and the joy of gifting something special. This year, the Wild Hibiscus Flower Company has returned with the perfect gift to get the holiday spirit started. Its specialty product 'Gingle Bells' is a gift set of six floral gin baubles, guaranteed to spread the Christmas joy in the form of a unique gift, celebratory cocktail or beautiful party decoration. Each of the eye-catching baubles are all hand made by Wild Hibiscus Flower Co., who craft the Australian dry gin themselves in their own distillery. The gin is then infused with six different home-grown, natural botanicals for a distinctive flavour and colour. Flavours include Finger Lime, B'Lure Butterfly Pea Flower, Wattleseed, Snow Chrysanthemum, Wild Hibiscus Flower and Pepperberry. For a decorative touch, each bauble's botanical flavour can be visibly seen in its centre with an ethereal floral element encased inside. The gift set includes two 54ml baubles at 37% alcohol volume and four 50ml baubles at 40% alcohol volume. Gingle Bells can be purchased for RRP AUD$79.00 at www.ginglebellsgin.com and select stockists. Another great option this Christmas is the Original Finger Lime Gin – the country's most premium bottle of gin! Featuring little balls of finger-lime goodness ready to pop in your mouth as you bite them, it redefines the original Gin and Tonic. This playful medley includes 100% Hawkesbury grown finger lime caviar, navelina oranges, kaffir lime leaves, Tahitian lime leaf and lemons – perfect for mixing. Through a nine-month process, the finger lime soaks in 40% alcohol resulting in an extremely unique flavour profile that cannot be found anywhere else in the world. Gingle Bells Finger Lime Gin can be purchased for RRP $150 on www.ginglebellsgin.com, independent bottle shops, select Dan Murphy stores and through corporate gifting.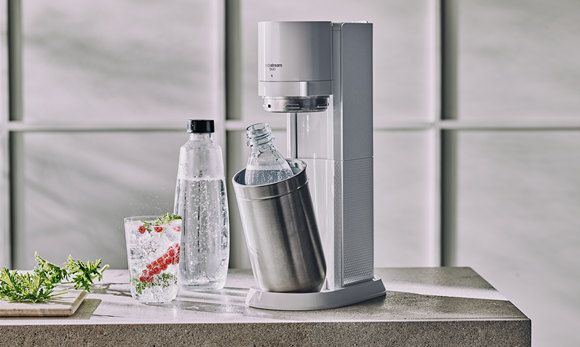 SodaStream
Get sparkling this Christmas with SodaStream. SodaStream is taking bougie to the next level thanks to their latest and most premium innovation, the DUO sparkling water maker, which carbonates both plastic and glass. Serving the best in duality from the world's number one sparkling water brand, the DUO offers a sleek award-winning design and will complement every benchtop whilst elevating the heart of the home to new heights. Get your loved one the Starter Pack which includes: DUO Sparkling Water Maker, 1x Quick Connect "one click" 60 Litre C02 cylinder, 1x Dishwasher Safe One Litre Glass bottle, 1x Dishwasher Safe One Litre Fuse Plastic bottle (RRP: $299.00). For a gift under $200, you can add some sparkle to your everyday with the SodaStream Art. An artisanal slick design with a retro twist, the Art is a true statement piece that fits any kitchen aesthetic. It is the only SodaStream sparkling water machine with an in-built carbonation lever, empowering users to embrace the "making" process and tailor every sip to their personal taste (RRP: $169.00). Or you can pick up the Sodastream Terra which is the latest innovation from SodaStream. Coming in black, white, red and misty blue, it offers a slicker design with a beautiful mix of textures, high polish and matte finish (RRP: $119.00).
UGG Slippers
Slip into the UGG Scuff Australian Shepherd Slippers, made for those who love to look stylish and comfortable during a self-care day at home. They are the perfect gift for everyone, becoming that staple in any wardrobe that can't be lived without. The Muffin Slipper sets the standard for comfort with soft suede, a plush sheepskin collar, and a natural wool interior for light, breathable warmth. And with EVA Thick Sole, it's soft and lightweight and makes it comfier around the house. The sheepskin breathes and keeps your feet perfectly warm in winter and cool in summer. Comes in a range of colours, from pink to chestnut, they will suit any colour palette! Your loved one will feel the softness and warmth of pure hand-selected Australian sheepskin. Available here (RRP $125).
Top Beauty Gifts
For the loved one that likes to look after their hair, the silicone-free Daily Cleansing Shampoo ($27.00) from American Crew is a great option. Enriched with Vitamin B5 for moisture, it's ideal for an everyday haircare routine. The nondrying vegan formula washes away excess oil, leaving hair more manageable, looking healthy, and feeling soft. Infused with the energizing, naturally certified American Crew Citrus Mint signature fragrance. Best for men with normal to oily hair and scalp. Complement it with the Uniqone™ Hair Treatment – the 10 real benefits that the hair needs in one single product. UniqOne™ Hair Treatment can work its wonders anywhere and at any time, on wet or dry hair. UniqOne™ hair treatment and detangling spray allows clients all around the world to achieve professional results in the blink of an eye, so that they have more time to do precious things. Another great choice this Christmas is the CurrentBody Dr. Harris Anti-Wrinkle Sleep Mask ($109.00) – an innovative sleep mask, which is clinically proven to improve relaxation and aid sleep. The feature that makes this mask truly unique are the raised silicone dots on the inside edge of the mask – these dots stimulate receptors in the skin. This stimulation has been proven to increase relaxation more than a cotton eye mask in a clinical study, with 67% of participants feeling more relaxed after using the Dr Harris Sleep Mask. Plus, these dots also showed to reduce fine lines around the eye area by helping to relax the face whilst wearing the mask. This design, combined with a mulberry silk blend & black light-blocking colour makes the Dr Harris Sleep Mask an essential addition to your nighttime routine.
For the Rum Lover
Rum lovers listen up… here's a gift you'll want to buy for yourself (or your fellow rum fans) this Christmas! Bundaberg Rum has released a new limited-edition 'Extra Old Aged Spiced' rum – the third release in its Small Batch Distillery Edition series. With aromas of warming cinnamon, clove, ginger spice and burnt toffee complimented by notes of rich fruit cake, golden syrup, star anise, freshly roasted coffee, dark chocolate and sweet vanilla bean on the palate, it is sure to be a favourite for rum aficionados this festive season. Extra Old Aged Spiced is a one-of-a-kind rum that has been expertly crafted by blending hand selected 16-year-old rum reserves with exotic spice flavours to develop a rich, complex, and balanced extra old aged, spiced rum like no other. This delicious rum is one of the distillery's finest – perfect for serving neat, over ice or mixed with ginger ale this Christmas. Available to purchase at the Bundaberg Rum Distillery Store or online for RRP $84.95 AUD (700 ml, ABV 43%) until stocks last. Also just in time for the holiday season, Bundaberg Rum have brought back Rum Ball Liqueur – its hugely popular limited-edition rum! Bundaberg Rum Ball Liqueur has been masterfully crafted for rum lovers, those with a sweet tooth and anyone looking for a delicious sip of holiday cheer. The limited-edition liqueur has notes of warming rum, sweet spice, biscuit, vanilla, cocoa and coconut – all the flavours of your favourite festive treat! The scrumptious Rum Ball Liqueur can be enjoyed neat over ice, or for a delightful decadent dessert treat try a dollop of ice cream in a short glass, pour over Bundaberg Rum Ball Liqueur then sprinkle a crumbled rum ball on top. Bundaberg Rum Ball Liqueur is available now to purchase whilst stocks last across Australia for RRP $55 per bottle or buy in a 4-bottle bundle (with Royal Liqueur Chocolate & Coffee, Banana & Toffee and Salted Caramel) direct from the distillery or at www.bundabergrum.com.au for $169.95.
For the Whisky Lover
Give the gift of a personalised Johnnie Walker Black bottle this Christmas! The world's leading Scotch whisky maker has launched a limited edition personalisation feature which allows you to record a message to your loved ones with their bottle of Johnnie Walker Black this year. Not only does the new feature allow you to personalise a gift, but you'll also be in the running to win the whisky trip of a lifetime to Scotland, the home of Johnnie Walker. The prize includes two return airfares to Edinburgh, Scotland, five nights' accommodation, a Johnnie Walker experience including meals at fine dining restaurants and gastro pubs, a distillery experience, executive mini coach transfers and $1,000 spending money. To record your personalised message and be in the draw to win, you'll need to purchase any bottle of Johnnie Walker Black 700ml and scan the QR code on the neck tag bow (if available), or head to giftandwin.johnniewalker.com.au. Then you'll need to choose whether to personalise a message and enter the draw (or simply enter the draw), enter your details (so you can receive the link to your message later on), nominate your gifting recipient and choose the gifting occasion, enable microphone use and record your message, keeping it under 60 seconds and avoiding profanities, or opt to type it instead, add an optional image to accompany your message, and hit publish. Once it has been uploaded you can share the short link provided and the unique message code. Available now in liquor stores nationwide.
MOOD Tea
For the not so average loved one, why not get them some MOOD Tea – not your average cuppa. MOOD is available in four unique blends, to help consumers feel good with every sip – whether that's to decompress, invigorate or energise. 'Happy Days', 'Get On Up', 'Be Kind, Unwind' and 'Sweet Lullaby', have been designed with ingredients known for their positive benefits, including Ashwagandha Root to reduce stress, Siberian Ginseng to promote mental alertness and Skullcap Root to promote sleep. Furthermore, consumers can feel even better drinking MOOD tea knowing 100% of profits made by MOOD go directly toward funding charities working on the front line such as batyr, The Sebastian Foundation and BackTrack. As suicide is the leading cause of death for young people in Australia, MOOD is looking to fight back and help positively impact young lives. In a world first, MOOD tea was created by over 100 companies from the media, marketing and advertising industry in 2020, with competitors coming together to create a product for a cause, and raise funds for youth mental health. Publicly launched in 2021 via an e-commerce store, MOOD tea continues to grow through the industry's skills, resources and desire to drive change. MOOD tea is available in Woolworths stores (MOOD tea single flavour 10 pack, RRP $7). To find out more about MOOD tea, and the charities and projects that are funded by the brand, visit mood.org.au.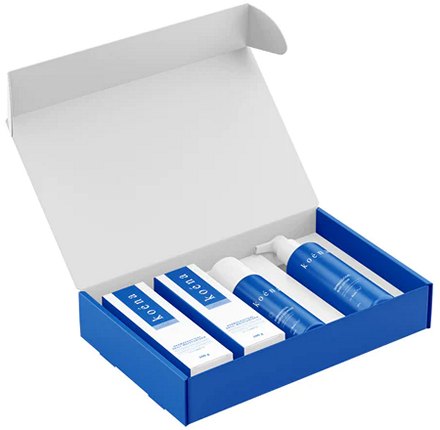 Skincare Gifts
One of the best skincare gifts you can get this year is The Ultimate Hydration Pack from Koéna featuring Moisturiser x 2, Cleanser and Body Lotion. Their flagship product, the Koéna Dermaceutical Daily Moisturiser is pH balanced and designed to rehydrate skin prone to dryness, redness, itching, cracking and flaking with a cocktail of active ingredients that provide long lasting hydration. The Dermaceutical Gentle Cleanser is designed to bring a "healthy balance" to the skin. Containing a holy grail of ingredients including Glucosamine known to decrease the appearance of wrinkles, Methylsulfonylmethane (MSM) which is reputed for helping prevent acne and managing rosacea, and L-Glycine which reduces the appearance of UV-B induced skin damage and photoaging, this gentle cleanser is designed for false lashes and all skin types including those with dry, irritated or sensitive skin. While the Koéna Dermaceutical Body Lotion is made with their scientifically developed formulation, Resta-Plex®, Vitamin E and Niacinamide. This combination of ingredients helps retain moisture in the skin and reduces the appearance of dryness, redness, cracking and flaking skin without harsh and addictive ingredients. It's suitable for all skin types including those prone to skin conditions. You can pick this one up or check out the other Koéna products available here.
OPPO Wireless Charger
One of the best wireless charger options this Christmas is the OPPO AirVooc 50W Wireless Charger. Charge your OPPO SUPERVOOC enabled device with up to 50W wireless charging available dependent on handset charge speeds equipped with SUPERVOOC (and up to 15W wireless charging available for phones without SUPERVOOC). Wireless charging works upright and landscape, automatic switch to silent mode at night, and wireless charging possible through a plastic phone case up to 2 mm. Available now for $129.95 at JB Hi-Fi.
For the Drink Lover
For the loved one that likes the occasional drink, you have Mate Maker co. Hard Kombucha to consider this Christmas. Mate Maker's Mango Peach Smash is a light and bright beverage that captures the golden hour in a can. The tropical collision of mangoes and peaches with a citrusy splash of lemon anchors a smooth and balanced finish, ripe for kicking back over a drink with mates in a summer setting. While Mate Maker's Citrus Mule Hard Kombucha spins the tried and true Moscow mule on its head with a nod to bright citrus from real limes and cold-pressed orange peels, throwing in a subtle spicy kick of ginger to become the ultimate booch cocktail and enlivened crowd favourite. Buy here. Another fine option is Young Henry's Hazy Pale Ale. Deliciously golden and laced with Topaz, Mosaic, Idaho-7 and Calypso hops, Young Henrys have developed a brew that is pure goodness. The Hazy Pale Ale also incorporates a mix of Malted Oats, Rolled Oats, Rolled Wheat, Pale, Chit and Gladiator grain malts for a unique and smooth taste from the very first sip. Buy here. For something slightly different, you can pick up ST. ALi x Young Henrys Coffee Gin. A well-balanced love letter to both coffee and gin, the new release blends together hand selected Peruvian coffee carefully roasted by ST ALi. laced with an incredibly delicate and pure essence of coffee, The gin also incorporates a fusion of cascara (dried coffee cherries) from Aida Batlle in El Salvador, and piney juniper, topped off with an earthy Angelica root and fruity Tasmanian Enigma hop, resulting in a surprisingly elevated flavour profile. Buy here.
Mountain Designs
Mountain Designs offers an extensive range of clothing, footwear and equipment for any adventure. Whether you're up the mountain, down the trail or just around town, their variety of high quality, functional products will provide comfort and utility, and keep you protected from the elements. Aiming to inspire and equip you to do what you love, shop their large range and start your next adventure today. For the gents, the top pick this year is the Men's Advance 600 Duck Down Jacket. With contemporary styling, this one is perfect for the low-key, minimalistic explorer. The simple, streamline design is exceptionally lightweight and comfortable, while also maintaining your warmth with its 600 fill power duck down insulation, funnel collar and elasticated cuffs. It is wind resistant, has a Durable Water Repellent (DWR) finish, and packs away easily into its left-side hand pocket, making it a convenient outer layer for easy day hikes, travel or just everyday wear. For the ladies, you cannot go past the Women's Ascend 600 Duck Down Jacket. This one has a simple, streamline design offering the contemporary styling that low-key, minimalistic explorers seek. It is exceptionally lightweight and comfortable, maintaining your warmth through 600 fill power duck down insulation, the funnel collar and elasticated cuffs. It is also wind resistant with a Durable Water Repellent (DWR) finish, and for convenience on day hikes, in transit or just on your everyday travels, it packs away easily into its left-side hand pocket. To pick these up or for further gift ideas this Christmas, visit mountaindesigns.com.
Kathmandu Bag
Give the gift of style and function to your outdoor-loving family and friends this holiday season with Kathmandu's latest SS23 collections – Summer Never Sleeps, WELL.DER.NESS and Camp & Beach – designed to get you out there and living your best wild and free summer. Whether their summer plans include coastal hikes, fun festivals, camping in the wild, or simply heading down to the beach on a nice sunny day, gift them the highest quality, carefully-crafted clothing and gear to make the most out of their favourite outdoor activities this season. One of the top options this year is the Roamer Picnic Cooler Bag which will allow you to unleash freedom and embrace long summer days. Featuring outer fabric that contains REPREVE recycled polyester, this fun cooler packs a feed, a few bevvies and plenty of laughs. Maximise summer vibes and minimise summer effort taking this roomy, six person cooler and your friends or family along to the beach or park. After all, you deserve more time for chilling, socialising and creating memories. Made with 24 recycled plastic bottles, it's easy to use, spacious and is designed to keep your food and drink cool for up to five hours. Pick it up now or get inspired with more top Kathmandu gift ideas at www.kathmandu.com.au.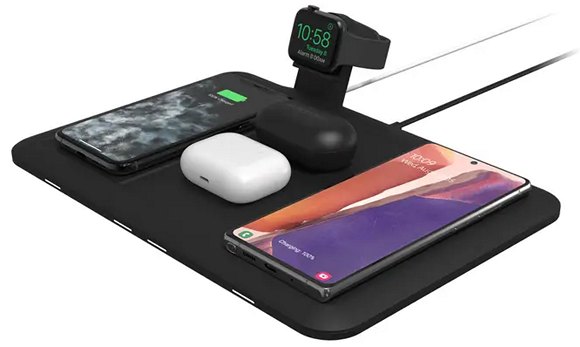 mophie Wireless Charging Mat
You can simplify charging for your loved one this Christmas with the mophie 4-in-1 wireless charging mat – a universal wireless charging mat that wirelessly charges up to four devices, regardless of brand, in one central location. Cable clutter is no more plus intuitive markings and multiple charging coils take the guess work out of charging. No device is left behind. The 4-in-1 wireless charging mat even includes an extra USB-A port to charge another device like an Apple Watch. An Apple Watch adapter is already included so all you need is the magnetic charger. You can wirelessly charge up to four Qi enabled devices at up to 10W each and it even charges through lightweight cases – the wireless mat can charge through cases up to 3mm thick. More than just practical, the 4-in-1 wireless charging mat is designed to look good too! The fabric finish adds a touch of style to any home and it's easy to clean.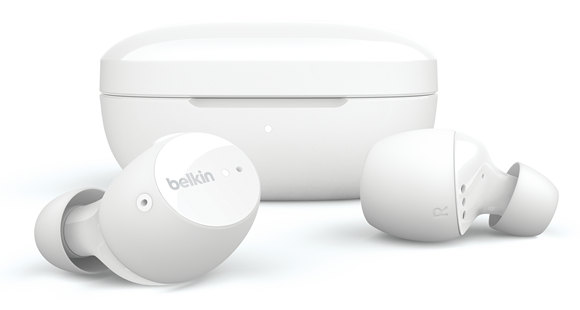 Belkin Soundform
Give the gift of audio immersion this Christmas with the Belkin Soundform Immerse Noise Cancelling Earbuds. Features include dual beamforming technology for reducing environmental noise and providing audio clarity on calls with in-built intuitive touch controls in both earbuds allowing users to tap, skip tracks, answer calls and more. With a battery life of 38 hours, 3 touch-controllable EQ presets for personalised sound and fast USB-C charging, the IMMERSE earbuds have an in-built IPX5-rated sweat and water resistant technology. The Belkin Soundform Immerse Noise Cancelling Earbuds (RRP $309.00) are available from JB Hi-fi, belkin.com.au and other leading retailers across Australia.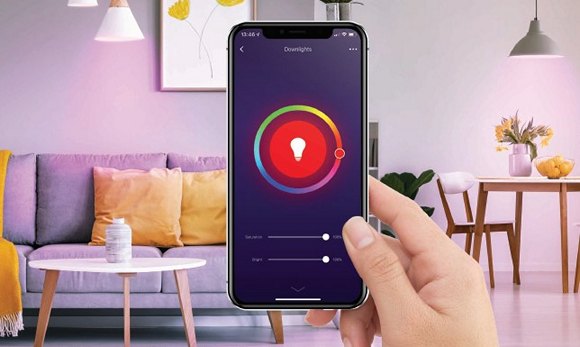 CONNECT SmartHome Range
The CONNECT SmartHome lighting range is an affordable and unique gift, allowing the user the ability to create unique ambient lighting in any room of the home. From downlights and everyday bulbs, to fun neon, strip light, and fairy light options, the range can create vivid colours and soft whites for accenting details and highlights in your home. You can easily control the light anywhere with the Connect SmartHome App, or issue voice commands using your favourite virtual assistants. Product highlights include the CONNECT Smart LED WHITE Light Bulbs (E14, B22 and E27 fittings – RRP $10), CONNECT Smart LED RGB Light Bulbs (E14, B22 and E27 fittings – RRP $15), CONNECT Smart RGB LED Strip Lights 2m (RRP $29.95), and CONNECT Smart Fairy Lights 7m (RRP $59.95). Pick up them from Harvey Norman this Christmas.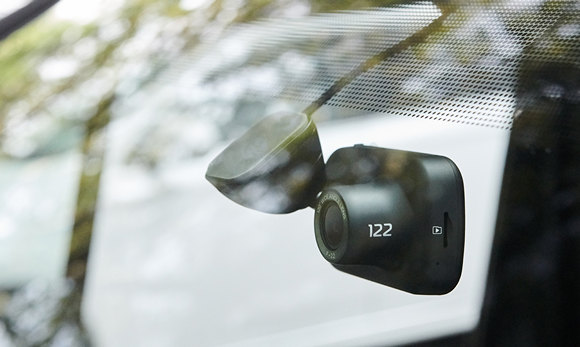 Nextbase Dash Cam
A Dash Cam is an amazing piece of tech to have in your car and will make for the perfect gift this Christmas. The Nextbase 122 Dash Cam is a great option and features Intelligent Parking Mode which protects your vehicle when parked by recording any bump or physical movement when the vehicle is left unattended. Other features include: 720p forward facing camera with a viewing angle of 120°, 2inch LCD screen, Photo mode, Loop recording, Supports Nextbase microSD cards up to 32GB, G-force sensor and Auto start with vehicle. The Nextbase 122 Dash Cam is valued at $99.99 and available for purchase from retailers including JB Hi-Fi and Harvey Norman. You can complement it by picking up the 32gb Go Pack valued at $59.00. It will protect the Dash Cam when not in use with the Nextbase Carrying Case and also includes a high-speed 32GB U3 micro SD card to record approximately four hours of footage on the Dash Cam before looping or two hours when using a rear camera module. With a read speed of up to 100MB / s and a write speed of 60MB / s the MicroSD card gives you enough capacity to capture any incident and ensure you have the evidence you need.
Sydney Unleashed is one of Australia's premier entertainment publications exploring the latest in lifestyle trends. From Sydney's finest restaurants, cafes and bars to the hottest in gadgets, products, and home entertainment, Sydney Unleashed is your one-stop lifestyle platform.