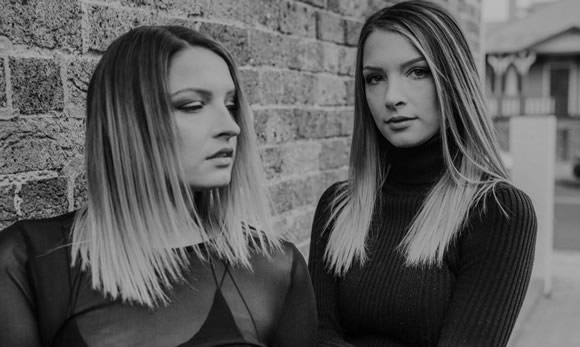 Cori & Paige are Sult: The Ultra Amazing Musical Twins
Triple J Unearthed darlings Cori and Paige of Sult are only two songs in to what I believe to be an extremely frivolous expansive career on the horizon. ONE MINUTE DIFFERENCE between these irresistible twins from The Gong has literally kept sisterhood strong and musically competitive. Talking with the duo on everything from writing songs to The Road to El Dorado – to the MeToo movement to a surprise Green Day concert to a potential debut album name and more – Cori and Paige are a shining light of reassuring talent who obviously enjoy all aspects of having fun, ultra amazing musical counterparts.
I'm surprised there are only two songs within your repertoire so far considering the quality of 'Caroline' and 'Gaslight'.
Paige – Thank you so much, we do only have the two right now as we put so much time, effort into both instead of recording a bunch of slighter tunes we were not one hundred percent on.
Do you walk down the street in headphones randomly singing out loud?
Paige – I'm not as much of a public singer, it's mostly just around the house or in shower.
Cori – Definitely a shower singer but in public, I actually get nervous. Gigs are different, I feel more comfortable on stage.
Is your songwriting equal?
Paige – We share. I wrote Caroline, Cori wrote Gaslight.
Cori – Sometimes I'll have an idea then flick it through to Paige or she will throw an idea by me, then one of us will take control of production.
Writing in the same room or alone?
Paige – Again, a bit of both. We will start separate then get excited over an idea before sharing a concept or tune on audio file. We love the music room together playing a bunch of covers to harmonise, or chill and enjoy.
How do you maintain motivation to come up with lyrics?
Cori – Mine is heartbreak. Every time I get my heart broken, I write about thirty songs. I guess my lyrics are from most of my down times as I enjoy writing honest songs.
Is Caroline a real person?
Paige – Technically yes, it's about a couple of people actually that morphed into one we named Caroline. The song refers to people within our lives, close to us, who have let us down. The song is about moving on, letting all the lies go.
Have either of you seen classic film Gaslight (1944) – more relevant today than ever, that the frequently used term is named after?
Cori – No, I will be honest to you Shane. I did not know there was a movie Gaslight. I just thought it was a psychological term but I would watch a remake (laughs). Actually, I'd watch the black and white one as well.
Speaking of movies, has it ever been an option to write soundtrack music?
Cori – That would be awesome, I'd be so keen. I feel it would broaden my horizons, and a challenge. I'm up for anything.
Paige – Love watching movies purely for the soundtrack at times. Recently The Road to El Dorado (2000), I saw that has all Elton John songs, loved it. Watched two in a row, we enjoyed it as kids.
Growing up, who showed the most interest in music or did both of you fall into creativity together?
Cori – Probably started out as a competitive thing as around 8 years old, I played my dad's guitar and Paige hated I was learning. So she said, I want to learn drums! Then she picked up a guitar and also played piano, so I got annoyed and wanted to learn piano, then I sang. Paige obviously had to sing then so it all became sisterhood competition.
Paige – I remember getting so jealous because mum paid her fifty dollars to play for her friends. I questioned it and asked mum why she got the money (laughs). At 13 or 14, Cori used to write these incredible songs so my jealousy raged. But I just followed her, it's funny now.
Gigs or bands that stood out or inspired you two musically?
Cori – Our first concert was Green Day, my mind blew remembering it was exactly what I wanted to do growing up, one of the most epic things ever.
Paige – Dad actually told us we were going to a lunch, I rejected that and really did not want to go. I knew Green Day were on in Sydney and pleaded dad to take us. He kept saying we couldn't afford it and can't go.
Have you got a title in mind for a forthcoming album as yet?
Cori – We did, what was it called again Paige? (laughs)
Paige  – Absolutely, we are obsessed with bread. I was like, Cori I like bread so much I want to call our album Bread Basket, it's the best thing ever in my world. Bread Basket, everyone (laughs).
Will it be released on vinyl or cassette?
Paige – Ooh, I would love that. My record player is important to me.
It's important for performers to have an image, do you think image can take over or take the focus off music occasionally?
Cori – It really does, if people focus too much on image they may clearly lose sight of what their songs express, or tell people. Bands have their own story to tell, to me what is the point of making mediocre music but looking good. I think music is the most important component.
Does SULT have an image?
Paige – At the moment I'm not sure. We like to get in my cupboard to pick something colourful or fun, we present ourselves as easygoing, fun trying to deliver that on stage also.
Significance of the band name.
Paige – We originally liked Salt with an A as it referred to a picture I drew in my notebook once, then we thought something is missing. After changing the A to U, Cori looked at me expressing a concern it looked like Slut. I said perfect, a play on words, we love those. The more we thought about it, so many women can be portrayed as sluts just for the way they dress or choose to do personally which is usually nobody else's business so I think people should take a second look, get to know someone. It's good that if our name is misinterpreted, we can remind people to look close. In Norwegian it means hunger. In Irish it means satisfaction.
Cori – And I think we are really just taking the name back really, I won't let anyone else call me that name. I'll take it as a kind of representation and a play on words together or deeper meaning while also fun, perfection!
Thankfully we are in a strong Metoo TimesUp era however, have you experienced any similar obstacles through the music industry?
Paige – Both of us have worked in male dominated industries where it seems you're second best. An older generation just believes that mostly so you're constantly fighting to prove you're not just a small girl who cannot do anything, we have both lived through that. Going out is problematic at times, also being called various names or things like that.
Cori – Recently said to me was: You're quite good for a job for a girl. I literally hear that all the time. I'm one of the first women in my workplace and an older generation of staff don't understand. I love my dayjob so much working as a wharfie, rewarding making me happy daily.
Paige – It gives us something else to think or write about, there's no better inspiration than having opposite things to do in the day outside of music.
SMASH CUT SEVEN – Cori
Piece of clothing you have owned the longest – DENIM JEANS
If you were not a musician you'd be doing what – WHARFIE
Favourite movie or movie soundtrack – WAYNE'S WORLD
Can you surf – BARELY
Best place to eat a snack – IN THE SHOWER
What develops first: song, lyrics or title – LYRICS
Instrument you cannot play but would like to learn – TRUMPET
SMASH CUT SEVEN – Paige
Piece of clothing you have owned the longest – PINK SWEATER (i hate it)
If you were not a musician you'd be doing what – VET
Favourite movie or movie soundtrack – ROAD TO ELDORADO
Can you surf – A LITTLE
Best place to eat a snack – MY BED
What develops first: song, lyrics or title – LYRICS
Instrument you cannot play but would like to learn – SAXOPHONE
Check SULT out now! CAROLINE and new single GASLIGHT now streaming on Spotify – @Sultmusic Habit Music
Shane A. Bassett
Sydney Unleashed is one of Australia's premier entertainment publications exploring the latest in lifestyle trends. From Sydney's finest restaurants, cafes and bars to the hottest in gadgets, products, and home entertainment, Sydney Unleashed is your one-stop lifestyle platform.