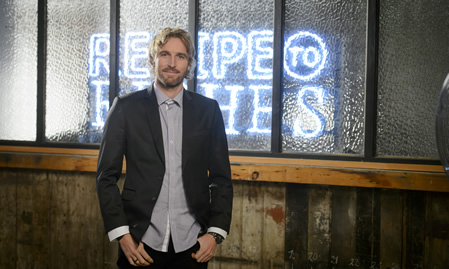 English-born Darren Robertson moved to Australia in 2001 and worked at acclaimed Sydney restaurant Tetsuya's for seven years, including three years as head chef. Darren also assisted Tetsuya at The World Summit of Gastronomy in 2009.
In 2011 Darren went into business with a group of food crazy friends. The Three Blue Ducks in Bronte, a small cool café, has gone from strength to strength winning the Best Breakfast in Sydney accolade by the SMH Good Food Guide within its first year of opening.
With appearances on MasterChef Australia, Ready Steady Cook and Love To Share under his belt, it was only a matter of time before Darren's natural warmth, charm and good looks coaxed him out of the kitchen and on to our television screens, landing him a role on TEN's Recipe To Riches where he helps regular Australians get their amazing recipes onto Woolworths shelves.
Darren Robertson recently took some time out to chat with Sydney Unleashed.
How did you get your start in the industry?
I used to wash dishes at a seafood restaurant in my home town.  If I washed up quick enough, the chefs would let me help out with the prawn cocktails and melon boats, and it all went downhill from there!
Best part of what you do?

Travelling around the world, meeting others in the industry, eating amazing food, tasting new ingredients, learning and sharing what I've learnt with anyone who will listen.
And the worst part?
Emailing.

Any interesting experiences you can share?
I cooked at the WAW Gathering in Melbourne last month. Ben Shewry [of Melbourne's Attica Restaurant] invited a bunch of chefs and food writers from around the world.  There were talks about creativity, the future of food, resilience, sharing etc, and then a lunch for 100 guests to raise money for Helping Hoops, a charity that helps out underprivileged kids.  It was one of the most incredible experiences. I got to cook alongside many of my friends and culinary heroes. Very inspiring stuff.
Best live performance that you've ever seen?
Rage against the Machine at Reading Festival 1992.
Favourite venues to hang out in?
Unpretentious ones.
Take us through a typical day in the life of Darren Robertson.
Every day is a bit different at the moment.  Most days are spent organising things for the new Three Blue Ducks farm project in Byron Bay – site meetings, talking to potential staff, meeting local farmers and producers, and overseeing our Bronte cafe/restaurant.  If I'm not doing this I'm probably eating, cooking, surfing or drinking way too much coffee.

Any news or final comments?
I'm heading to NZ this month for Taste of Auckland, then over to WA to cook at the Margaret River Gourmet Escape which I'm pretty excited about.  Also, my partner Mags [presenter, Magdalena Roze] is launching her new website/blog next week. She's been working on it for some time now, so I'm very proud.  It's going to be full of all things weather, travel, fashion and food.  Please check it out: magdalenaroze.com and let her know I told you about it, so I can get a few brownie points!
Recipe To Riches airs Tuesdays at 7.30pm on TEN.
Sydney Unleashed is one of Australia's premier entertainment publications exploring the latest in lifestyle trends. From Sydney's finest restaurants, cafes and bars to the hottest in gadgets, products, and home entertainment, Sydney Unleashed is your one-stop lifestyle platform.