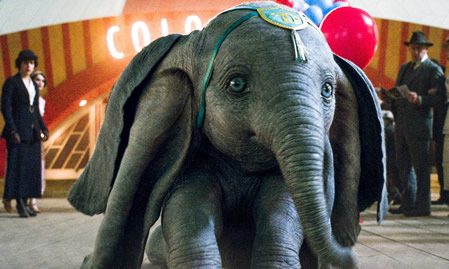 Dumbo Swoops Into Cinemas On The Disney Train
The Walt Disney production line continues to soar high, literally, as live action version of beloved 1941 classic DUMBO swoops into cinemas with intentions from the 'Mouse House' to ignite a whole new generation of admirers – such as recent incarnations of Jungle Book, Cinderella, Beauty & the Beast alongside Sleeping Beauty spinoff, Maleficent, all certainly did.
Live action doesn't disclude animation. State of the art visuals bring to life fantasy elements often amongst actors acting opposite tennis balls on a string or nothing but a green screen, tougher than it sounds. Directed by auteur Tim Burton (Beetlejuice, Edward Scissorhands), hampered production caused delays of release however because the original brings joy to so many, Dumbo will no doubt keep the ever ascending Disney box office alight.
With advanced digital technology, the story of an elephant born with extremely oversized ears into a travelling circus whom, while discarded at first, is treated as an outsider, becomes the main attraction when it is discovered he can flap those enormous ears into elevation and fly. Equal measures dark and delightful, the tone shifts into unpredictable as many Burton directed films are, the original is never forgotten but purists be warned, components are different.
Spectacular ensemble includes Michael Keaton, Eva Green, Colin Farrell and shining above all, hilarious whenever on screen, the great Danny DeVito. Dumbo, is tender, tearful, with positive vibes of outsider enlightenment and family values. 2019 rolls on after the world falls in love with Dumbo, deep diving into the animated Disney vault for an array of upcoming live action movies including already controversial ALADDIN, due in May.
Until trailers began to unveil softening up some of the gross misjudgment at Will Smith as Genie, social media set alight against his casting, things have simmered a little but love for late great, Robin Williams doing his thing in the 1992 rightfully remains solid.
Refuge against hit & miss director Guy Ritchie (King Arthur, Lock Stock Two Smoking Barrels) didn't help; if he cracks the combination of lovely songs, true romance and sweeping cinematography, I'm declaring recreation of Genie will exhume comic relief if the real, quip king Will Smith, stands tall.
THE LION KING roars onto screens in July, bringing with it a mass of expectation more than any other Disney reimagining yet. Global hits to the online teaser trailer caused passionate discussion beyond belief. In a year when we will see a trilogy final Star Wars episode and the biggest of all Avengers released (both distributed by Disney), The Lion KIng will be the biggest blockbuster of the year, I'm calling it. Restoring that award-winning soundtrack alone is sure to help recreate the magic, heartbreak, triumph of the almost perfect animated gem.
Following on from the 2014 cult success of Maleficent, sultry Angelina Jolie returns in the icy lead alongside wonderful beyond her years Elle Fanning, reprising Princess Aurora. Solid reviews and a prefect role for Oscar winning Ms Jolie, audiences were equally delighted and creeped out exploring the obscure mistress of the dark. More of a continued inspiration around 1959 classic Sleeping Beauty than a reboot, due in cinemas October, it could be a Halloween fantasy special event.
Pure animation also hits the forefront for the Disney money making machine with two certain hit sequels also on the horizon. When Toy Story 3 seemingly sealed the trilogy in 2010, no one considered a fourth instalment on the cards, alas fans may rejoice as Toy Story 4 brings back all the extraordinary popular timeless characters and all their voice cast counterparts including Tom Hanks (Woody) and Tim Allen (Buzz) and my favourite Wallace Shawn (Rex). Considering the groundbreaking original began the saga in 1995, for many millennials it may be the first time they experience a Toy Story at the cinema. New character Forky (Tony Hale) is the basis of causing the gang to embark on a whole new adventure.
Let it Go, Let it Go, Can't hold it back anymore…. those lyrics played on loop across radio waves and on CD in family cars back in 2013 when Frozen took over the world. Lasting in theatres almost six months that included a sing-a-long version following the bouncing snowball, unheard of in an era when movies stick around for an average of three weeks; birthday parties around the world became Frozen inspired with snow machines, while sisters Anna and Elsa princess dress ups were in high demand. Frozen 2 no doubt will cause a box office blizzard in November.
In the meantime, break out your VHS or those DVD/Blu-ray upgrades and enjoy the significant dreamy originals of the never ending Disney pleasure machine.
DUMBO (112 min – Rated PG). Best suitable from age 8.
IN CINEMAS NOW!
Shane A. Basset
Sydney Unleashed is one of Australia's premier entertainment publications exploring the latest in lifestyle trends. From Sydney's finest restaurants, cafes and bars to the hottest in gadgets, products, and home entertainment, Sydney Unleashed is your one-stop lifestyle platform.