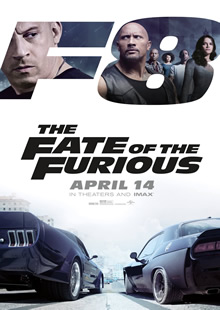 Fate Of The Furious: Movie Review
Starring: Vin Diesel, Kurt Russell, Charlize Theron, Michelle Rodriguez, Dwayne The Rock Johnson, Jason Statham, Dame Helen Mirren (Rated M – 136 min).
Ladies and gentleman: start your engines! Time to check the rearview mirror for more high speed mayhem continuing to burn rubber into an almighty eighth installment since original Fast and the Furious (2001) introduced a thrill-seeking clan of criminals, itself a street-car hybrid of the perennial surf-heist saga Point Break (1991).
In a series which seemed defunct after mostly rejected part-three Tokyo Drift (2006), it continued against all odds as the movies improved on stylish action, compassionate characterisations and general thrills with impossible maneuvers in souped up automobiles of all kinds.
Anti-hero family man Dominic Toretto (Vin Diesel) is this time lured back to his murky dark side past of organised crime by mysterious woman Cipher (Charlize Theron) and the rest of the plot is a bit sketchy. Except for his entire former crew that now includes The Feds scratching their heads on why their master of illegal car racing ceremonies defected.
Basically, if the series hadn't been teetering on it already, this moves into James Bond 007 territory complete with a finale of world saving extremes involving a submarine and cars with a zillion horsepower looking to outrun oncoming missiles across ice-flats and more.
As a spectacle of extraordinarily overwhelming circumstances, this is a large box of popcorn big screen must-see, however with two more sequels already green-lit and dated for release in 2019 and 2021 reportedly rounding out the series at ten. I'm truly not sure where else they can go unless Bruce Willis joins the cast or NASA get involved pimping up their moon buggies on Mars.
Familiar cast members all return from variable installments while the late Paul Walker as Brian is respectfully mentioned twice as retired from the crew away from the action.
Charlize Theron is brilliant as an amazonian mega-hacker villain, Kurt Russell is merely there to connect adversaries and look good in sunglasses barking orders while the addition of Dame Helen Mirren and son of Clint, Scott Eastwood, are welcome but all too brief.
Soon to be big star Friday Chamberlain (Spiderman Homecoming) indicates her bursting talent in a small role. Explosive over-the-top heroic fun.
Shane A. Bassett
Sydney Unleashed is one of Australia's premier entertainment publications exploring the latest in lifestyle trends. From Sydney's finest restaurants, cafes and bars to the hottest in gadgets, products, and home entertainment, Sydney Unleashed is your one-stop lifestyle platform.