Looking to impress dad with something different this year? Here are some of the best gifts you can pick up this Father's Day. 
For the artistic dad
Unleash dad's creative side this Father's Day with Bostik's unique craft projects! Bostik is encouraging families to spend quality time together with fun craft activities to make this Father's Day unforgettable. Create special gifts, cards and art projects with dad thanks to Bostik's quality range of craft supplies. If you can imagine it, Bostik will help you create it! Bostik supplies – including Glitter Glue ($6), Blu-Tack ($2.50), Blu Stik ($3.50), Glu Stik ($3.50), Clag Gum ($4.50) and Clag Kids PVA ($4.20) – are available from Officeworks and leading retailers. To kickstart your Father's Day craft project and find ideas that stick, visit https://www.bostik.com/ideasthatstick/
For the audiophile
The MOMENTUM True Wireless are meticulously crafted with every fine listening detail considered. These premium, beautifully designed ear buds offer uncompromised sound performance, state-of-the-art technology and refined design along with the latest Bluetooth 5.0 connectivity. They also include advanced features of voice assistant interaction, transparent hearing and an effortlessly intuitive touch control operation. Find more information at www.sennheiser.com.au
For the style-savvy traveller
American Tourister's Velton suitcase defines functional innovation. It's feature packed with an integrated TSA combination lock, super functional interior, scratch resistant shell and expandability to bring all those holiday purchases home with ease. The 55cm spinner also features a built-in USB port that allows users to run cabling to an internal pocket to connect to the buyer's own power bank – a functional solution for those who are always on the go. American Tourister Velton 55cm (RRP $259.00) and 81cm (RRP: $369.00) are available now.
For dad's man cave
Dad will love Waverley Mills' famous Block Recycled Throw with a BernabeiFreeman colour-block twist. Made from a blend of supersoft Tasmanian wool and natural fibres, the natural unused fibre, offcuts and seconds blankets are shredded spun and blended with the softest wool to make this recycled yarn. It is then woven in its natural state and the colour specks are a feature of the recycled materials used. Each batch of spun yarn is a unique result of the offcuts available for recycling. The stunning colour blocks are all in 100% supersoft wool. After the throw is woven, the fibre is brushed to give it an even softer feel next to the skin (RRP $229).
For dad's grooming needs
Beauté Pacifique's Masculinity Anti-Age Crème For Men (RRP $88) is a powerful Vitamin A cream that effectively prevents and repairs aging and sun damage. It contains two super effective types of Vitamin A, in a Squalane delivery system that makes the vitamins penetrate so deeply that the skin's own cells can regenerate the lost collagen/elastin structure in full depth. The Masculinity Purifying Foam Cleanser (RRP $43) is a 'One Step' facial cleansing foam, designed for all skin types to provide a fast yet gentle cleansing. Clears clogged pores and leaves a smooth and radiant skin. While the Masculinity Double Action Face Scrub (RRP $49) is an effective exfoliating scrub with cellulose beads to remove dead skin cells, leaving the skin with a youthful glow. And the Masculinity Moisturising Day Crème (RRP $70) is a hydrating moisturiser that quickly absorb leaving the skin soft and supple. Squalane and Hyaluronic Acid maintain a high level of moisture throughout the day, while Niacinamide binds extra moisture to the skin's surface. More Info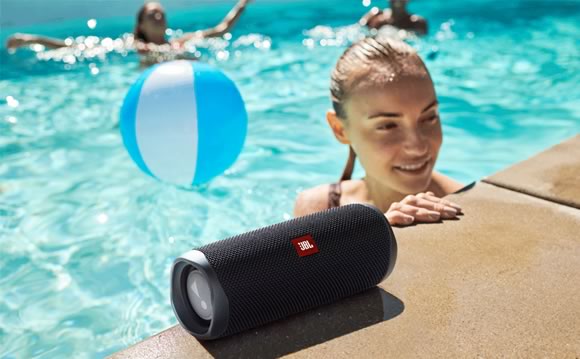 For the music lover
The JBL Flip 5 is the newest addition to the award-winning JBL portable speaker line delivering an exceptional sound experience that dazzles listeners. Designed to suit every lifestyle, its waterproof and durable case allows the speaker to continuously travel at length; whether it's enjoying a lakeside weekend or a soirée in the mountains underneath the stars. Boasting a respectful 12 hours of playtime, its new USB-C charging port feature means guaranteed non-stop music without compromise to its sound quality. With the latest technology taking audio to new heights, Flip 5's new racetrack shaped driver with increased cone area and excursion allows JBL's classic signature sound to be magnified; leaving no music-lover disappointed. Unlike its predecessors, the smart speaker has the ability to connect to hundreds of other Flip 5 via bluetooth, to create that ultimate party boost. With a tasteful selection of five colours to choose from including Dusty Pink and Fiesta Red the next generation of the Flip speaker will be sure to be a hot favourite as the warmer months approach. JBL's new Flip 5 is available at all leading electronic retailers and on www.jbl.com.au
For the practical dad
A gift that dad will use time and time again is the Thermos® Brand Hydration Bottle. Thermos™ vacuum insulation technology maintains maximum cold temperature retention. Featuring a durable stainless steel interior and exterior, hygienic one-handed push button lid with locking latch, flip-up carry loop, sweat-proof design that won't leave water rings, and keeps contents cold for 20 hours. Stockist: Peters of Kensington (RRP $44.99).
For the writer
Pick the perfect pen for dad this Father's Day. From classic fountain pens, to modern designs, erasable ink pens and more, Pilot has a pen for every dad. With four ink colours (black, blue, red and green) in a stylish metal and wood barrel, dads will love FriXion 4 Wood. The thermo-sensitive ink is erasable – just use the built-in eraser on the end of the pen and rub away mistakes without a trace! RRP $45.00 – www.pilotpen.com.au
For the gin lover
Whitley Neill Gin – the UK's No.1 Premium Gin Brand – is launching in Australia! Inspired by his family heritage and the beauty of his wife's wild South African homeland, Johnny Neill's award-winning Original Gin is a unique blend that achieves a soft and smooth finish with rich notes of juniper and citrus. Equally as popular are the brand's flavoured gins in unmissable, brightly coloured bottles, including Rhubarb & Ginger, Blood Orange, Raspberry, Pink Grapefruit and Quince, each lending an individual magic to the mixology process. All Whitley Neill Gins are crafted using a mix of innovative botanicals such as cape gooseberries and baobab fruit, as well as more traditional botanicals including juniper, coriander, lemon and orange peel. The products draw inspiration from around the world, such as the Blood Orange from Sicily and Rhubarb and Ginger from England. Dedicated to flavour discovery, Whitley Neill Gin encourages traditional gin drinkers to open their minds and palates to a new style of gin drinking and discovery. The unique flavours and recommended mixers also make the brand a natural choice for consumers looking to enter the gin category. From September, The Original Gin and flavoured gins will be available from selected independent retailers and online at mybottleshop.com.au and boozebud.com.au for $59.99.
For the granola-loving dad
Treat dad to a café style breakfast, at home. New Zealand born, Hubbards recently launched in Australia and offers a beautifully blended breakfast with the perfect combination of oven-baked crunch and fruit pieces. We're sure you'll love the bursting raspberries, tangy cranberries, coconut and currants with toasty grains, crunchy seeds and cashews. More info: http://www.hubbards.co.nz/
For the sparkling water lover
This Father's Day Sodastream gift pack is the perfect gift to give bubbly fun for the entire family. The gift pack features a Black SodaStream Spirit Sparkling Water Maker giving dad fresh sparkling water at his fingertips. It also comes with a Soda Press Co Organic Ginger Ale Soda Syrup and the exciting new Soda Press Co Organic Kombucha Soda Syrup. Each syrup is developed by a bespoke brewing process, creating a cost effective and convenient drink option! Give dad the gift of bubbles this Father's Day! RRP: Valued at $135.90.
For the stylish dad
The VS For Men: The Man Kit is the ultimate go-to facial grooming system for shaving, trimming and detailing. It features a Rotary Shaver (full size shaver for a clean, close cut), a Beard and Stubble Trimmer (trim and shape your moustache, beard and stubble) and a Detail Trimmer (keep the neckline, sideburns and eyebrows tidy with this handy tool). It's the ideal kit for the first time groomer or a handy travel kit for the on-the-go guy! Shave, Trim and Detail at-home or on-the-go (RRP $59.95).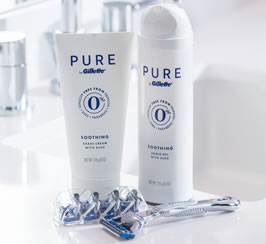 For the dad with sensitive skin
Stresses on the skin from shaving can cause redness, nicks, cuts, tugging, pulling, ingrown hairs and bumps. To address the cause, Gillette has released its innovative Gillette SkinGuard razor, which uses SkinGuard technology positioned between two optimally spaced blades to gently smooth and flatten the skin away from the razor blades during the shave. This ensures that hairs are trimmed at the surface level, reducing tug and pull, guarding sensitive skin from irritation. Additionally, Gillette has also released PURE by Gillette, which has zero alcohol, dyes, parabens, and sulfates, specially designed to protect against irritation on sensitive skin during the shave. Consumers can purchase the new Gillette SkinGuard and PURE today at all major retailers nationally.
For the sophisticated dad
Poker Face is a new fragrance for men – elegant, sophisticated and smart. Just as a game of poker unfolds, the scent keeps us guessing, intrigued as to how this will go. He's in charge. In olfactory terms, Poker Face lies within the Woody-Fougere realm. The game opens with a fresh introduction of citrus and mint notes, accented with a hint of natural violet and lavender. As the challenge develops, we are charmed with unbridled masculinity by way of spices such as cardamom and black pepper, giving Poker Face an exciting, risky heart. The final suite wins the hand, by seducing us with patchouli, tonka bean and exotic wafts of cedarwood. Poker Face is for those cool risk takers, probably the most charming man you know. He likes to play the game, he's smart and he knows how to win. Available now at My Chemist & Chemist Warehouse (RRP $59).
For the active dad
The foundation and anchor of the Under Armour HOVR Run footwear suite, the Under Armour HOVR Infinite is a high-performance running shoe made for the runner's runner. Starting with the UA HOVR technology, Under Armour created a neutral training shoe that's perfect for long runs, laying base mileage, and even recovery mileage Obsessing over the details allowed Under Armour to develop an entire system that works like a symphony under your feet. From the fit and feel to the breathability, flexibility, and durability, UA HOVR Infinite delivers a super-smooth ride (RRP $200). Also available is the Under Armour HOVR Apex Training Shoe. This training shoe takes athletes' favourite HOVR foam technology and creates a versatile performance training version that allows for comfort, stability and flexibility in the gym — whether you're lifting or running (RRP $190). More Info
For the gamer dad
The new and improved STEALTH XP-Hornet Multiformat Gaming Headset is a robust stereo headset designed to deliver high-quality chat and game sound simultaneously. It takes its name from the F/A-18, an all-weather plane designed as both a fighter and attack aircraft (RRP: $69.99). While the STEALTH XP-Raptor mirrors the capabilities of its namesake, a surveillance jet capable of wreaking havoc in a firefight. A powerful stereo headset that sounds as deadly as it looks, the Raptor allows the gamer to stay aware of their surroundings whilst also providing intense high-quality audio (RRP $89.99). More Info
Sydney Unleashed is one of Australia's premier entertainment publications exploring the latest in lifestyle trends. From Sydney's finest restaurants, cafes and bars to the hottest in gadgets, products, and home entertainment, Sydney Unleashed is your one-stop lifestyle platform.