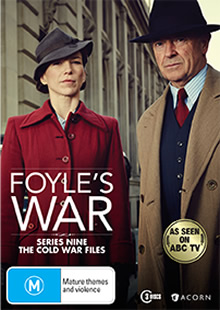 Michael Kitchen returns to the screen for a final time as Detective Chief Superintendent Foyle, a man of scrupulous integrity who continues to be immersed in the dangerous world of espionage. Having survived the First World War and solved crime in Hastings during the Second, Foyle works as Senior Intelligence Officer for the secret service MI5 to keep England safe and bring justice to those who deserve it.
Honeysuckle Weeks also returns to her role as Samantha Stewart, Foyle's trusted associate and ally who successfully navigates the shadowy world of intelligence and dedicatedly assists her former boss as he seeks to uncover the truth of the cases he investigates.
Inspired by real events in the early Cold War, at a time when British political and foreign governmental relationships were delicately balanced, celebrated novelist and screenwriter Anthony Horowitz concludes the acclaimed TV drama with Series 9, the last Foyle's War ever to be made.
Directors Stuart Orme (Jack Taylor: Dramatist, Postcode, Merlin) and Andy Hay (New Tricks, Waking the Dead, Silent Witness) who directed the previous series of Foyle's War return to direct Series 9. Jill Green and Nicole Finnan (Jane Eyre, Mistresses, Monarch of the Glen) will executive produce the drama on behalf of Eleventh Hour Films.
Series 9 includes three powerful new episodes: High Castle, Trespass and Elise:
FOYLE'S WAR – EPISODE 1 – SHORT SYNOPSIS on "HIGH CASTLE"
The first exciting episode sees Foyle drawn into the murky world of international oil politics after London University Professor, William Knowles, is found stabbed in a park. Knowles had been working as a translator at the Nuremberg trials in Germany, and it looks like he may have taken a bribe to carry information back to England for suspected Nazi war criminal, Hermann Linz. When Linz is also found murdered, Foyle is under no illusion that foul play is behind both men's deaths and the answers can probably be found at notorious concentration camp, Monowitz. Sam decides to step up her role at work and volunteers for a risky undercover job and Foyle, unaware of her pregnancy, agrees.
FOYLE'S WAR – EPISODE 2 – SHORT SYNOPSIS on "TRESPASS"
This story is about the tangled web of British promises to the Jews to create a state of Israel in British Palestine. When a young man is assaulted in the grounds of a university, Foyle wonders if the attack is racially motivated as the victim is the wealthy son of a high profile Jewish businessman. Tensions are also starting to run high in London when a new political manifesto is published by Charles Lucas, a charismatic right-wing leader who is against refugees particularly of Jewish origin. Sam meanwhile is determined to help a young boy she meets in hospital suffering from a dangerous chest infection; the NHS is still to come on-line and she sees that Adam's constituents are in need of greater state care after the deprivations of the war and a lack of general medical care.
FOYLE'S WAR – EPISODE 3 – SHORT SYNOPSIS on "ELISE"
When an attempted assassination is carried out on Hilda Pierce outside MI5, Foyle must re-examine her top secret role within Special Operations Executive during the war. SOE French section sent many agents behind enemy lines, and Foyle suspects the shooting may be connected to the hunt for a traitor within SOE called Plato who could have been behind the deaths of nine agents in France. Sam is faced with a dilemma when Adam and Glenvil decide to crack down on the black market in East Peckham resulting in Adam's arrest when some illegal cigarettes are planted in their home.
Series 9 recently received its season premiere on ABC.
Foyle's War: Series 9 is available now.
Sydney Unleashed is one of Australia's premier entertainment publications exploring the latest in lifestyle trends. From Sydney's finest restaurants, cafes and bars to the hottest in gadgets, products, and home entertainment, Sydney Unleashed is your one-stop lifestyle platform.