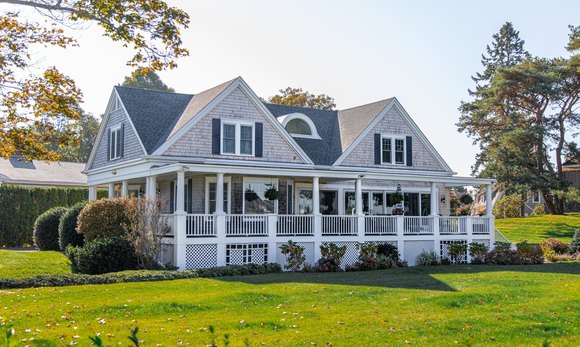 How To Upgrade The Exterior Of Your Home? Top Tips
Upgrading the exterior of your home can not only increase your home's curb appeal but also add value to your property because it is the first thing people see when they pull up to your home. Whether you're looking to spruce up your home's appearance for your own enjoyment or to prepare it for sale, there are a few options to upgrade your home's exterior.
Read on to learn our top tips.
Paint or Stain
One of the easiest ways to upgrade your home's exterior is to repaint it. A fresh coat of paint can make your home look brand new and enhance its curb appeal.
When selecting a color, consider your home's architectural style and the surrounding landscape. A color that complements the style of your home and blends in with the environment can create a cohesive and attractive look.
If the siding is damaged or outdated, you might want to consider replacing it instead. This will help give your home an instant facelift that will last for years to come.
Landscaping
A well-maintained and thoughtfully designed landscape can transform the exterior of your home. Consider adding trees, shrubs, and flowers that complement the color and style of your home. Add mulch to your flower beds and planters to create a polished and tidy look.
Also, don't forget to keep your lawn well-manicured. You can also look into concreters Sydney for a stunning new driveway to complement your freshly manicured landscape. They are experts in innovative and decorative concrete.
New Windows and Doors
New windows and doors can enhance your home's energy efficiency and curb appeal. Choose windows and doors that complement your home's architectural style and provide optimal insulation and security. High-quality windows and doors can also increase the value of your home and provide a better return on investment.
If you are on a tighter budget, you can opt to install new shutters and trims instead. These can add plenty of character to the exterior of your house. Try to choose a style and color that complements the architecture of your home.
Add More Outdoor Living Space
Outdoor living spaces can provide additional living and entertainment areas and enhance your home's curb appeal. Consider adding a deck, a Watson's small patio umbrella or porch that complements your home's architecture and landscape. Add comfortable seating and outdoor furniture, and accessorize with plants and decorative items to create a cozy and inviting atmosphere.
Lighting
Exterior lighting can highlight the features of your home's architecture and landscape and provide additional safety and security. Consider adding path lights along walkways and driveway, accent lights to highlight trees and shrubs, and spotlights to showcase your home's architectural details.
Time to Upgrade Your Home's Exterior
With our tips above to upgrade your home's exterior, you can confidently level up your exterior and enjoy the fruits of your labor. As you can see upgrading outside does not have to be expensive or complicated if you have a smaller budget. Pick and choose what you can afford from our list above and get to work.
Sydney Unleashed is one of Australia's premier entertainment publications exploring the latest in lifestyle trends. From Sydney's finest restaurants, cafes and bars to the hottest in gadgets, products, and home entertainment, Sydney Unleashed is your one-stop lifestyle platform.