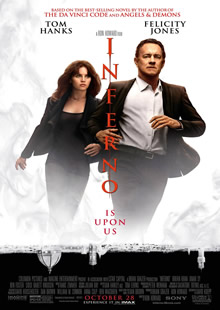 Starring: Tom Hanks, Felicity Jones, Ben Foster, Omar Sy, Ana Ularu (Rated M – 121 min).
At least 45 minutes of Inferno involves actors running in peril. Tom Hanks is the main running man in his version of an action movie, more so than the previous two Robert Langdon religious themed European art adventures: The Da Vinci Code (2006) and Angels & Demons (2009). Not remembering those two isn't a problem, however the mullet Hanks sported in the first instalment caused more controversy than the actual church refutes to the script.
Luckily Inferno is basically a stand-alone tale with less Vatican and more running. Langdon wakes up in an Italian hospital with a gash to the forehead and no memory of previous events including how he got there. Young vibrant Sienna Brooks (Felicity Jones) is his on the spot Doc who can't answer his questions, yet.
Before too long, the police are on their way except upon arrival – a female officer storms the hallways opening fire at Langdon as he escapes in his hospital gown assisted by Doctor Brooks. Back at her apartment, discovering he's in possession of a tube containing a strain of virus, he realises a setup could be on the cards. You haven't seen anything yet, it gets ultimately more ridiculous as it goes although it remains interesting right up to the surprise reveal just when you thought Langdon had his memory back.
The historically cherished Dante's Inferno is a reference and plot device that I certainly won't reveal in detail here. After Sully and Bridge of Spies, Tom Hanks is on a magical career role, frankly the thespian has not made a bad movie since Joe vs the Volcano (1990). Oh did anyone see Cloud Atlas (2012)…ok only me! He runs around the scenic streets of Florence chased by villains of various descriptions including 'possible' corrupt government officials.
Soon to be seen in the Star Wars saga spin off Rogue One, Felicity Jones is a wondrous presence in an undistinguished role. She is trying to remain serious while deducting clues and preventing the virus from being exploited as a weapon of human extinction, so to speak. If you can get around all the medical fodder, the great Rob Howard (Backdraft, Ransom) has made an enjoyable enough thriller.
Shane A. Bassett
Sydney Unleashed is one of Australia's premier entertainment publications exploring the latest in lifestyle trends. From Sydney's finest restaurants, cafes and bars to the hottest in gadgets, products, and home entertainment, Sydney Unleashed is your one-stop lifestyle platform.