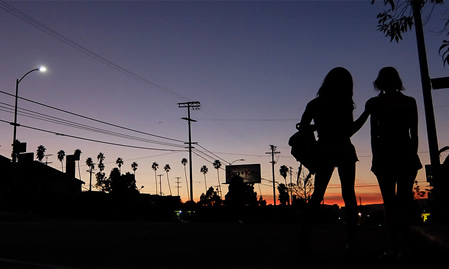 Interview with Tangerine's Sean Baker
Independent movies are usually always made for love of cinema or the arts. Many are quality but go by the wayside far too often due to the next Hollywood blockbuster sequel or remake. Film festivals around the world is where many can experience the joy of such celluloid magnetism as the extraordinary Tangerine. Filmed entirely on an iPhone, this unforgettable, likely controversial gritty dramatic tale is from the mastermind behind little seen gem Starlet, Sean Baker. Talking all things Tangerine, Sean had me entranced, plus what a nice guy!
Shane A. Bassett – Congratulations, the Sundance Film Festival reaction really spread the word.
Sean Baker – Very relieved at the time due to the subject matter and the story I told. I wasn't sure how it would be embraced so it seems people have really taken to it as have the kind critics. A deep breath was taken afterwards. The following few months have been equally hectic because we had to deliver the film to Magnolia Pictures. Now we are here in Sydney, it's a new stage.
SAB – Of all places to have an international premiere, you must be thrilled.
SB – I know thank you. Local distributor Rialto are releasing it down under on our way to Melbourne after this, very excited to see how Australian audiences take to it.
SAB – Are you expecting any controversy upon release?
SB – You know what, I expect some controversy but don't know where it will come from. I do know we are unable to screen in certain countries, that's a given. With all the films I make, there is subject matter to hold me back somewhere. That said, the trans-movement is in a real important significant time right now, it's almost impossible to please everybody. I know there will be individuals not happy with our take on the subject. As filmmakers, we are confident we made a respectful story which is all that matters.
SAB – Is setting the film around Christmas Eve symbolism of how you wanted the plot to pan out?
SB – My co-screenwriter came up with that one stemming from his love of mainstream cinema as Hollywood will set an LA movie on Christmas Eve, some of the Shane Black movies and Die Hard is an example. I think it became more than that as it developed in the screenplay. We knew it was quite poignant especially given the fact the trans-sex workers in focus in the story didn't have families to go home to. The family to them is peers or friends. Setting it on a night whether you celebrate Christmas or not, it's a family event normally with a home to go to, that in itself makes my film more profound.
SAB – Did you base the characters on real people or friends?
SB – No we always do an extensive research period before all these movies that I make, in this case it went 6-8 months. We found our leads Mya Taylor and Kiki Rodriguez who know many in that area, they have friends who are working girls with a tremendous amount of stories or anecdotes of this world. To me, if you're not from that world I don't think it is a respectful thing to just go in there and impose, you need to get the story from that particular world. When we went in there, we knew that not only our cast and locations were needed but collaborators. Mya and Kiki became providers to plot arcs.
SAB – Kiki came across so natural, did you have to instruct her as a director or let her go?
SB – So great to hear that, she is wonderful. I've been very lucky to this point finding remarkable unique actors with an incredible knack for improv or just natural as you say. I don't know what it is, my last film Starlet was similar. I guess it's serendipity. It's about taking time to bond, being casting director myself when approaching someone with praise that they have something to give, I think that's flattering so it works on many levels to showcase their ability.
SAB – I thought Starlet was fantastic, it was really good to see Mickey O'Hagan again, she's wonderful, has solid acting poise that I'm sure is only the tip of her talent.
SB – I'm so happy you say that, she doesn't get as much attention as she should. She is so talented and as you can see Mickey plays drastically different characters in both films, I really hope to work with her again. She's down for anything as you would see and one of those actors that eventually the industry will recognise with accolades.
SAB – Obviously there would have been challenges, but what were the benefits of filming on an iPhone?
SB – Benefits only revealed themselves whilst shooting. Most important was it removed the intimidation factor. First time actors usually often take a week to get used to a camera in their face, this helped because we all own iPhones constantly taking photos or videos ourselves, all inhibitions were stripped away immediately. Mya and Kiki had the same confidence level as seasoned actor James Ransone.
SAB – Were they hand held or did you film from selfie sticks?
SB – Something in between, a stabiliser like a steady cam, it remained inconspicuous you could not tell if standing across the street that we were shooting a feature film. Actually it was our sound gear that was a dead giveaway, the boom pole was obvious (laughs).
SAB – Any disadvantages?
SB – Honestly no challenges, even the work flow was technically easy. The only hard part was as filmmakers who have been working for a while was to get over the fact of shooting on a telephone. I did the whole riot act thing to my crew pretty early on, I didn't want anyone to be embarrassed or feel ashamed shooting a movie on an iPhone (laughs). At one point, the co-director of photography was asked to visit the set to shoot the film alongside me. Then an email came through that said I'll come out and play with you guys; I said, No it's not playing, you have to take this seriously or we are going to fail. Embrace the iPhone aesthetic like a regular shoot.
SAB – I bet that Donut Shop heavily featured in Tangerine gets some big business now?
SB – Certainly hope so. I've been telling them they better get their T-Shirts ready cause they may sell a bunch. Yes, Donut Time is such an iconic landmark for that area. It wasn't my hangout beforehand but became our hangout during filming, we ate too many donuts.
SAB – What was it like to work with veteran actor Clu Gulager?
SB – He was so amazing, he first off was a big fan of Starlet, that's how he got involved. Did you notice I also use his son in the brothel scene, the one who walks out with mobile phone in hand? Clu said at one point he had a few different subjects to bring to the table or improvise on. There was this one that had to do with his name and how it was given to him by his mother that was Cherokee that could be perceived as a feminine name. He pitched it and I thought wow it works so well, having something imposed on you at birth that you're not comfortable with, it was in the subtext of the movie. We changed it slightly but it was just him delivering his scenes in one or two takes, so thrilled to have this Hollywood legend involved.
SAB – What's up next for you, what do you prefer, writing or directing?
SB – That's the thing, kind of a catch 22 as I want to direct what I write but I find writing such a massive undertaking, it's difficult to keep up and running. My next film I think I have decided is going to be about the homeless in Florida looking at the families and children living outside Walt Disney World. It's a tragic situation I want to shed some light on by telling a personal story about two children who meet at the hotel and go from there.
SAB – Good luck, you're an inspiration to aspiring filmmakers and give confidence to people with real life issues or stories that need to be shared. Well done mate.
SB – Thanks Shane and be sure you will see Mickey O'Hagan again in yet another stunning role.
Shane A. Bassett
Sydney Unleashed is one of Australia's premier entertainment publications exploring the latest in lifestyle trends. From Sydney's finest restaurants, cafes and bars to the hottest in gadgets, products, and home entertainment, Sydney Unleashed is your one-stop lifestyle platform.