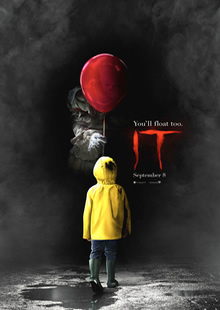 Starring: Bill Skarsgard, Sophia Lillis, Jeremy Ray Taylor, Finn Wolfhard, Jaeden Lieberher (Rated MA – 135 min).
Be aware, I will not be spoiling anything here in my analysation of this much anticipated second version of the timeless horror novel by scare maestro author Stephen King. King relishes in tapping into people's innermost fears and on this occasion, it is the common phobia of clowns.
IT was originally filmed in 1990 as a made-for-television mini-series with the magnificent Tim Curry as Pennywise, the mystical dancing clown who appears on a regular basis throughout centuries in Derry (Maine) to snatch children for his survival.
This new, quite different, adaptation has Pennywise portrayed by Bill Skarsgard, an actor from Sweden best known for period romances such as Anna Karenina (2012) while also making an impression in the recent action gem Atomic Blonde. However this is something completely different as the terrifying entity stalking the woods and sewers. Personally I'm not afraid of clowns but the make-up effects on both old and new Pennywise are tenacious to my nerves, freaky in no uncertain terms.
The film opens with a child playing in a heavy rain storm racing after a folded paper boat floating down a gutter until Pennywise stops it from going into the drain enticing the innocent kid to take it out of his hand. You may guess the rest, not pretty. This beginning, simply, is a starter to what horrific images and skin crawling moments are to come. Comedy is injected sporadically. Controversy is never far away. The film, like the book, spirals into dark places.
Many liberties have been taken from the novel so don't expect a word-for-word screenplay. For a start, the movie is set in the 1980s, not 1950s, but there's an abundance of familiar scenarios to please the King aficionados. Over time, the town certainly knows there is a missing children plague. Unusually though, it seems many ignore the problem. Or do the adults actually know but don't tell?
More creepy than actually scary, although trust me in saying jumping or screaming from cinemas will be a definite. The almost unknown cast of young talent is a benefit – all completely natural together as the 'Losers Club' nerd-like gang of friends.
Unique Finn Wolfhard, exceptional in Netflix series Stranger Things, is also cool here while ginger-haired and freckled Molly Ringwald lookalike, Sophia Lillis, a young upcoming star with a Shakespeare background acts beyond her years as Beverly, the lone girl of the Losers Club dealing with extreme adult situations.
Excellent composer Benjamin Wallfisch creates a sneaky effective score to jump scares, also cinematography looks great and detailed time period settings are Goonies-like but this is not appropriate for a young audience in any way.
Much discussion will be had after experiencing this version of IT with salacious arguments sure to continue as Chapter 2 is due in theatres in 2018.
Shane A. Bassett
Sydney Unleashed is one of Australia's premier entertainment publications exploring the latest in lifestyle trends. From Sydney's finest restaurants, cafes and bars to the hottest in gadgets, products, and home entertainment, Sydney Unleashed is your one-stop lifestyle platform.