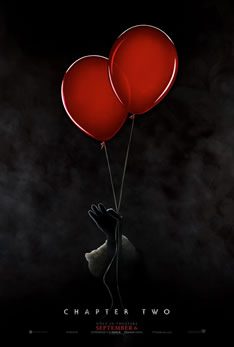 Starring: Jessica Chastain, Bill Hader, Jay Ryan, Bill Skarsgard, James McAvoy, Sophia Lillis (Rated MA – 169 min).
Better than many Stephen King adaptations that came before, IT Chapter One (2017) highly regarded horror hit crossed over to all audiences building anticipation for this next edition set 27 years after the gruesome events.
The teens of small town Derry, who barely survived the eerie spectre, mostly transformed into Pennywise the bloodthirsty, cracked clown. Keeping spoiler free, this is not as scary however effectively horrific, squirming during certain moments inevitable.
The kids are alright, now grown up separated but are called together again by Mike (Isaiah Mustafa) who had never left like his friends. The long time apart for The Loser Club, for which they were known, is fun at first catching up on life and stuff…. although one of them had recently departed bringing a realism to the forth.
Maniacal Pennywise returns to their nightmares in more than just clown form pushing complete madness around Derry all over again. Gangly, spider-like Bill Skarsgard smashes it as Pennywise behind the practical make up rousing up scares to his old foes and new kids on the block.
There's some chronic shocks, gruesome discoveries and be ready for anything from the beginning, an opening scene is quite harsh for numerous reasons. Oscar nominee, firecracker talent Jessica Chastain is perfection as all the adult choices to play the adult counterparts to the children they are portraying from Chapter One.
Better Known for 'dramedy' or full blown humour, Bill Hader (SNL, Barry) is remarkable. Former Neighbours soap star, Kiwi actor Jay Ryan, adjusted in a break out powerhouse performance as older Ben, the one who has matured, surprising all the others when they first catch up.
Look fast as author Stephen King pops up for a cameo; he himself approved of all the casting choices due to extreme love of the novel. Smart slick chills.
Shane A. Bassett
] Sydney Unleashed is one of Australia's premier entertainment publications exploring the latest in lifestyle trends. From Sydney's finest restaurants, cafes and bars to the hottest in gadgets, products, and home entertainment, Sydney Unleashed is your one-stop lifestyle platform.