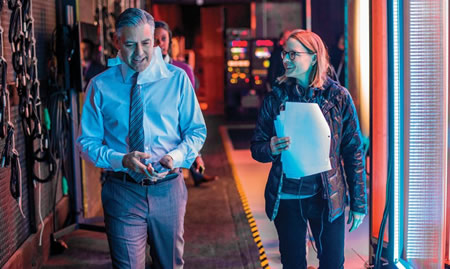 Having interviewed classy Hollywood royalty, Jodie Foster, as a red carpet rookie back in 2002 when she was visiting Sydney promoting her then big new release Panic Room (a role she gained after Australia's own Nicole Kidman pulled out of due to injury), I knew what to expect this time.
Gracious and a charming personality was extended my way again while her appearance simply hadn't changed a bit since that first conversation 14 years ago. Her fourth feature directing effort after Little Man Tate (1991), Home for the Holidays (1995), and The Beaver (2011) is the pulsating drama Money Monster, fresh from a standing ovation at the Cannes Film Festival. A stop over to walk the red carpet in Sydney followed by a post screening Q&A was applauded by all. Covering a range of subjects, I shared a laugh with this amazing double Oscar winner.
Shane A. Bassett – Hi Jodie, you haven't changed at all since the last time we spoke except you were wearing red.
Jodie Foster –  I can't remember what I was wearing (laughs) but I enjoyed that time at Fox Studios. So cool you were there too.
SAB – Was it a hard sell to get George Clooney and Julia Roberts or were they calling you to be cast?
JF – I approached them and said 'would you please be in the film', They weren't phoning me, but the script spoke for itself. It's clear with strong characters that made it appealing.
SAB – I believe Jack O'Connell auditioned for you over Skype.
JF – Yes we met over Skype, he was not my first choice because he's very British and very young because my idea for the role was someone forty and American. The second I saw him however I was blown away. Now couldn't imagine anyone else.
SAB – Where do you keep your Oscars?
JF – Actually in the TV room, I used to have them in the bathroom until they started getting corroded.
SAB – This is the biggest budgeted higher profile film you have directed. Little Man Tate and Home for the Holidays stand the test of time but what attracted you to this production, the script?
JF – This film needed the resources that it took, it has guns, bombs, helicopters – a lot of that kind of thing. If somehow we were not able to secure the financing, I would have been quite happy to make it on my iPhone. It would have been much more boring but I could still do that right. I could have set it all on just the broadcast stage (laughs). This film needed to be the genre it is, it needed to be a public orientated type fast-paced thriller.
SAB – Was there any chance of you actually starring in the film – if not a lead, in support?
JF – No. Having acted / directed twice before, I think anyone will tell you it's better to choose one or the other even though the likes of Woody Allen does it all the time who I've seen first-hand being in one of his ensembles.
SAB – Indeed, you have Shadows & Fog with Madonna, great film. You have shared great collaboration with Mel Gibson a couple of times now, do you have any future plans working with him?
JF – Not yet but definitely not out of the question, I especially love Mel as a director and really looking forward to the film he did here in Australia recently (Hacksaw Ridge). We saw each other at Los Angeles only a few weeks ago, I know he's really excited about it. You know Shane, I would love to be directed by Mel. He's wonderful behind the camera.
SAB – Being a prominent woman in Hollywood, what is your take on female director equality?
JF – It's an area that's changed very little, not sure why more discussion had not taken place over fifty years but there is now so I assume that bodes well for the future.
SAB – The older you get, do you prefer directing or is acting still a first option…or sing, you're a good singer as well?
JF – Oh I don't know about the singing, definitely not a good singer (laughs). But thank you for saying that. I will act at some point again, just don't know when. I've been doing it for fifty years so can't imagine stopping now.
SAB – Helen Hunt was recently mistaken for yourself putting out on Twitter a coffee cup with your name, have you had anything similar in return?
JF – Yes I've been mistaken for Helen many times in my life, it goes back'n'forth. We talk about it when we see each other. It is strange because she is at least five inches taller than I am. I have never signed an autograph for her but sometimes people say, Hey Helen! I think the only similarity we have is we part our hair on the same side (laughs).
Every performance is a winner, yes even Anna and The King (1999) and the Australian made Nim's Island (2008). But here I try to narrow down my ten Jodie picks:
HOTEL NEW HAMPSHIRE (1984): Excellent black comedy with Rob Lowe and the Bear!
TAXI DRIVER (1976): Dominating role beyond her years.
CONTACT (1997): Underrated mysterious alien thriller.
THE BRAVE ONE (2007): Female grit showcasing range of rage.
NELL (1994): Oscar nominated brilliance in the woods.
LITTLE GIRL WHO LIVED DOWN THE LANE (1976): Solid proof Taxi Driver was no fluke for her so young.
SILENCE OF THE LAMBS (1991): Unforgettable eerie perfection.
THE ACCUSED (1988): Hard to watch, incredible emotional impact.
PANIC ROOM (2002): Simmering thriller, strong rapport with Kristen Stewart.
SOMMERSBY (1993): Rare romantic period film needs to be revisited by all.
HONORABLE MENTIONS: FLIGHT PLAN (2005), MAVERICK (1994), FREAKY FRIDAY (1976).
Shane A. Bassett 
Sydney Unleashed is one of Australia's premier entertainment publications exploring the latest in lifestyle trends. From Sydney's finest restaurants, cafes and bars to the hottest in gadgets, products, and home entertainment, Sydney Unleashed is your one-stop lifestyle platform.