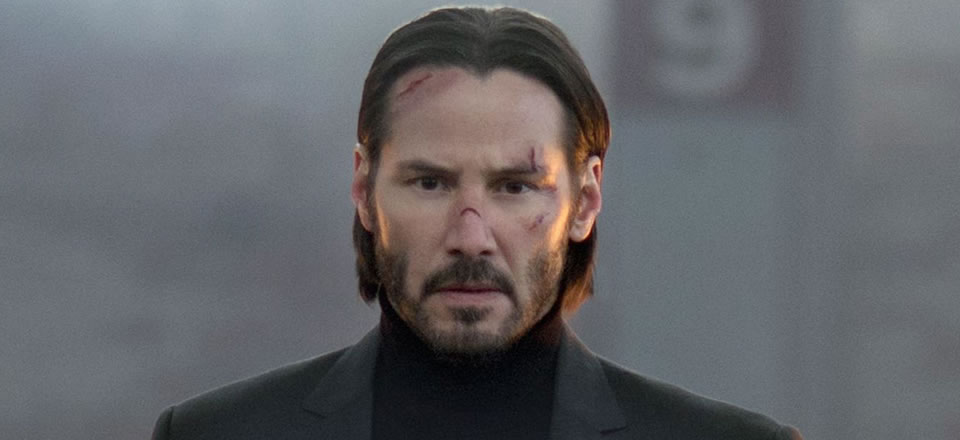 Keanu Reeves Retrospective
As an actor, Keanu Reeves is as selective as the characters he plays, notoriously private within his personal life. He also managed to sidetrack being labeled as part of the Brat-Pack even though he came through the Hollywood system during the exact same time of that retro ensemble. A drinking game was actually invented for Ice Hockey drama Youngblood. Fountain of youth advocate Rob Lowe and the late Patrick Swayze were the leads, but the rules are every time you spot Keanu, which is generally in a mask as the goalie, you take a drink.
His latest film is building momentum and positive word-of-mouth after the exquisite trailer appeared, the highly unusual and action-packed thriller, John Wick has the look of a diverse hit. Quietly spoken with an eye for detail instinct, Wick is a contract killer who goes on a rampage when Russian mobsters take his classic Mustang then execute his beloved dog. What follows is a showcase for elaborate stunt work with shades of Asian martial arts influence and unpredictable Lethal Weapon theatrics. Lengthy hair slicked back and bearded, Reeves is no slouch in this genre slinking across the screen with muscularity and sinewy grace.
Early in this mystery man's career, long before the huge success of Speed catapulted Reeves into action man status, he was best known as Ted Theodore Logan of Bill & Ted's Excellent Adventure and its mad sequel Bogus Journey. Moderately successful upon release, the time traveling blight on history (Joan of Arc is described as a historical babe and Napoleon a short dead dude) built an audience on home video also spawning a short-lived cartoon series. The vernacular of Ted and his friend and Wyld Stallions band-mate Bill Preston Esquire (Alex Winter) took on a life of its own and to this day is quoted by adoring fans. Long has a sequel been talked about, however for a very long period it was part of the condition of reporters interviewing Reeves that he refused to talk about Bill & Ted, so don't ask. That self-imposed ban has since been recently lifted with news that a script has been written for a possible third installment. To this day, continuing to take risky or unique roles quite often sends reviewers into a frenzy who labeled the star as Keanu "I can't act' Reeves.
The imperfect British accent he attempted in Dangerous Liaisons and Bram Stokers Dracula did nothing but sharpen the critical knives. An appearance in the swashbuckling version of Shakespeare's Much Ado about Nothing at least won the hearts of female fans. It was in My Own Private Idaho, also starring his good friend the late River Phoenix that he proved how adverse his skills were on screen. Brooding, controversial and slick, this movie pushed boundaries and stands as an unforgettable celluloid experience, once watched never forgotten. Unfortunately the same cannot be said for his spiritual turn as Little Buddha.
Speed introduced a toned Keanu in a buzzcut to a brand new set of fans. The bomb on the bus hit was a major commercial career kick, however he thankfully said a resounding no thank you to the lethargic ocean liner sequel, Speed 2: Cruise Control. 100% pure adrenaline; was the catchphrase for Point Break, a personal favourite of mine about rookie cop and former football star Johnny Utah infiltrating a gang of territory surfers who rob banks as a subsidy to surf all day. Patrick Swayze was the real heartthrob in it and that's just how Keanu liked it, a radical Gary Busey on the other hand almost stole the limelight as the unhinged senior detective.
Many interesting and mostly diverse movies followed including Feeling Minnesota, which is a broad romantic comedy with Cameron Diaz as the beneficiary of his affections and Devils Advocate, opposite Al Pacino at his monologue shouting best. Filmed prominently at Fox Studios Australia, The Matrix was a movie not many believed would work. Will Smith turned down the lead role of Neo opening the door for Keanu to slip on the dark glasses and leather trench coat. The mediocre overblown odd sequels aside, the rest is history, Matrix broke new ground in special effects and is still one of the most referenced films and parodied ever.
As many actors do, Reeves chased musical interests as part of a band. Dogstar had no significant original hits but did open for Bon Jovi in 1995 during their Australian tour. Black beanie sock on his head playing bass, he often stood back, away from the front of the stage but everyone in the audience were only watching one of the Dogstars, the music was secondary.
Recent efforts have been more personal journeys than cinema hits. An ill-advised remake of The Day the Earth Stood Still with an environmental twist was embarrassing to the original classic. Threesome slacker romance Generation Um, did not revive the charm and last year the samurai tragedy 47 Ronin, had its moments but not nearly enough for a big budget effects-laden fantasy. Reeves' role was expanded when early test screenings set new records for dull.
Co-starring the great Willem Dafoe and beautiful Bridget Moynahan, time will tell if the emergence of modern film noir identity John Wick can turn the spotlight back on the one time sex symbol bringing box office glory. Not based on an adult comic book, it certainly has that vibe and even relives some of Keanu at his dark romantic best during interactions with fellow female contract killer. As Ted Theodore Logan would say, Whoahhhhh.
Shane A. Bassett
Sydney Unleashed is one of Australia's premier entertainment publications exploring the latest in lifestyle trends. From Sydney's finest restaurants, cafes and bars to the hottest in gadgets, products, and home entertainment, Sydney Unleashed is your one-stop lifestyle platform.