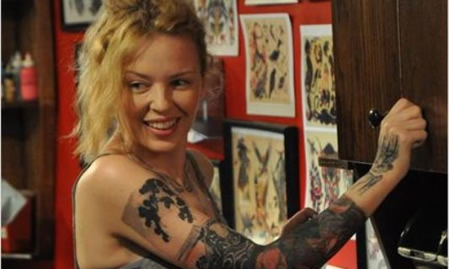 Kylie Minogue At The Movies
Regarded by many as an icon and no doubt an Australian national treasure, Kylie Minouge has spun around our hearts in the world of pop music since her singles Locomotion and I Should Be So Lucky sent fluorescent wearing discotheque dancers into a flurry during the late 80s.
Since then, the singing budgie has gone top of the pops with more number 1 singles in the UK than The Beatles while gaining a cult following all over the world. Kylie began as an actress on Neighbours appearing in 333 episodes from 1986 including as the bride in one of the highest rating television weddings ever. It may only be a cameo but you can enjoy her in San Andreas, the earthquake blockbuster currently in cinemas.
To some it may be a surprise, but in fact Ms Minogue has appeared in movies since her debut in a very well received 1950s era romantic drama, The Delinquents. Released in 1989 to Australian box office success, it showed a darker side to the sweet Kylie persona playing a rebellious teenager falling for a leather jacket wearing bad boy. Nothing new there, but for a local production it was fresh, garnering positive reviews proving to skeptical critics, she could act. A cover of the song 'Tears on my Pillow' from the soundtrack became a big hit helping to gain traction on the movie's success.
Unfortunately knives were sharpened with critical acclaim falling short for many of her following projects.  Muscles form Brussels Jean Claude Van Damme arrived in Queensland to film Streetfighter with Kylie a co-star. Watching it now is an oddity, highly charged moments in this 1994 mediocre hit looked completely staged.
The worst was yet to come. At first, Kylie refused to talk about it, however years later when asked about Bio Dome (1996) she is quoted as admitting this was one of her worst career decisions ever. The lame environmental comedy with Pauly Shore now is a cult hit on DVD.
Her outstanding music career thrived so there was little need to act, indifferent film roles did continue on into the new millennium, beginning with an Australian attempt at a slasher film Cut (2000). The horror/comedy Scram, was a massive hit at the time so a producer of The Matrix wanted to cash in. 80s maven Molly Ringwald was the lead star and our Kylie had a small role, very small as she was killed off within the opening five minutes (similar to Drew Barrymore in Scream). Kylie played a good scream queen, albeit short lived.
Next was a cool dramatic turn in Sample People alongside Ben Mendelsohn. Filmed in the inner city suburbs of Sydney, there was grit to her performance here, that great acting talent was still flickering, critics agreed.
A small role for Baz Luhrmann as the Tinkerbell like absinth Green Fairy of Moulin Rouge reminded audiences of her beauty even if she did only appear for a minute, but what a minute.
Hit records and sold out concerts continued around the world. It was some years later before Kylie stepped back onto a movie set and from here it was mostly foreign productions. Bollywood called and seemed like a natural fit for all her talents. Blue, made in India was a big hit locally in 2009 but failed to translate the same popularity outside the sub continent. 2012 was an interesting time in Kylie's film schedule making two very diverse films, obscure and potent in their own unique way.
Holy Motors was a big hit on the world film festival circuit and was released cinematically around Australia. With mostly French dialogue and some English interjected, the story of one man's dusk to dawn city adventure was the perfect foray for Kylie to slip in and make a difference. Her role is seductive and controversial with little fanfare, again her acting skills are there to see in this mystical independent gem.
The same year another European production featuring Kylie stirred up critics on the festival circuit. Certainly not based on the John Cougar Mellencamp ballad, Jack and Diane, concerns a summer fling of two lovely young ladies in lust.
Grandaughter of Elvis Presley, Riley Keough, currently seen in Mad Max Fury Road, and irrepressible rising star Juno Temple are the seductive duo. Both roles are potent in this awakening of sexual desire story, however when Kylie walks on screen, all attention is on her in more ways than one. Not a classic and random with its structure, it is still a film no Kylie Minouge fan should miss.
Filmed last year on the Gold Coast, Canadian director of San Andreas Brad Peyton was keen to cast Kylie. The cameo is amusing, reminding us all she is here to stay on the big screen popping up when you least expect it. Just not in Bio Dome 2.
Shane A. Bassett
Sydney Unleashed is one of Australia's premier entertainment publications exploring the latest in lifestyle trends. From Sydney's finest restaurants, cafes and bars to the hottest in gadgets, products, and home entertainment, Sydney Unleashed is your one-stop lifestyle platform.