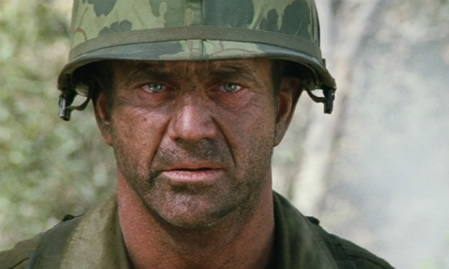 Mel Gibson Behind The Camera
Based on a true story set around the Battle of Okinawa, Hacksaw Ridge is a characteristically visceral return for Mel Columcille Gerard Gibson – his fifth feature as director. Born in Peekskill, New York, he has always been considered as Australia's own having graduated from NIDA in Sydney.
Journeyman of the silver screen, Mel Gibson went from tearing up the highways in the Down Under cult Mad Max trilogy to his American film debut, The Bounty (1984). He then hit Hollywood blockbuster status after Lethal Weapon (1987) spawned three massive sequels and an immediate array of studio changing genres: moody drama (Tequila Sunrise 1988), comedy romance (Bird on a Wire 1990), controversial (Hamlet 1990), underrated adventure (Air America 1990), to time travelling fantasy (Forever Young 1992).
Established charisma on screen early, it wasn't until 1993 when Gibson stepped behind the camera. His debut into the director's chair astounded critics with auteur flair for The Man Without A Face. The story of a recluse ex-teacher with a disfigured face who befriends a boy that reignites a town's hatred from a tragic accident lingering long within local history. It's a deep drama also starring Mel as the man in question as he couldn't find anyone else either suitable or willing to play the uncomfortable lead.
It was his next foray as designated filmmaker that brought Mel into the eyes of the Academy winning five Oscars for epic William Wallace retelling Braveheart (1995) including Best Picture and Best Director. The screenplay may have taken historic liberties with the legend but there is no denying the epic status the film reaches from widespread battle scenes to sultry forbidden romance to sweeping cinematography, everything clicked in this masterful cinematic opus.
The eyebrow raising from academics was nothing to what reaction Gibson would receive after releasing biblical narrative The Passion of the Christ (2004). No film distributor would touch it, no one would finance it, actors turned their back on roles, so Mel decided to create his very own distribution company (Icon Films) to release the movie. It proved everyone wrong after becoming a massive box office plus critical hit. Icon Films gains global film acquisitions to this day including all of Gibson's recent acting or producing ventures.
Spoken in complete traditional ancient languages, it depicts the final twelve hours in the life of Jesus of Nazareth through a journey of being abused mentally and physically on his way to crucifixion on the cross. To this day, the film is revived on Good Friday Easter ceremonies around the globe and respected as an almost reference beyond the page of the Bible to what happened. Magical or inspirational or horrible, individuality remains to be the judge as graphic images are only one aspect in which could make one uncomfortable. However to believers, this is what happened and Mel depicted events in honour of the saviour. During production, accidents happened and injuries to cast were mysteriously abundant but against all odds, it all gelled together. At the time, pre-sale tickets alone broke records. It is now considered essential viewing among faith based communities.
Next up was another risk for the fourth time feature director, Apocalypto (2006), an action-packed Mayan adventure chase story of love, loss, survival and rituals. Uniquely filmed using traditional tribal languages using a cast of natural non-actors, this is close to his best film in my view. Relentless aspects hold tight creating an amazing journey into cinema not often seen.
A decade later, Mel Gibson rises out of personal conflict and media controversies to hopefully be forgiven and welcomed back, at least by movie-goers. His Australian-made (NSW) film Hacksaw Ridge is filled with a large contingent of local thespians and a few important US imports such as Andrew Garfield (The Social Network) and Vince Vaughn (Swingers) both glowing in against type roles.
Sure to be considered within the upcoming award season, Hacksaw Ridge is a strong little known faith laced true story made into a great engaging emotional tale balancing the harsh realities of war with love and camaraderie beyond survival belief with a multilayered dedicated worthy cast.
HACKSAW RIDGE (Rated MA) is in cinemas November 3rd.
Shane A. Bassett
Sydney Unleashed is one of Australia's premier entertainment publications exploring the latest in lifestyle trends. From Sydney's finest restaurants, cafes and bars to the hottest in gadgets, products, and home entertainment, Sydney Unleashed is your one-stop lifestyle platform.