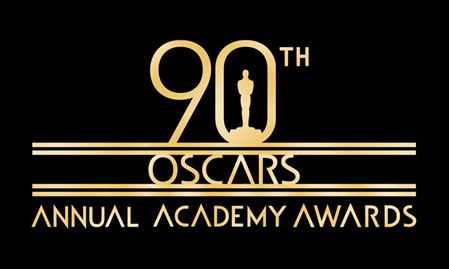 Oscars Overview & Nomination Predictions
It's happening again – the grand final of Hollywood, the pinnacle of movie accolades. Chill the champagne, crisp up the tuxedo, Academy Awards time has arrived.
The Oscars turn 90 with an array of diverse nominations and a strong Times Up movement bellowing front and centre highlighting the disgraceful circumstances of an up-until-recent unspoken torment among the film industry collective. Will it change the way the academy votes? Maybe.
Greta Gerwig (LadyBird) is only the fifth female director to ever be nominated while Rachel Morrison (Mudbound) is the first cinematographer to be nominated. Both are unbelievable stats for a 90 year tradition. Lone Australian nominee Margot Robbie (I, Tonya) is up for Best Actress but a remote chance. However at all the previous award ceremonies, winners have basically been the same. Oscar traditionally likes a surprise or two. Impressive host Jimmy Kimmel will no doubt be hoping for the wrong envelope not to be delivered on stage this year for Best Picture after the LaLaLand/Moonlight fiasco of 2017. Below are my views on who will win.
BEST SUPPORTING ACTOR
Willem Dafoe – Florida Project
Woody Harrelson – Three Billboards Outside Ebbing Missouri
Richard Jenkins -Shape of Water
Christopher Plummer – All the Money in the World
Sam Rockwell – Three Billboards
Jenkins no. Rockwell won everything so far in an overrated film that survives on its acting pedigree. Plummer's last minute reshooting as replacement for disgraced Kevin Spacey was an extraordinary achievement. Willem Dafoe creates a low-key heartfelt momentous character within a very small film while personal favourite Harrelson solid.
MY PICK – WILLEM DAFOE
BEST SUPPORTING ACTRESS
Mary J. Blige – Mudbound
Allison Janney – I, Tonya
Lesley Manville – Phantom Thread
Laurie Metcalf – LadyBird
Octavia Spencer – Shape of Water
Splitting Janney and Metcalf is hard. If a dual winner could be announced (which happened decades ago), these are the pair. Manville could surprise for a powerhouse performance. Spencer / Blige no.
MY PICK – ALLISON JANNEY
BEST ACTOR
Timothee Chalamet – Call me by your Name
Daniel Day Lewis – Phantom Thread
Daniel Kaluuya – Get Out
Gary Oldman – Darkest Hour
Denzel Washington – Roman J. Isreal Esq
Mixed category defining new and old school talent. Extra significance for Day Lewis announcing this is his last ever role. Will this give him another deserved gold statue? Oldman transforms himself into Winston Churchill to the hilt, Kaluuya has a chance any other year. Chalamet no. Legendary Washington, no.
MY PICK – GARY OLDMAN
BEST ACTRESS
Sally Hawkins – Shape of Water
Frances McDormand – Three Billboards
Margot Robbie – I, Tonya
Saoirse Ronan – LadyBird
Meryl Streep – The Post
McDormand hasn't lost leading up to the big dance and is unlikely to. Queenslander Robbie is in my heart but no. Ronan amazing as usual, her time will come. Wonderful Hawkins emotes smiles, tears, chills, passion, grief astonishingly as a mute character. Streep no, did I just say that?
MY PICK – SALLY HAWKINS
DIRECTOR
Christopher Nolan: DUNKIRK
Jordan Peele: GET OUT
Greta Gerwig: LADYBIRD
Paul Thomas Anderson: PHANTOM THREAD
Guillermo Del Toro: SHAPE OF WATER
Tough. Up until recently I would have said Nolan should be writing his Dunkirk acceptance speech, then along came the Del Toro opus. Considering the Times Up movement and female equality within film agendas, it would not surprise if Gerwig won for her flawless directorial debut, fingers crossed. Popular Peele has a film with momentum but just has to remain happy to be here. Anderson a slight chance.
MY PICK – GUILLERMO DEL TORO
BEST FILM
Call me by your Name
Darkest Hour
Dunkirk
Get Out
LadyBird
Phantom Thread
The Post
Shape of Water
Three Billboards outside Ebbing Missouri
Nine out of a possible ten nominated with only five real contenders and one strong upset candidate. Sadly few saw flawless Phantom Thread, a splendid mind infusing melodrama with chronic stings in the tale. Get Out rolls on long after its early 2017 release, a longshot maybe but people are 'really' talking it up. Ladybird, a personal favourite refreshing the coming of age story with conviction of emotional authority and perfection. Not quite epic, Dunkirk, impactful filmmaking the Academy adore. Triumphant Shape of Water has hollywood musical themes, conspiracy theories, science-fiction odes, valour and romance with unforgettable characters. Did not enjoy Three Billboards, high calibre acting saves it, still likely to win. The Post is topical with Spielberg back in form curating a great cast, but no. Call Me By Your Name may pick up screenplay for lovely forbidden romance, not best picture. Darkest Hour: Mr Oldman, Australian Ben Mendelsohn, solid cinematography, a triple treat, but no.
MY PICK – SHAPE OF WATER
QUICK PICKS
Visual effects – War for the Planet of the Apes
Cinematography – Blade Runner 2049
Best Animated – CoCo
Costumes – Phantom Thread
Best Foreign – A Fantastic Woman (Chile)
Best score – Dunkirk
Best Song – This is Me (Greatest Showman)
Adapted Screenplay – Call me by your Name
Original Screenplay – Shape of Water
Shane A. Bassett
Sydney Unleashed is one of Australia's premier entertainment publications exploring the latest in lifestyle trends. From Sydney's finest restaurants, cafes and bars to the hottest in gadgets, products, and home entertainment, Sydney Unleashed is your one-stop lifestyle platform.