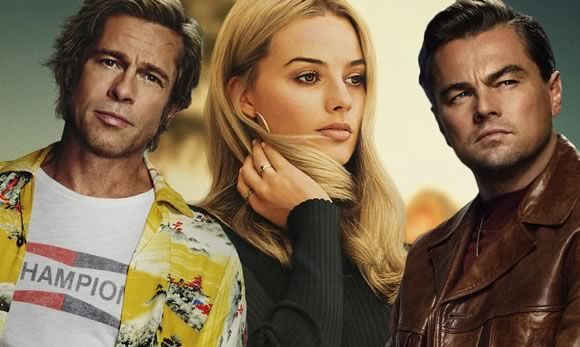 Once Upon A Time In Hollywood
Starring: Kurt Russell, Leonardo DiCaprio, Brad Pitt, Margot Robbie, Al Pacino + many more (Rated MA – 161 min).
Once Upon a Time in Hollywood is already stirring suitable controversy for a variety of relevant issues and is easily one of the most anticipated movies of the year. Quite rare considering it is neither a remake, sequel, prequel or superhero blockbuster but an original screenplay covering fabrication of true events occurring high in the hippie era of 1969.
No stranger to content resistance, reputable, practically self taught Oscar-winning director, Quentin Tarantino, has given the cinema world his sprawling version of the stuff where dreams are made, Once Upon a Time in Hollywood. 
Focusing on formerly successful actor, Rick Dalton (Leonardo DiCaprio), alongside his stuntman double, confidant, assistant and only friend, Cliff Booth (Brad Pitt), the pair travel through a myriad of back-lots, film sets, landmark cinemas, wine bars and swimming pools amongst a backdrop of a changing America with troops in Vietnam. These two basically just drive around town often coercing with a who's who of the time.
Tarantino's fantasy version of history injects comedic darkness with serious auras of character development into a plethora of actual celebrities of the past running around in a near plotless film full of incidentals.
Rampant racism, sexism, also lack of 'strong female' characters has caused much conjecture of division in opinion, matched by the sullen story threads concerning maniacal cult leader Charles Manson and lovely impressionable actress Sharon Tate, performed memorably by Australia's own Damon Herriman, Margot Robbie. Significantly, Luke Perry appears in his final role while Burt Reynolds was to be part of the ensemble, he also sadly passed.
There is a pattern to Tarantino productions, a reputation of sorts that has rightfully come more to the fore during an industry change 'MeToo' movement, but this is only a movie depicted during a bygone era. Tarantino has his hardcore salivating fanbase often way too invested, however totally understand the appeal. Violence is as entirely expected when Quentin writes or directs, as is a sparkling range of diverse classic film references, galaxy of stars and musical interludes of often forgotten tunes or sampled instrumentals.
Keeping spoiler free is paramount, Once Upon a Time in Hollywood, is not what you expect, going in different directions veering off multiple story arcs or elements that may or may not have anything to do with an oncoming blood swept crescendo, unforgettable finale.
Often mentioned, the auteur is only directing ten films – this is his ninth. Having interviewed my walking encyclopaedia of movies equivalent three times, Mr. Tarantino has expressed interest in writing novels or series without commitment. He is partaking in contributing to an upcoming comic involving Django and Zorro. Views on his cinematic directorial oeuvre so far.
RESERVOIR DOGS (1992): Impactful debut for the former video store clerk. I saw this first release on big screen. Mind was blown, simply one of his best.
PULP FICTION (1994): Brutal, timeline twisting, instantly quotable, detailed, Los Angeles gangster saga stridently changed independent film perception.
FOUR ROOMS (1995): Anthology quartet ending Man in Hollywood, used an Alfred Hitchcock presents plot churning dark situations into shock comedy.
JACKIE BROWN (1997): Somewhat violent blacksploitation film homage took romantic turns amongst integrated mayhem concerning stolen money.
KILL BILL – VOLUME 1 (2003): Combined iconic samurai traditions, martial arts, westerns, family dramatics for a hit list of unforgettable calculated revenge.
KILL BILL – VOLUME 2 (2004): Slow fuse finale of resurrection personified did not have violent grandeur of Vol.1 but equalled intensity and monologuing.
DEATH PROOF (2007): Part of Grindhouse double feature with sci-fi Planet Terror. Often overlooked however for cars, stunts or girls, this is pure joy.
INGLORIOUS BASTERDS (2009): Fantasy reworking World War 2 on how to assassinate Adolf Hitler, added European film odes and pulsating soundtrack.
DJANGO UNCHAINED (2012): Bittersweet journey escaping barbaric slavery to finding his wife, one man's progression for freedom a merciless must see
THE HATEFUL EIGHT (2015): Agatha Christie influenced almost one location western mystery throwing up constant bizarre intrigue into shocking chills.
Also, segment guest director on live action graphic novel SIN CITY (2005).
Shane A. Bassett 
Sydney Unleashed is one of Australia's premier entertainment publications exploring the latest in lifestyle trends. From Sydney's finest restaurants, cafes and bars to the hottest in gadgets, products, and home entertainment, Sydney Unleashed is your one-stop lifestyle platform.