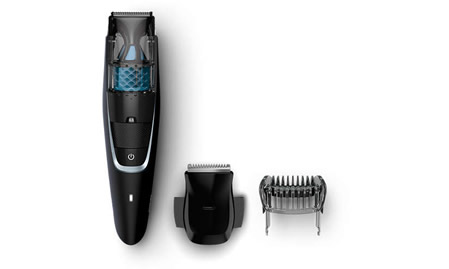 Philips Vacuum Beardtrimmer 7000
Keep your beard, moustache and sideburns tidy with the Philips Vacuum Beardtrimmer. Designed to catch the cut hair while grooming, the VBT guarantees a mess-free trim!
Less mess vacuum trimmer
Integrated vacuum captures up to 90% cut hair
0.5mm precision settings
Full metal blades
60 min cordless use/1h charge
Captures up to 90% cut hair
Guaranteed less mess with integrated vacuum: Trim your beard, mustache and sideburns while keeping tidy with this trimmer. Its powerful vacuum catches cut hair as you go along, giving you a mess-free trim.
Lifts and guides hairs for an effortless even trim: Trim your stubble in one quick stroke. Our innovative lift & trim system raises each hair, then guides it toward the double-sharpened stainless steel blades. The result is an even stubble or trim in just one go.
Double-sharpened stainless steel blades for faster trimming: Strong steel blades are double-sharpened and made to last a very long time to cut through even thick hair. They sharpen themselves by lightly brushing against each other as you trim.
20 lock-in length settings, 0,5 – 10mm with 0,5mm precision: Select your preferred trim length by simply turning the zoom wheel on the handle until the length you want is displayed from 0,5 – 10mm with 0,5mm precision. Your chosen length is now "locked in" for a perfectly even trim.
60 minutes run time after a 1-hour charge or plug it in: Charge your beard trimmer for 1 hour to get 60 minutes of cordless use. If you need more energy while trimming, you can simply plug the trimmer into the wall. This trimmer has been designed to run both cordless and plugged in.
Quickly see the status of your trimmer's battery: The battery indicator shows when your trimmer is charged, charging, or when it needs to be plugged in.
Precision trimmer for finishing up in hard to reach areas: When you are done trimming, just click on this precision trimmer to finish up your style with defining details and edges or trimming your moustache.
Just empty the chamber and rinse the blades under water: Once you are done, simply rinse the blades and comb under the tap, empty the hair chamber and brush away any loose hairs with the added cleaning brush for long-lasting performance.
2 year guarantee, worldwide voltage and no need to oil: We back this Philips trimmer with a 2-year guarantee: our grooming products are built to last. You'll never need to oil it, and it's compatible with all worldwide voltages.
Philips' Shaving & Grooming ambassador, Jules Tognini offers his top five tips on getting the sharpest shave:
1. Mens grooming trends have cleaned up a lot this season, it's all about a sharp hair cut or tidy mane with well-maintained stubble or a beard. To get this look, get rid of your razor and invest in a good beard trimmer and a quality set of hair clippers. Having the right tools to hand will instantly make maintaining a beard.
2. You don't want to look too rigid if you're rocking a beard. Loads of people make the mistake of trimming their hair into a square shape, this doesn't work on anyone. Try to keep to your natural look, just tidier.
3. Before starting to shape your beard, make sure you comb through the hair to identify your natural shape
4. Using your Philips beard trimmer, trim down from the cheekbone to the jaw (follow the way the hair grows) to create a chiseled look. Make sure you're doing this in front of a mirror, no one wants a wonky face.
5. Once you've trimmed the hair 'feed' your beard with a hydrating balm to keep your hair and face healthy. If you're rocking a long and luscious mo., a trick of the trade is to rub in a little styling clay to create hold and repel water.
The Philips Vacuum Beardtrimmer 7000 is available now (RRP $149.95).
Sydney Unleashed is one of Australia's premier entertainment publications exploring the latest in lifestyle trends. From Sydney's finest restaurants, cafes and bars to the hottest in gadgets, products, and home entertainment, Sydney Unleashed is your one-stop lifestyle platform.