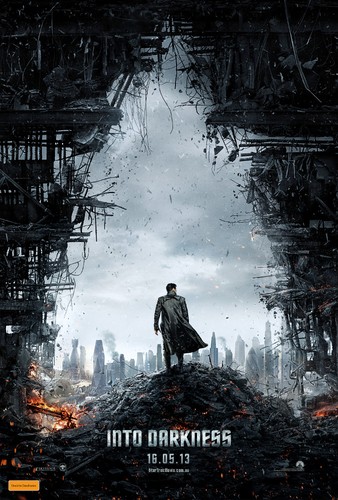 Starring: Chris Pine, Karl Urban, Alice Eve, Benedict Cumberbatch, Anton Yelchin, Zachary Quinto, Zoe Saldana, Simon Pegg (Rated M – 129 mins).
Director JJ Abrams' successful reboot of the big screen 'Star Trek' was highly regarded but it lacked a decent villain. 'Star Trek Into Darkness' does not have that problem.
After a volcanic opening causing a controversial intergalactic incident, the grand old USS Enterprise returns to earth. Random attacks are happening on Star Fleet with global consequences, the identified accused is a former officer who has since fled the solar system hiding in Klingon territory. Captain James T. Kirk (Chris Pine in fine form) leads an extracting mission which takes a turn for the worse.
The trailer shows this certain individual played to perfection by Benedict Cumberbatch (Atonement) taken into custody, however something just doesn't seem right and Kirk knows it. He is an enemy – not one but two steps ahead – the intensity steps up a notch in every appearance. Who is this well dressed passive aggressive gentleman, really?
This installment has links to may unite old school Trekkies and new followers, some of the adventurous exploits on show here are breath-taking. There are many things that need to be kept secret, the grand story involves certain enriching arcs into the Star Trek universe and possible set ups for further sequels. Fans I believe will cheer in unison to many of the incidents on screen.
Kirk makes an important personal judgement call in the wake of tragic events, he earns the Captain's chair this time with infinite potential while the crew around him as loyal as ever. Amusing one-liners during moments of high drama just happen, when you least expect it. Karl Urban as Bones grows in personality if that's possible, he's a cool actor with flair. The magnificent Spock I will not comment too much on, he is part of some significant plot developments. Zachary Quinto is a standout as the perfect Vulcan and Zoe Saldana is ravishing as usual as Uhura, she uses her linguistic skills during a tense pivotal scene.
The effects are state of the art, a majority of the action takes place on earth, however some of the astonishing airborne battles took me into a state of trance. Into Darkness explores big questions with intricate detail as the suspense builds to a supercharged finale. British actress Alice Eve (so natural in She's out of My League) makes an interesting addition to the crew, while all the regulars venture in and out of scenes during their various high points in the plot. The musical score adds to the excitement, while JJ Abrams told me himself that these were the biggest sets Paramount have built for a Star Trek production. It shows.
The general enthusiasm prompted cheers from the audience full of prize-winning fan boys,  fan girls, industry insiders and film critics like myself who all agreed, this one was hell of a good movie. I loved it.
© Shane A. Bassett
Sydney Unleashed is one of Australia's premier entertainment publications exploring the latest in lifestyle trends. From Sydney's finest restaurants, cafes and bars to the hottest in gadgets, products, and home entertainment, Sydney Unleashed is your one-stop lifestyle platform.