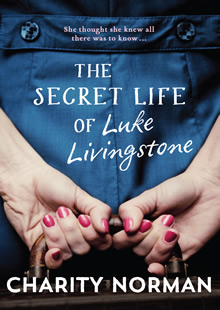 LUKE LIVINGSTONE.
By Charity Norman.
Luke Livingstone is hiding a truth so fundamental that it will shatter his family, rock his community and leave him as an outcast. What do you do when you discover that your husband – your father, your son – is not the person you thought he was? Can you ever love him again?
Luke Livingstone is a lucky man. He's a father and grandfather, a respected solicitor and a pillar of the community. He has a loving wife in Eilish, children who adore him and an idyllic home in the Oxfordshire countryside.
But Luke is struggling with an unbearable secret, one that is close to destroying him. All his life, Luke has hidden the truth about himself and now he has nowhere left to run. He must either end his life, or become the woman he knows himself to be — whatever the cost. His family is tested to its limits, as each of them is forced to consider what makes a person essentially themselves.
The Secret Life of Luke Livingstone is a beautiful and dramatic portrayal of a family in turmoil from the author of the critically acclaimed Freeing Grace, Second Chances and The Son-in-Law.
ABOUT THE AUTHOR
Charity Norman was born in Uganda and raised in Britain. After several years' travel she became a barrister, specialising in crime and family law in the northeast of England. Also a mediator, she is passionate about the power of communication to slice through the knots. In 2002, realising that her three children had barely met her, she took a break from the law and moved with her family to New Zealand. Her first novel, Freeing Grace, was published in 2010 and her second, Second Chances, in 2012 (published in the UK as After the Fall). The Son-in-Law, her third novel, was published in 2013.
The Secret Life Of Luke Livingstone is available now.
Sydney Unleashed is one of Australia's premier entertainment publications exploring the latest in lifestyle trends. From Sydney's finest restaurants, cafes and bars to the hottest in gadgets, products, and home entertainment, Sydney Unleashed is your one-stop lifestyle platform.