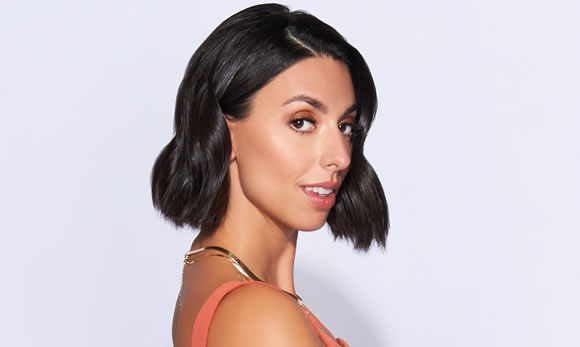 The Soup: Jade Catta-Preta Interview
Wonderful Jade Catta-Preta is impossible not to like. I actually saw her stand-up show at Sydney's Comedy Store a while back and remembered thinking this girl had quick-wit comical talent. With a long list of impressive acting appearances to her name, she is now host of cult favourite show The Soup on E Network (Foxtel Australia). Originating from Brazil, Jade moved to the US at 12, admiring comedians through the years then working hard becoming successful herself. From attempting an Aussie accent for me – for which I gave her a pass (just) – before telling me she slept with a tradie whilst down under who'd sent her an Aussie slang book to help understand our vernacular. Holding nothing back, Jade graciously appreciated my bad singing of Happy Birthday, which she celebrated a week earlier. Resurrection of The Soup benefits with Jade at the helm.
Were you handpicked for the new host of The Soup?
JCP – I believe I was already on E's radar because over many years, I have done little assignments for them on red carpets or green screen shows. However earlier in the year, I pitched a pilot I did which was a similar set up and I guess it got them thinking. They brought me in to screen test when The Soup was being returned to air. I saw the logo behind me, it was a cool moment being a fan, very excited.
Did you need blessing from former host Joel McHale?
JCP – I don't think he had a say in it, but did meet him and just told me: congratulations have fun, don't take it too seriously.
It's common with comedians to be a little self critical, is that you?
JCP – No I am perfect (laughs). Yes I am hard on myself, as a perfectionist, which is hard to do when trying to be silly and stupid. I'm trying to let go to be in the moment.
Who are some of your influences that got you to where you are?
JCP – I'm obsessed with a lot of comedians. Early on, Margaret Cho, Sarah Silverman, Lily Tomlin, also Steve Martin. Now I get to tour with some of the best comics in the world: Bobby Lee, Kevin Nealon, Bill Burr, all modern influencing on my style. I used to bartend at the Comedy Store Los Angeles then performed there getting a start so I look up to all my alumni at that time as well.
Did you practice jokes on the customers when bartending?
JCP – (laughs) As a waiter, I had my go-to-bits like if someone didn't finish their food, I'd say: 'looks like you didn't like it'. I may have been annoying. Bartending opportunity to run comedy on people but also see what every comic drank.
Is stand-up more a boys club situation, did you find it easy to break in?
JCP – It is a kind of boys club, I kind of am a bit 'dudeish' in my ways but when I started, it was more a fraternity environment. They made fun of me heckling or rolling up balls of toilet paper to throw at me. At the time it was horrible, many teary nights, but over time made me so much stronger. I think they wouldn't have teased if they didn't believe in me. There's many great girls in the so-called boys club, I have plenty of friends.
What is funny, to you?
JCP – That's the biggest question I've ever been asked (laughs). I'm really into physical humour, I'm drawn to people frantic in energy and physically amusing. Robin Williams comes to mind. Or completely opposite, an extremely still comic. I love a good fall or somebody getting hit in the face (laughs). Wow that's a big question Shane; what is funny? I feel that's a bigger question like, what is love (laughs) and accents also do it for me.
Do you suggest one-liners or clips you present on The Soup?
JCP – 100% in the writers room almost every day. The script is on teleprompter but if I feel I need to change it or make it my own, I'm given freedom of choice to find my voice. That's the journey right now.
With streaming growing, do you think television is still relevant in episodes or is The Soup watched as just clips on phones?
JCP – Good question, we frequently wonder that. We actually set out to make a show for people to view on phones while you're on the toilet (laughs). As long as your pant-less, I'm happy. Many of the shows we cover are social media inspired or Netflix / Hulu show clips, times are changing. When we say TV here, we don't just mean cable. It's all formats included.
Can you surf, or have you tried, being from Brazil?
JCP – (Attempting to answer in Australian accent) Attempted Bondi Beach but there was a swarm of those stinging blue things (Blue Bottles). I'm actually an avid paddle boarder, I'm made fun of for it though but love every minute doing it.
What is something nobody knows about Jade Catta-Preta?
JCP – Well paddle boarding is a big secret but I told you already. Everybody knows I have a dog named Cheryl whom I'm obsessed with who smokes Virginia Slims. I think I am really hard on myself more than people know, it seems I'm free or comfortable. I am trying to be more unique me, more in the moment.
Are you going to use The Soup project to advance into movie roles?
JCP – That's the dream, I hope so. I've had some little secret film auditions this week. Biggest aim is to be in a Brazilian production of something that's in Portuguese. I went back to do stand-up, now I want to return.
Do you express yourself in Portuguese if you're angry or don't want people to understand you sometimes?
JCP – (laughs) No, but I always say I want to date someone Brazilian so we could talk crap about people in public (laughs). You know Shane, in war when prisoners were taken, their first language would come out when tortured revealing their heritage. I curse in Portuguese around the house.
Didn't think I'd get a history lesson from you Jade.
JCP – (laughs) I'm obsessed with WW2 history, so many people fled to Brazil right after. It has fascinated me the mixture of people who landed there in the 40s / 50s.
Why should Australians tune in to watch The Soup?
JCP – Australian people are 100% the best, they want to have a good laugh. Out of every country, I've never felt more included as a friend, I want the country to watch it or think I'm a mate then say she's so funny!
'The Soup' is available on Foxtel, Fetch and eonline
Shane A. Bassett
Sydney Unleashed is one of Australia's premier entertainment publications exploring the latest in lifestyle trends. From Sydney's finest restaurants, cafes and bars to the hottest in gadgets, products, and home entertainment, Sydney Unleashed is your one-stop lifestyle platform.