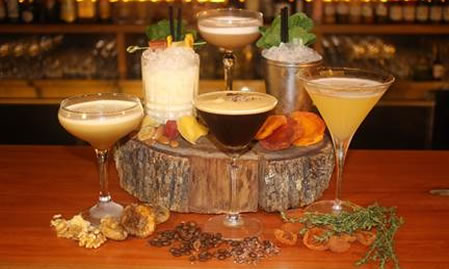 The Swinging Cat is a hidden underground bar (literally) located in the heart of the Sydney CBD.
With no street signage and tucked under the Subway store on 44 King Street, this place is truly a hidden gem.
The Swinging Cat transports you to an underground world of all things New Orleans and the French quarter. It exudes the culture, beauty and sheer magic of the legendary birthplace of famous stars such as Ernest Hemmingway and Buddy Bolden. Once you get through the Subway entrance and head down the stairs, you'll immediately feel right at home with the cosy atmosphere and intimate setting featuring authentic furnishings straight out of New Orleans.
In their new cocktail menu, the team at The Swinging Cat have taken inspiration from the technique of cold-pressed juicing and crafted cold-pressed spirits – spirits infused and pressed with dried fruits, seeds and spices. These innovative spirits are now being showcased and feature six delicious cocktails consisting of refreshing yet punchy flavours:
– Rue Desire – dried banana infused dark rum
– Toulouse Street – dried apricots and thyme
– Magnolia – dried peach julep
– Belle Chasse – a toasted cocoa nib espresso martini
– Bourbon St – dried figs and walnuts and lastly,
– Elysian Fields Ave – a modern twist on a tropical favourite, the Mai Tai.
Inspired by the health trend, cold-pressing is the technique of juicing that 'presses' the fruit to retain vitamins, minerals and enzymes. To create the liquid, the team run the infused spirit through the cold-press to create a rich and powerful syrup that is used as the base for creating cocktails.
For a completely unique drinking experience, we recommend you head on down and get your lips around one of the six delectable cocktails. The Rue Desire (dried banana infused dark rum) is an absolute must and we guarantee you'll be going back for seconds.
The Swinging Cat
44 King Street, Sydney
www.theswingingcat.com
Sydney Unleashed is one of Australia's premier entertainment publications exploring the latest in lifestyle trends. From Sydney's finest restaurants, cafes and bars to the hottest in gadgets, products, and home entertainment, Sydney Unleashed is your one-stop lifestyle platform.