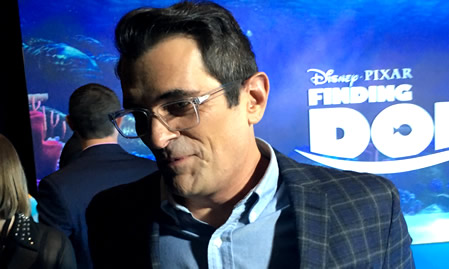 Ty Burrell: From Modern Family to Finding Dory
Amongst all the sequels, remakes, and reboots during 2016, one in particular has been on my radar for over two years since it was originally announced by Pixar. No one predicted the world going clown fish crazy upon the release of 2003 instant classic, Finding Nemo. However equally adored was Dory, the blue tang fish with self proclaimed short term memory loss now with her very own adventure. The blue carpet was rolled out for the Australian premiere welcoming Ty Burrell who voices new character Bailey the Beluga with a faulty echo location sonar. No stranger to Sydney as a Modern Family episode was filmed here.
Shane A. Bassett – G'day Ty, you look healthy and fit. It seems the Australian time zone agrees with you.
Ty Burrell – So far the jet-lag has not been as bad as last time. Hopefully that's not jinxing myself.
SAB – Is it harder to get your comic timing and lines right in a sound booth as opposed to on set?
TB – Can be a little bit, luckily we were working with Andrew Stanton who is a great voice actor in his own right (also voicing Crush in Nemo & Dory). So you are actually acting with Andrew, he's always super fun. I also got to do a couple of sessions with Kaitlin Olson who plays Destiny.
SAB – Your chemistry on screen with Destiny was obvious, it must have been awesome to work with Kaitlin?
TB – Indeed, she is funny and such a lovely person. We had a memorable time working together, she is class.
SAB – What is it like being part of the whole Pixar family now?
TB – Such an honour. Some of my favourite films, whether animated or not, are from Pixar. Wall E is one of my all time best films.
SAB – What did you do to prepare to be Bailey the Beluga?
TB – Gain hundreds of pounds (laughs). No I actually did research whales like an amateur to think about their habits but of course Andrew was overly polite by letting me down telling me, just use my voice.
SAB – Have you brought any of your own personal traits to the character of Bailey?
TB – Absolutely, I am riddled with self doubt, so is Bailey. He is well intended but a neurotic whale, we share plenty in common.
SAB – Find it hard to believe you have self doubt.
TB – Yeah, sure I do Shane. In that sense, I'm a pretty typical actor that way (laughs).
SAB – How was it working with your Modern Family father in law, Ed O'Neill, voice recording at Pixar?
TB – Weirdly, you rarely work with fellow cast members during animation. We didn't bump into each other, we only talked about it at work. Ironically we were sitting around the Modern Family set and at some point, I overheard him mentioning it to someone then I cut in and said I am in that too. We both agree on separate conversations usually in the make up chair having a wonderful time on Finding Dory. People will love Ed's character Hank the Octopus – cantankerous and lovable just like Ed.
SAB – When you go to the cinema candy bar, what kind of snacks do you prefer?
TB – I've only just learned this phrase tonight 'the candy bar'. In the States, we call it concession stand which is so boring (laughs) – candy bar is much better. Maybe I should figure out a campaign to change it to candy bar where I will get popcorn always. Or a coke or something, not much.
SAB – What do you hope audiences walk away with after seeing Finding Dory?
TB – Mostly laugh, it's quite funny. But also come away feeling like a big message of friendship can make you whole. Some people may have a deficiency and the film may encourage what ever might not be perfect about them. It doesn't matter, your friends can make you better.
SAB – Finally, I enjoy all your work, especially Morning Glory. Do you have good memories working with Harrison Ford and Diane Keaton?
TB – Yes great memories, both were amazing performers to watch and just be around. It was a delight to see Diane again for Finding Dory, she's the best as Dory's mum Jenny. Thanks Shane!
Shane A. Bassett
Sydney Unleashed is one of Australia's premier entertainment publications exploring the latest in lifestyle trends. From Sydney's finest restaurants, cafes and bars to the hottest in gadgets, products, and home entertainment, Sydney Unleashed is your one-stop lifestyle platform.