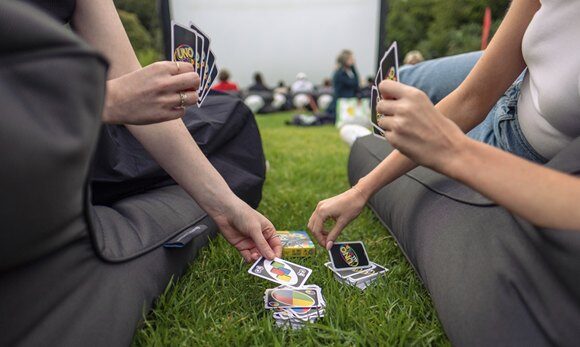 UNO All Wild: Bringing game-night chaos to Aussie homes
UNO – the world's number one card game – has launched its newest version of the classic, welcoming a dubious new member to the fold, UNO All Wild. To celebrate the launch UNO is taking over Melbourne's favourite outdoor cinema, Moonlight Cinema on 26 February 2022 and giving away 25 free double passes here.
UNO All Wild is a frenetic twist on the iconic original. In All Wild, every single card is wild making for a fast-paced and unpredictable game. No player is safe from chaos, as the game includes five new Wild cards set to cause mayhem; the Wild Target +2, the Wild Swap Hands, the Wild Double Skip, the Wild Skip and the Wild Reverse. With every card wilder than the previous – it's UNO like we've never played before.
Melburnians will get the chance to test the game for themselves, at an UNO All Wild night at the Moonlight Cinema. Guests are encouraged to round up their friends and family, bring their favourite snacks and head to the outdoor theatre for a fun evening in the Royal Botanic Gardens.
"UNO is the perfect game to have handy for home or out and about, and All Wild brings all your favourite elements into the one game. There has been a lot of built up excitement about this new game, and fans are already debating how they plan to switch up the rules to make UNO All Wild a game night staple," said Mattel ANZ Director of Marketing Jacinta Whitehead.
"The partnership with the Moonlight Cinema is a great way to play your new favourite game before you watch your new favourite movie this summer."
UNO was created as a way for families to spend time together and it quickly became a household essential. Five decades later, it's now available in over 80 countries with 17 decks sold every minute. UNO has grown into a global sensation that offers fans of all ages a variety of innovative card-based and digital games.
UNO All Wild is available nationally in Big W and Target for RRP$11.49. For more information on UNO and Mattel, visit mattel.com.au.
Sydney Unleashed is one of Australia's premier entertainment publications exploring the latest in lifestyle trends. From Sydney's finest restaurants, cafes and bars to the hottest in gadgets, products, and home entertainment, Sydney Unleashed is your one-stop lifestyle platform.