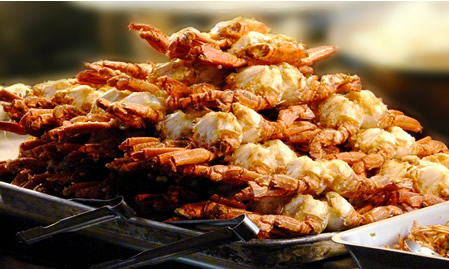 It mightn't be hard to find great food in any suburb of Sydney, but the quest to find a fantastic feed for less than a tenner can be a little trickier. Menulog has narrowed down your search once and for all, so you can take advantage of Sydney's culinary playground without spending all of your cash. Quite simply, here are 10 top meals for $10:
Micky's, Paddington: Onion Rings with Salt & Vinegar ($7)
Let's start things off with the entrée to rule them all—onion rings with salt & vinegar. You are guaranteed to have dreams about these rings of salted heaven.
The Meeting Point, Haymarket: Wok Fried Noodles with Pork Strips and Soya Sauce ($9.80)
Taiwanese cuisine has an interesting fusion of Japanese and Chinese influences. For those who have little experience with it, The Meeting Point is the place to start ordering from. Plus, for less than a tenner you can get a big bowl of wok fried noodles smattered with pork strips and soy sauce.
MissChu, Darlinghurst: Egg Omelette, Avocado & Balsamic Caramelised Onion Rice Paper Rolls ($7.90)
Miss Chu is a favourite foodie destination among Sydneysiders, and the fresh Vietnamese rice paper rolls are light but surprisingly filling. The egg omelette, avocado and balsamic caramelised onion variation is simply divine, and perfect for eating on the cheap.
Supreme Pizza, Enmore: Chicken Calzone ($9)
Chicken breast fillet, shallots, mushrooms, roasted tomatoes, and feta on a BBQ sauce base. If you're tired of takeaway pizza but are unwilling to part with it completely, calzone is the ultimate rebound dinner.
I am Siam, Surry Hills: Pad Thai ($10)
Australia's favourite Thai dish for a tiny $10? Let's just leave it at that.
Thai Cereal, Rose Bay: Green Curry ($9.90)
For spice-lovers, Thai Cereal's popular green curry combines a special sauce with green beans and bamboo shoots. If you're more on the side of spice-intolerant, don't worry. You can simply request a milder version without compromising the flavour.
Rio Grande, Kensington: Beef Nachos ($9.50)
Lean ground beef, pinto beans and tomatoes topped with melted cheese, sour cream and served with corn chips. Nothing more, nothing less. That said, there's nothing more you could ever want!
No Name Italian Restaurant, Bondi: Bolognaise ($9.50)
An Australian dinnertime classic, Spaghetti Bolognaise from this Bondi establishment doesn't get any better. When it costs less than ten dollars but also comes with a serving of crusty Italian bread, you know you're onto a good thing.
Brothers Kebabs and Burgers, Annandale: Vegetarian Pide ($9.50)
With mushroom, spinach, tomato, capsicum, olives, onion and cheese, this pide's not only for the vegetarians. It's a cheap meal to fill up the family and packed full of veggies.
The Darling Pizzeria, Pyrmont: Chocolate Mud Cake ($7.50)
Last but certainly not least, the ever popular Darling Pizzeria provides this decadent dessert fit for two. Whether you choose to share it is another matter entirely…
Place your order at Menulog now!
Sydney Unleashed is one of Australia's premier entertainment publications exploring the latest in lifestyle trends. From Sydney's finest restaurants, cafes and bars to the hottest in gadgets, products, and home entertainment, Sydney Unleashed is your one-stop lifestyle platform.