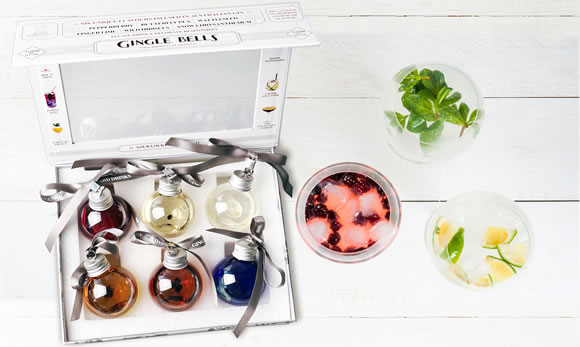 Christmas Gift Guide for Alcohol Lovers
Looking for the perfect gift for the alcohol connoisseur? This Christmas, we present to you a tasty selection of alcoholic treats that will liven up your loved ones' festive season. So forget the socks and sweaters this year and give them something they will truly enjoy!
Gingle Bells Gin
Gingle Bells Gin is a gift set of six botanical infused gin baubles laced with a silver ribbon. Each bauble is hand made by family owned and operated, Wild Hibiscus Flower Co., who specially craft the gin themselves in their recently constructed distillery. The homemade Australian dry gin is infused with six different natural botanicals for a distinctive flavour and colour. Flavours include Finger Lime, B'Lure Butterfly Pea Flower, Wattleseed, Snow Chrysanthemum, Wild Hibiscus and Pepperberry. For a decorative touch, each bauble's botanical flavour can be visibly seen in its centre with an ethereal floral element encased inside. Included in the gift set is a cocktail recipe to accompany each bauble's unique gin. Gingle Bells Gin make for the perfect gift, party favour or event decoration. The gift set includes two 54ml baubles at 37% alcohol volume and four 50ml baubles at 40% alcohol volume. Gingle Bells is available at www.ginglebellsgin.com and select stockists (RRP $79).
Sydney Gin
Christmas Comes Early for Sydneysiders with the launch of new artisan craft spirit, Sydney Gin. Created by Australian Distilling Co's Michael Hickinbotham and Master Distiller Dr Graham Jones, Sydney Gin has been carefully designed to reflect the spirit of Australia's most famous city. Designed with the sophisticated style and vibrant culture of Sydney in mind, the gin's aromatics include lemon myrtle, lime peel and orange notes. The city's beautiful art deco architecture is also captured in the glamorous label design, incorporating visuals of the Sydney Harbour Bridge and a touch of 1920's elegance. These make the perfect gift and as part of the product's launch, Sydney Gin will play Secret Santa, encouraging people to nominate a friend, colleague or family member who deserves to receive a delicious bottle of gin this festive season. For the chance to send the gift of Sydney Gin to one of your loved ones this season, people will need to go to www.sydneygin.com.au and fill out the online nomination form. Supply of free bottles is limited so people are encouraged to get in quick. Deliveries will occur throughout December prior to Christmas on specified dates. Sydney Gin will also be available in various bars, bottle shops and hotels around Sydney, and online.
Thatchers Gold Apple Cider
Thatchers Gold has relaunched just in time for the festive period. This signature blend has a medium dry flavour and will keep you refreshed over the summer months. Clean, fresh and appley with hints of honey and floral notes, leaving flavours rounded on the palate. The new look cans are available at Dan Murphy's and selected liquor stores. Additionally, you can expand your cider knowledge with the Thatchers Gold cider cart which will be travelling up along the East Coast (Melbourne, Byron Bay, Sydney and Queensland) this summer as part of the Cider Discovery Tour. Ambassador Ben Irons will be sharing his knowledge on Thatchers Gold food pairings and cocktail creations.
Chambers Rutherglen Muscat
Winemakers of Rutherglen are encouraging people to #buyfromthebush this Christmas in support of the farmers and winemakers doing it tough. One of the top drops would have to be Chambers Rutherglen Muscat with its brilliant clarity and deep orange-gold colour with strawberry highlights. Featuring fresh intense varietal aromas of Turkish Delight, musk, tea rose, vanilla, soft sweet spice, fruitcake, raisin, sultana, dried berries, and quince paste finishing with a subtle lift of spirit. Rich and flavoursome layers of fruit, extending those found on the nose (raisin, musk, dried plum, quince, vanilla and spice). Youthful, luscious finish with gentle warmth from spirit (RRP $22).
Villa Massa Digestivo Glass Pack
Villa Massa offers the perfect gift with their Digestivo glass pack – two beautifully frosted digestive glasses gift packed with a 500ml bottle of Villa Massa. Villa Massa is a unique zesty and quintessentially Italian Limoncello. Based on an ancient family recipe, it is made exclusively using peels from Oval Sorrento lemons, made from 100% all-natural, high quality ingredients. Villa Massa is gluten free and ensures no flavours, additives or colourings are added. The Oval Lemons of Sorrento have been awarded the acknowledgement of Protected Geographical Indication (P.G.I) by the European union. Truly a unique and incomparable limoncello! Villa Massa limoncello, presented in elegant packaging that evokes the values of craftsmanship and tradition is seen all around the world as a product that epitomises Italian style. Exclusive to Dan Murphy's stores from $45. 
Bruichladdich Classic Laddie
Another great alcoholic option is this elegant presentation box containing a bottle of Bruichladdich Classic Laddie accompanied by two Bruichladdich dram glasses. Head Distiller Adam Hannett has individually selected casks to showcase the classic, floral and elegant Bruichladdich house style. Made from 100% Scottish barley, trickle distilled, then matured for its entire life by the shores of Loch Indaal in premium American oak, it is a testament to the quality of the ingredients. It's clean, fresh and lively with both the oak and the grain in perfect harmony. The palate entry is so refined and refreshing, the sweet oak and the barley arriving together sending the taste buds into raptures. The fruits from distillation drift in on an Atlantic breeze and pop on the tongue like champagne bubbles. A combination of ripe green fruit, brown sugar and sweet malt bring closure. A taste back in time, a realisation that not all single malts are equal and to achieve the absolute optimum, you must use barley that is made in Scotland. The finish is unforgettable bringing warmth to the heart and soul. Best enjoyed in good company. Available at all leading retailer stores from $105.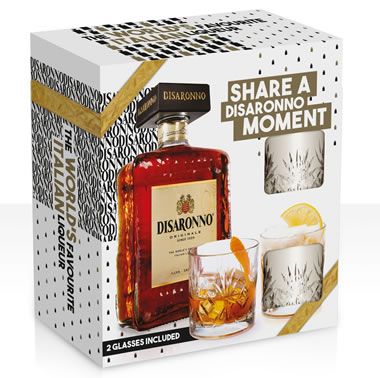 Disaronno Glass Pack
Also noteworthy this Christmas is this gift box from Disaronno packed with a 700ml bottle of Disaronno and two glasses included. Disaronno is the world's favourite Italian liqueur. Featuring an original taste and unmistakable aroma, it stands out on the world stage with distribution in more than 160 countries. The Disaronno bottle has a unique design and a cap, which lends elegance and modernity, embellished with a golden label that enhances its contemporary style. Disaronno is a pleasure to enjoy on the rocks as well as in its various mixed drinks, including the Disaronno Sour and the Godfather. We recommend giving the Godfather a try by adding 25ml Disaronno, 50ml Whisky and Orange twist, pour over large ice ball and stir, then garnish with orange twist. For more ideas and recipes, visit www.disaronno.com. Available at all leading retailers (RRP $85).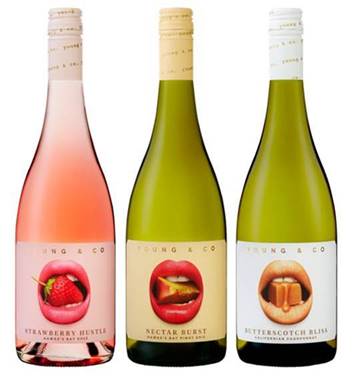 Young & Co
Young & Co have just launched a new range of delicious wines just in time for the festive season. The luscious lip-smacking range features bottles wrapped in 'pop art-esque' labels designed to highlight the key flavour of each white wine and includes 'Butterscotch Bliss' Chardonnay, 'Nectar Burst' Pinot Gris, and 'Strawberry Hustle' Rosé. 'Butterscotch Bliss' Chardonnay is a highlight delivering sweet butterscotch, fresh pear and honeydew fruit flavours to suit the new age preferences of Chardonnay enthusiasts. Available in BWS nationally (RRP $22). They have also launched 'Super Fresh' white wines – a range of fruit-driven wines including a Californian Chardonnay, French Rosé and Italian Pinot Gris. Offering hints of strawberry and cassis on the nose, the French Rosé would make for the perfect gift. Available in BWS nationally (RRP $17).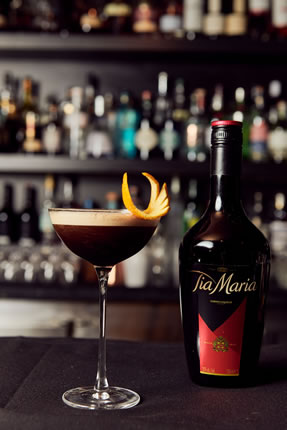 Tia Maria
Another great option this festive season is Tia Maria – a rich and dark liqueur with a dash of Jamaican rum. With a strong coffee flavour and complex aromatic structure, it's best enjoyed on ice or in any coffee cocktail. For some inspiration, check out this Twisted Tia recipe. Add 30ml Mount Gay black barrel, 20ml Tia Maria, 10ml Becherovka, 10ml sugar syrup, 2 drops orange bitters and pour all ingredients into a tumbler. Stir and serve with a large block of ice. It doesn't get much better than that! Or try the Tia Flip by adding 30ml Tia Maria, 20ml cognac, 10ml creme de cacao dark, 1 egg and mix all ingredients into a cocktail shaker and shake it! Strain the mixture twice before serving in a martini glass and garnish with a bit of chocolate. Scrumptious!
Warner's Gins
Warner's Rhubarb Gin, widely credited with starting the global pink gin phenomenon back in 2014, has recently launched on our shores alongside Warner's London Dry Gin. Warner's is the UK's no.1 super-premium gin brand and on a mission to create something extraordinary that brings people together. The rhubarb perfect serve is beautifully simple: Warner's Rhubarb Gin with Fever-Tree Ginger Ale and a slice of blood orange, while food pairing can be as easy as drizzling the delicately pink liquid over vanilla ice-cream for a visually stunning showstopper. The more adventurous may want to pour into an Eton Mess and serve alongside a Warner's Rhubarb Gin Sour, perfect for summer entertaining. Since its inception in 2012, Warner's has pioneered the craft gin movement and spearheaded the flavoured gin category. With their unique liquid and distinctive bottles, intricately etched with the brand story and wax-sealed by hand, both gins make stunning gifts or additions to any dining or entertaining occasion. Warner's Gins are available exclusively in Dan Murphy's, priced at $69.90 for Warner's Rhubarb Gin and $67.90 for Warner's London Dry Gin.
Zytho Brewing Pale Ales
Zytho Brewing has launched two new delicious Pale Ales – Zytho Zesty Pale Ale and Zytho India Pale Ale, brewed by the team at Tribe Breweries in NSW, makers of some of the country's most awarded beers. Zytho Zesty Pale Ale is a full-flavoured yet crisp and highly sessionable pale ale featuring fresh citrus and passionfruit notes with a balanced light bitterness that makes for easy drinking. It features an inspirational selection of some of the world's most enticing hops to deliver fresh citrus and passionfruit notes with a balanced light bitterness that will have you reaching for another.  It pairs well with pizza, BBQ food, burgers and chocolatey desserts. While Zytho IPA is a full-flavoured India Pale Ale with delicious piney, tropical and citrus aromatics to give a fresh, modern flavour that is becoming increasingly sought-after amongst Australian IPA drinkers. It pairs well with curries, spicy foods, smoked BBQ food, burgers and rich desserts. Zytho Zesty Pale Ale (RRP $5 ea; $24 6-pack; $68 x 24 case) and Zytho IPA (RRP: $5 ea; $26 6-pack; $72 x 24 case) are available from BWS.
Jacob's Creek: Chardonnay Pinot Noir
This holiday season, contemporary Australian artist Go Suga and Jacob's Creek have produced the look and taste of summer in a colourful limited edition bottle filled with their iconic Sparkling Chardonnay Pinot Noir. With Christmas just around the corner, it's time to get prepared for a busy social calendar – from casual get-togethers, lunches and evening celebrations with friends, family and colleagues. This bottle is the perfect accompaniment, bringing the vibrancy and Australian summer spirit that we all know and love. Aside from the beautiful design, the wine itself is perfect for pairing with your light lunches, evening entrees and the numerous grazing platters you're sure to come in contact with over the festive season and throughout summer. Available at leading liquor retailers across Australia (RRP $14.99).
The Kraken Black Spiced Rum
The Kraken Black Spiced Rum has recently launched their limited-edition ceramic bottle – just in time for the silly season! Pristine white and covered in ink splatters, the bottle pays homage to the myth / the legend / the beast that is The Kraken. The Kraken Black Spiced Rum is said to have been perfected by time and The Kraken's ink on the ocean floor, and is the perfect gift for those who love the darkness, and believe in the notorious beast. Imported from the Caribbean and carefully blended with a range of spices, it is bold, rich, black, and smooth. A liquid and treasure born to the brave, these bottles of The Kraken Rum will make unbelievable gifts for those who worship the darkness, believe in the Beast, or simply enjoy aesthetically pleasing objects. The Kraken Black Spiced Rum Limited-Edition Ceramic Bottle (RRP $89.99) is available to purchase at Dan Murphy's, First Choice and all good independent retailers. 
Australia's First Families of Wine
Australia's First Families of Wine is a luxury, hardcover book about eleven of Australia's oldest and most respected family-owned, multi-generational wineries and the contribution they have made to the industry, past and present. Written by respected writer and journalist Richard Allen, with captivating photography by Kim Baker, it features Brown Brothers, Tahbilk, Campbells, Yalumba, Henschke, d'Arenberg, Tyrrell's, Taylors, Jim Barry, McWilliams and Howard Park. The book covers the colourful histories of these spectacular vineyards and historic buildings, exploring the wine industry's transformation into an export-earning powerhouse and detailing the challenges of taking old family businesses into the 21st century. The vivid, stunning photography of sprawling vineyards, cellars, wineries and photos from the family archives brings these stories together, and with a foreword by Australia's leading wine commentator, James Halliday AM, this book is a 'must have' for any wine lover. Available through all good booksellers (RRP: $69.99).
Sydney Unleashed is one of Australia's premier entertainment publications exploring the latest in lifestyle trends. From Sydney's finest restaurants, cafes and bars to the hottest in gadgets, products, and home entertainment, Sydney Unleashed is your one-stop lifestyle platform.