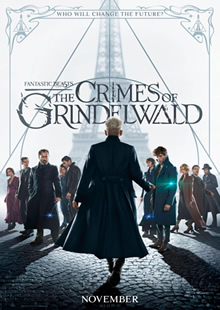 The Crimes Of Grindelwald.
Starring: Eddie Redmayne, Katherine Waterston, Jude Law, Johnny Depp, Zoe Kravitz, Dan Fogler (Rated M – 134 min).
Second prequel to the wizarding world of Harry Potter. Written directly for the screen by J.K Rowling after Fantastic Beasts and Where To Find Them (2016) surprised many, especially myself at how fantastic this universe of spells, creatures and comradery could continue to be after sitting through 19 hours, 39 minutes across eight films.
After the adventures in New York, this time around set in old London town, we catch up with Newt (Eddie Redmayne) teaming up with brother Theseus (Callum Turner) to hunt down wicked survivor fascinating, repulsive Credence (Ezra Miller). However young Dumbledore has ulterior motives for Newt to interlock dark momentum looming.
Last seen as a shock morph from Colin Farrell to now Johnny Depp, Grindelwald – an evil dictator of sorts – is like all good villains scheming world domination. I distinctly remember the groan at the end of the original when Depp appeared, but fear not, he works hard here also looking the part.
New characters mix with the familiar, thought-provoking subtexts and relationship arcs keep things interesting, sometimes development structures are added on for hardcore fans looking for surprise cameos or direct Potter references for which there are a few…so avoid spoilers. Fantasy elements in full swing with glorious effects, even if much of it in darkness as action often replaces a strong plot.
Cast is all fine, I am a big fan of wonderful Zoe Kravitz alongside enigmatic Katherine Waterston returning although the latter sadly underused here. In his own dream logic way, Ezra Miller chews scenery as he does in everything. We Need to Talk About Kevin (2011) introduced me to this prodigious unique thespian, then Perks of a Wallflower (2012) sealed my admiration to follow his career closely.
Law and Redmayne, terrific is all I'll say, born for their roles. Extreme, but isn't far wrong. As the second in a proposed five-part film series, my mind was left intrigued thinking of where this enjoyable, mysterious fantasy journey will go next.  
Shane A. Bassett
Sydney Unleashed is one of Australia's premier entertainment publications exploring the latest in lifestyle trends. From Sydney's finest restaurants, cafes and bars to the hottest in gadgets, products, and home entertainment, Sydney Unleashed is your one-stop lifestyle platform.