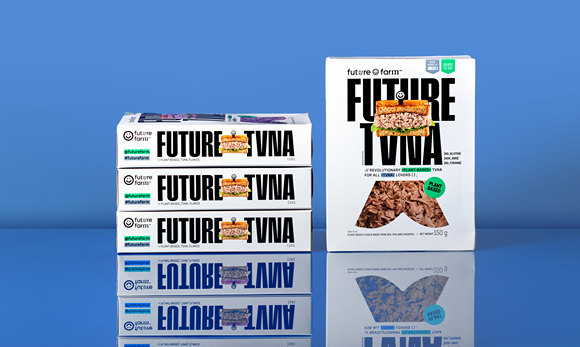 Future Farm Bring Their Vegan Tvna To Australia
The very first fish substitute from international food tech company, Future Farm, has waded its way down under.
Future Tvna is the new plant-based substitute made to look and taste just like its marine-living counterpart. If you've been fishing for an alternative source of vegan protein, today is your day, with Future Tvna available for purchase in 487 Coles stores, nationwide.
Using their innovative True Texture Technology, Future Tvna is sold in familiar, flaky chunks so you can swap out your favourite lunchtime protein with ease. 100% plant-based made with Future Farm's signature blend – soy, bean, and chickpea protein – Future Tvna brings flavour to the forefront with the addition of olive oil, microalgae oil, and radish. Future Tvna (like its fellow Future Farm products) is gluten free, GMO free, hormone free, with no artificial preservatives added, and ready-to-eat right off the shelf.
Aside from our ardent vegans and vegetarians, all flexitarians, climitarians and vegan-curious folk will be pleased to know that Future Tvna is filled with protein (11.3g per serve) and provides a good source of omega-3. Meaning, those favourable fatty acids you were consuming via traditional fish meat can be derived from plant-based ingredients too. A major win for both people and the planet.
"It's about time we were able to offer a delicious plant-based tuna to those who love fish. Future Tvna also innovates as the brand's first ready-to-eat, non-frozen fish, and it's so similar to the real thing that in other markets, it is sold next to regular canned tuna! As a team we will keep working to upgrade our technology and products to the point where people won't recognize what's animal and what's of plant origin, and we're very eager to see how the Australian market responds to this continued innovation" says Future Farm Founder, Marcos Leta.
Tuna is one of the most consumed fish in the world, and as an endangered species, Future Farm took it in their stride to create a more sustainable solution. A known disrupter, a leader of the pro-earth generation, an advocate for clean and green diets, Future Farm wants to help preserve the tremendous biodiversity beneath the surface of our oceans and stop the predatory fishing practices. Future Tvna too, is reinventing the way we think about protein.
Perfect for a toasted tuna melt, pasta bake, a crisp salad brightened with lemon, or crunchy fish sticks with extra tartare sauce, Future Tvna is going to be quite the culinary catch.
Future Tvna Tuna Melt Recipe
Ingredients:
1 tablespoon olive oil
2 red onions, sliced
1 tablespoon sugar
1 packet of Future Farm Tvna
2 tablespoons vegan mayo
A small handful of chives, finely chopped (optional)
1 teaspoon white wine vinegar
4 slices of bread
2 tablespoons vegan butter
1 jalapeño, finely sliced
Salt and freshly ground black pepper
Method:
1. In a medium sized frying pan, heat the oil on a low heat. Add the onions and cook for 10-15 minutes until softened and beginning to caramelise. Add the sugar and cook for a further 5 minutes until sticky, dark and soft. Set aside.
2. In a bowl, mix the Tvna with the vegan mayo, chives and vinegar. Season generously with pepper. Set aside.
3. Butter the bread then add to a dry frying pan until golden and toasted on one side. Flip over and add a cheese slice to each piece of bread and continue to cook until melted.
4. Assemble the tuna melt by sandwiching the tuna mayo mixture with caramelised onions and sliced jalapeños between two slices of cheesy toast.
Head to https://futurefarm.io/au/ to learn more about the power of plant protein, before shopping the Future Tvna, and the whole Future Farm range, at your local Coles today.
Sydney Unleashed is one of Australia's premier entertainment publications exploring the latest in lifestyle trends. From Sydney's finest restaurants, cafes and bars to the hottest in gadgets, products, and home entertainment, Sydney Unleashed is your one-stop lifestyle platform.