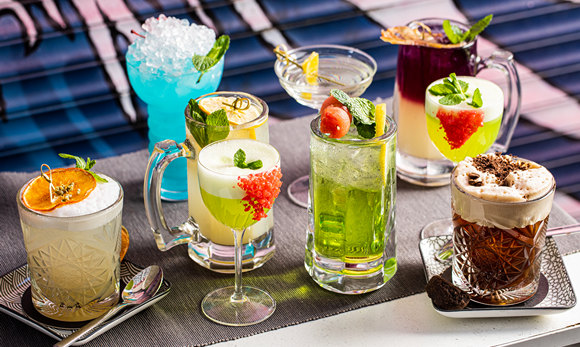 Gin Lane & Blossom Bar unveil their new Spring menus
After years of lockout laws and lockdowns, it's time for Sydney to wake up from its slumber. While many Sydneysiders have been confined to the suburbs, the city's bars have been thriving (even if they're not yet at pre-pandemic levels).
With so many great establishments to explore, we all need to make a note-to-self to bring back after-work drinks in the CBD. Chippendale's Kensington Street – the once hidden laneway behind the old Carlton United Brewery site – has transformed into one of Sydney's must-visit destinations and is the perfect spot for your next catch-up with friends or colleagues. And two of the essential bars to check out while you're there are Gin Lane and Blossom Bar.
Blossom Bar is the type of uber-cool, tiny cocktail bar you search for on the streets of Tokyo. The bar specialises in Japanese cocktails and highballs and offers a range of Shochu, Sake, and Japanese Whisky. While Gin Lane is one of Sydney's most unique small bars that draws inspiration from the debauchery of London in the 1750s, albeit with a sophisticated edge. With a plethora of delicious cocktails, hand selected specialty Gins from around the world, an extensive selection of vodka, rum, tequila and whiskey, it's unlike anything Sydneysiders have ever experienced.
Both Gin Lane and Blossom Bar have just unveiled their enticing new Spring menus and after sampling what's on offer, we can confidently say – you need to immediately add both venues to your bucket list! Award-winning mixologist and owner, Grant Collins, has curated the new menus to reflect the warmer times coming. There's no doubt these will be perfect for your next after-work shindig.
The Gin Lane menu features classics and theatrical cocktails alike. Sydneysiders can expect tipples such as the Spring Gin Tower which boasts four different types of g&ts, the superb Smoking Bramble with Tanqueray London Dry, Mure, and pressed Lime Malbec "fog" and our top pick, English Garden. A sensory experience packed into an intoxicating cocktail, this one is served on smoking astroturf, cut grass essence "fog" with Edible Soil and Absinth Jelly Garden Worms. An absolute stand-out.
The Blossom Bar menu includes twists on your favourite drinks such as the Japanese Slipper (an after-hours take on your favourite bubble tea), the glorious Mount Fuji with gin, calpis, sake, shochu, sago, sansho, blue curaçao, prosecco and the spectacular Breakfast Mojito, a deconstructed version of the classic. But before you leave, it would be criminal not to try their 'Disko Fever' for the experience alone. With vodka, elderflower, housemade yuzu marmalade, lychee yuzu sorbet and prosecco, this one is served in a smoking mirrorball with disco lights and disco music to boot. You can knock this one down with the Bee Gees blaring out the speaker and ensure you end your night on a high.
It's clear that a lot of thought has gone into putting the menus together. Not only are the offerings theatrical and visually appealing, but they are also refreshing and delightfully delicious. Mark our words: you will be going back for seconds and thirds! Add to that the super friendly and knowledgeable staff which will make your visit to either venue a memorable one.
GIN LANE SPRING/SUMMER 2022 MENU
Gin Tonics
SPRING – Farmers Wife Spring Gin, Fever Tree Indian Tonic-Spring, Berries & Mint
BLACKBERRY – Whitley Nel Blackberry Gin, Mure, Fresh Blackberry, Lemon, Lime Orange, House Tonic
STRAWBERRY – Strawberry & Cream Gin, Diced Strawberry, House Tonic
CACAO – Cacao Nib Gin, White Chocolate, House Tonic
SUPERSONIC – Hendricks, Fresh Espresso, Fever Tree Indian Tonic, Fresh Cucumber
SORBET – Tanqueray London Dry, G&T "Nitro" Sorbet, Lime
AMALFI G&T – Malfy Con Arancia, Rose Vermouth, Ramazzotti, Yellow Chartreuse, Citric, Fever-Tree Indian Tonic
SPRING "GIN TOWER" (x 4 G&T's) – Tanqueray Strawberry G&T, Savilla G&T, Aviation Cucumber G&T
Cocktails
ENGLISH GARDEN – Tanqueray London Dry, Pressed Cucumber, Elderflower, Green Chartreuse, Elderflower & Apple Cider served on smoking astroturf, cut grass essence "fog" with Edible Soil and Absinth Jelly Garden Worms
MARTINI or VESPER MINI "SIPPER" – Choose from Dry Tanqueray Gin Martini or Aviation Vesper Martini
MARTINI "3 WAYS" PLATTER – Eat/Smoke/Drink-Edible Martini Jelly, Vaportini, Mini Martini Sipper choice of Vesper or Dry Martini
SMOKING BRAMBLE – Tanqueray London Dry, Mure, pressed Lime Malbec "fog"
NETTLE GIMLET – Nettle Gin, House-made Lime & Nettle Cordial
SLOE GRAPEFRUIT MARTINI – Tanqueray London Dry, Sloe Gin, Freshly Pressed Pink Grapefruit
YUZU BREAKFAST MARTINI – Jinzu Japanese Gin, Cointreau, Fresh Pressed Lemon & Yuzu Juice, Yuzu Marmalade, Orange & Grapefruit Zest, Burnt Toast Mist
BLOSSOM BAR SPRING/SUMMER 2022 MENU
PURPLE HAZE – Butterfly Pea Rum, Lemongrass and Ginger Tepache, Candied Pineapple & Mint
BREAKFAST MOJITO – Rum Mojito "Toothpaste", Candied Mint, Fizz Powder, Rum "Mouthwash"
SANSHO SOUR – Spiced Gin, Yuzu Marmalade, Sansho & Sudachi Syrup, Lemon, Lime
BLOSSOM ESPRESSO – Cognac, Spiced Rum, Mr Black Cold Drip Coffee, Sesame Syrup, Double Choc Cookie and Vanilla Foam-Mini Cookie
JAPANESE SLIPPER – Midori Melon, Triple Sec, Lemon, Sudachi, Watermelon Popping Candy Balls
MOUNT FUJI – Gin, Calpis, Sake, Shochu, Sago, Sansho, Blue Curaçao, Prosecco
SMOKE & MIRRORS – Japanese Gin, Ardbeg Whiskey Wash, Scented Candle, Incense, Mirror & Triangle Chimes
Highballs
MELON HIGHBALL – Lime Rind Vodka, Midori Melon, Pressed Lime, Sudachi, Matcha Lime Cordial, Soda
LEMON CALPIS – Shochu, Fresh Lemon, Calpis, Sudachi and Soda
Gin Lane: 16A Kensington St, Chippendale
Blossom Bar: 38 Kensington St, Chippendale
Sydney Unleashed is one of Australia's premier entertainment publications exploring the latest in lifestyle trends. From Sydney's finest restaurants, cafes and bars to the hottest in gadgets, products, and home entertainment, Sydney Unleashed is your one-stop lifestyle platform.