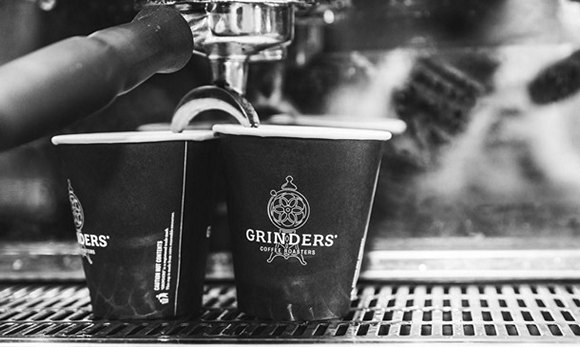 Grinders celebrates 60 years
NOTICEABLE TRENDS OF AUSTRALIA'S COFFEE CULTURE REVEALED AS GRINDERS CELEBRATES 60 YEARS OF OPERATIONS IN AUSTRALIA
Slowly brewing from the post-war immigration boom during the 1950s and 1960s, today's Australian coffee market is among the strongest in the world, with 75 per cent of all Australians – that's 19 million of us – consuming at least one cup of coffee daily (McCrindle Research).
Since opening Grinders at Lygon Street Melbourne during 1962, Giancarlo Giusti has been at the forefront of Australia's ongoing coffee culture evolution. This year, Grinders marks its 60th anniversary in Australia.
Over six decades, Giancarlo has watched more and more Australians say hooroo to tea and g'day to coffee; and the Italian-born founder of Grinders says Aussies are now among the world's most sophisticated coffee drinkers.
"The common misconception is that Italians are the world's most cluey coffee consumers but actually – and especially during the past decade or so – Australians might be putting the Italians to shame. I think Australians now know more about coffee than Italians do," says Giancarlo.
According to Statista, the coffee segment in Australia generated a whopping $7.7 billion in 2021, and Australians collectively consume more than 37 million kilograms of coffee per year.
Grinders ranks the latte as Australians' most popular coffee, closely followed by the flat white. More women buy coffee at Grinders than men, and 25–34-year-olds are the most dedicated coffee drinkers of the nation.
Grinders has also noticed an increase in Australians' appetite for non-dairy alternatives. Statista indicates that even though Aussies consume 97 litres of milk per person a year, there's an increasing shift towards plant-based alternatives. Among these, soy milk is still the most popular (47.6 per cent), closely followed by almond milk (44.2 per cent).
Undoubtedly attuned to the nation's changing coffee trends as Australia's fifth-largest coffee roaster, Grinders has come a long way from its humble beginnings. Three generations on, it has become a titan in the coffee industry, dedicated to sourcing, roasting, and delivering the best single origin and blended coffee in Australia.
Sixty years on, Grinders is still leading the way in coffee and is today one of Australia's most trusted coffee brands – but remains true to its heritage established by Giancarlo. With the help of their master roasters and bean hunters, Grinders' beans are carefully and sustainably sourced and roasted to perfection to create that delicious confluence of flavour and aroma that makes Grinders a staple for coffee-lovers. It's a process they have mastered over generations and continue to tweak and perfect to taste. Every. Single. Day.
Grinders Marketing Manager Burcu De La Cruz says, in the same way Giancarlo always considered his customers his "friends", one of the key pillars of Grinders today is its community. And just like when Giancarlo first opened his doors, Grinders' goal is still to make better artisanal roasted coffee – and to constantly grow and evolve to meet the changing Australian palette, and ethics.
"As a company, we respect where we came from and at every stage of our journey we are listening to people, to our customers, and adapting to always satisfy Australian taste buds," Ms De Le Cruz says.
"We are investing in technology and in sustainability – we like to think we are leading the way in Australia for sustainable coffee with our partnership with Rainforest Alliance, our supply chain operations, with a mission for all our packaging to be 100 per cent recyclable by 2025 and as one of the first business in Australia to introduce compostable coffee capsules last year as a commercial roaster.
"Currently three million capsules are sent to landfill each day. Our new range of industrially compostable capsules offer our customers a better alternative to what is currently available.
"Finally, we are working closely with leading roasting experts to ensure our roasting processes are optimised for quality and consistency, including our renewable and low carbon energy sourced at Grinders in 2020 was over 95 per cent.
"A good coffee can put you in a good mood and set you up to have a good day. At Grinders, we make that coffee uncomplicated – you don't have to think about it, you know you are going to get the best quality, ethical coffee from Grinders so you can simply enjoy the company you are with," adds Ms De Le Cruz.
In celebration of its 60th anniversary, Grinders is running a consumer promotion asking café patrons to answer "How does your café give you the Grounds for a Good Day', with answers being shared via Grinders' social media platforms. There limited-time promotion includes a major $10,000 prize plus daily prizes.
MasterChef Australia Season 13 contestant, Dan Dumbrell, is a self-proclaimed fan of Grinders and has created a special coffee chocolate fondue recipe in celebration of Grinders' 60th anniversary.
Dan Dumbrell says: "Grinders Coffee Roasters always deliver on that morning pick-me-up but have you ever tried using their coffee in your cooking? What really sets Grinders Coffee apart is the distinct differences between their coffee beans – their new single origin Nicaragua Blueberry Candy has flavour profiles of juicy blueberries and creamy caramel which works perfectly in this fun retro coffee chocolate fondue number. Pair this with some fruit and savoury pastries and you've got yourself a winning brunch spread!"
For more information about Grinders, visit: https://www.grinderscoffee.com.au/
Sydney Unleashed is one of Australia's premier entertainment publications exploring the latest in lifestyle trends. From Sydney's finest restaurants, cafes and bars to the hottest in gadgets, products, and home entertainment, Sydney Unleashed is your one-stop lifestyle platform.